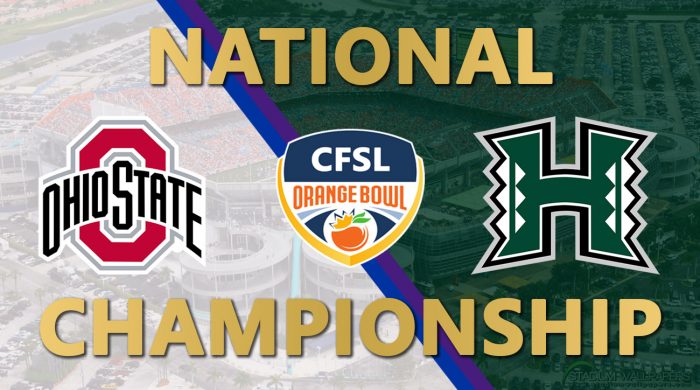 ITS FINALLY HERE!!!!!! #BowlSZN is wrapping up with a big one in Miami Gardens, Florida. These two teams come from opposite sides of America to face off in our final game of the year: The Orange Bowl. Expect 80,000 plus fans storming in for what looks to be an exciting game. While two great teams enter, only one can leave with the trophy. Who has the poise to stay calm when the turf below you is shaking? Does the team have enough drive to keep going late into the fourth quarter? Can everyone shut out the distractions and drama of Season Two? Both of these teams think they know the answer to all of these questions.
The Ohio State University Buckeyes
Coming from up north is our hot surprise team from the second half of the year – Ohio State. Coming in off a 4 game winning streak, this team is white hot after the biggest win of their existence against Michigan to get into the Orange Bowl. This team has played their heart out down the stretch, separating themselves from the rest of the Big Ten. It was quite the feat to win eight games since their strength of schedule was top notch all season. This team has talent and checks all the boxes needed to bring home the crown.
The University of Hawaii Rainbow Warriors
Lets think back a few months to a late September evening game between these two teams. Hawaii turned the game into a 21-66 blowout with ease. This time, the stakes are higher and the setting is much bigger. Hawaii is going to have to shake their jetlag quick after their 10+ hour flight into Miami. It shouldn't matter though, as this team has done nothing but take care of business all season long. Hawaii's 9-2 record and their 453 points scored are both at the top in the CFSL. You should also note that Hawaii is sporting a 120 point advantage over their adversaries. Led by All-American Doug Ohle, this team is a force to be reckoned with. Factor in their smothering defense, this team is ready to prove that they deserve their #1 ranking.
Keys to the Game
Ohio State
Offense – Traditional Runs
Hawaii's defense is a tricky one to figure out. They have playmakers in all of the right places to implement a bend-don't-break strategy. However, their scheme has a weakness to traditional runs between the tackles. AK47 is the best all-around back in this league today. Work him around the O-line and watch him break through for a couple of touchdowns in this one. This doesn't mean stop letting DJ Moss do his thing in the pocket, but instead suggests a more balanced approach. DeJounte Wilson may have a ton of tackles, but those tackles don't mean much if Khaan gets 8 yards a carry.
Defense – Contain Ohle
Doug has everything you want at the QB position. To stop him, Ohio State will need some stellar play from Kobe King in the QB spy. If Kobe can stop both players from the Hawaii backfield for minimal gain, the game is going to go smoothly for the Buckeyes. Noah Mason and Preston Lyles Jr should also play a big part in putting Ohle into the dirt on his scrambles. Keeping him rattled is difficult to do, but this defensive unit can do it as well as any team in the nation.
Hawaii
Offense – Spread the Ball
This team has firepower that is second to none in the CFSL. Ohle is a gunslinger on the turf. Ron Danye Jr. runs so hard he could push a bus up a mountain. Finn Ryan can burn you with such finesse on the way to the end zone. Point is, these guys are hard to stop. The key will be spreading the ball evenly to all these stars. Ohio State has to focus on the backfield, so get a few quick passes to Ryan or Tubigutz for a change of pace. Then, run the read option to get them thinking on the outside. Once the defense is off balance, go for the long ball and bring this one home. There are so many ways to for the Warriors to score. Break out all of the tools in the tool shed tonight for one final shot at glory
Defense – Stop AK47
Khaan can do it all for the Buckeyes. He can win this game all by himself if you let him. Time to let your All Americans take control of the situation. DeJounte Wilson is the premier man in the middle for this team. His reads on the runningback are outstanding. Combined with his ability to plug gaps and you have possibly the best linebacker in the CFSL. He needs to watch Khaan like a hawk all night and make sure he stays locked down on the ground and as a checkdown option. In the secondary, Josh Corbon will be able to provide air superiority as well as outside run stuffing. These two players can anchor this defense and stop Khaan before he gets his wheels going tonight.
Matchup to Watch
Draeton Fasone, WR Ohio State vs Josh Corbon, CB Hawaii
I haven't talked about Draeton at all so far, but this guy is a top three receiver without question. He is the king of the deep ball, averaging 17.7 yards per catch and burning plenty of great corners with ease. Corbon lines up opposite him with great tenacity and ball skills. These two should see plenty of balls thrown their way, so expect both to show up in the stat sheet constantly. If Josh slips and Draeton starts to get some momentum, watch out for an Ohio State run. If Corbon gets the upper hand on a few early targets, OSU is forced to be one dimensional and get their game going on the ground.
Prediction
As all Orange Bowl games are, this is going to be a tough one to predict. You have to throw the blowout game a few months ago out the window due to how much has changed since then. This game has starpower on both sides of the field, but Ohio State's defense can't contain all of Hawaii's weapons on offense. Hawaii's defense has stars in the right spots. They are more ready to stop OSU's prolific offense than anyone in the country. I think they can slow down Ohio State enough for the win, but the Buckeyes will not go down without a fight. Look out for an exciting game full of offense and big plays right to the very end.
Ohio State 41, Hawaii 52