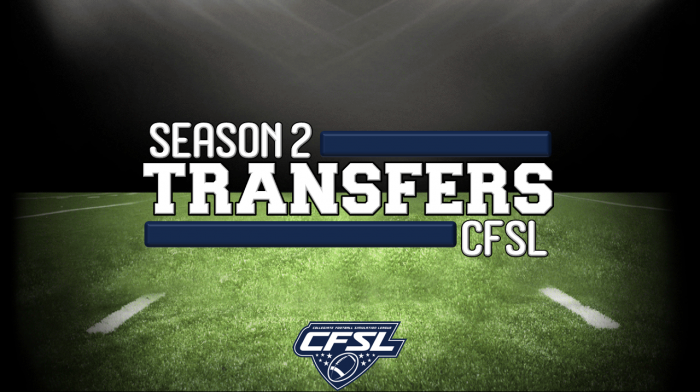 [vc_row][vc_column][vc_column_text]As season two wraps up this week, let's take a look at who will be transferring to a new team for the upcoming season. With the closing of LSU and Boise State, non-seniors had their chance to transfer to another University and keep their player. With a total of four expansion teams and the relocation of Hawaii to Washington, five new programs have joined the CFSL for season three. We will breakdown each program and the transfers that they are accepting into their school for this season.
Auburn
Alex A Cook will be joining the Tigers for this upcoming season. This is Cook's third team in as many seasons as he had stints playing for Iowa (S1) and Texas A&M (S2). Totaling close to 800 yards in his career, Cook will have two more seasons with Blake Moon as his QB.
Clemson
Adric Khan and Kobe King are a package deal from Ohio State. The pair of 5 stars have been key members on the Big Ten Champion squad for the Buckeyes this season. AK47 is currently season two's All-Purpose yardage leader eclipsing 1000+ yards from both the run game and return game. Kobe King was second on OSU's team in tackles (90) and T-3rd for TFL (14). They both will be sophomores in season three.
Florida State
The best receiver in CFSL history will have a new home next season as Jared Tetonis joins his brother, Nathan, in Tallahassee. Jared has left his mark in the books with 1,227 yards receiving with 11 touchdowns. FSU is getting an explosive playmaker that finished season two's regular season in second for All-Purpose yards with 2,961.
Michigan
The CFSL's nation leading defense in terms of takeaways will see immediate help from FSU transfer Brum James. The five star soon-to-be sophomore broke up 8 passes, 2nd in CFSL, and intercepted the ball 4 times, T-2nd in CFSL. Javon Mack has a new target in three star WR Darwin Garcia. The former Boise State corner will change positions and has three years of eligibility remaining. The Wolverines lose two wideouts to graduation in Season Two.
Penn State
One of the new brands in the CFSL, the Nittany Lions gain three Boise State transfers. CB Darius Bowman and LB TJ White will be the veteran leaders for PSU. Drew was second this season in TFL with 15. Bowman was a ballhawk this year for the 0-12 Broncos notching 5 picks which was good enough for a first place tie in the CFSL. All eyes will be on QB Airdric Berry as he hopes he can lead his new team to better success. Berry is fourth on CFSL's all-time passing list and could eclipse 5,000 yards this week, but odds are that task will be completed in Happy Valley.
Texas
CFSL's Season Two leader in almost every passing category will be taking his talents to Austin next season. Ray 'Voodoo' Tatum has 394 completions (1st), 559 attempts (1st), 4391 yards (1st), and 29 TDs (t-1st) through 11 games of play this year. With three years left in the league, it is safe to say Tatum is on track to set every career record. Yet, time will tell if the five star signal caller will pan out to his hype. The Longhorns defense will get linebacker help from Oregon transfer Justin Boudreaux. With two full CFSL seasons under his belt, Boudreaux will provide excellent leadership to his young defense.
Washington
Kalu James will take his talents and join the old Rainbow Warriors defense as the Hawaii squad makes the transition to the PNW. With five scholarship defensive backs, the Huskies defense will try and shut down the opposing passing attack. James led the country this season with 9 pass breakups.
Overall, the ending of the LSU era caused the dynamic duo of Voodoo Tatum and Jared Tetonis to come to an end as they leave for Texas and Florida State, respectively. AK47 will look to terrorize the SEC defenses and continue to break records for Clemson. Penn State has their QB in former Boise standout Aidric Berry. Ohio State arguably lost the most talent while Florida State got the best non-expansion pickups for transfers. Recruiting begins this week, everything will be interesting to see how these rosters shake up!
[/vc_column_text][/vc_column][/vc_row][vc_row][vc_column][vc_single_image][/vc_column][/vc_row]