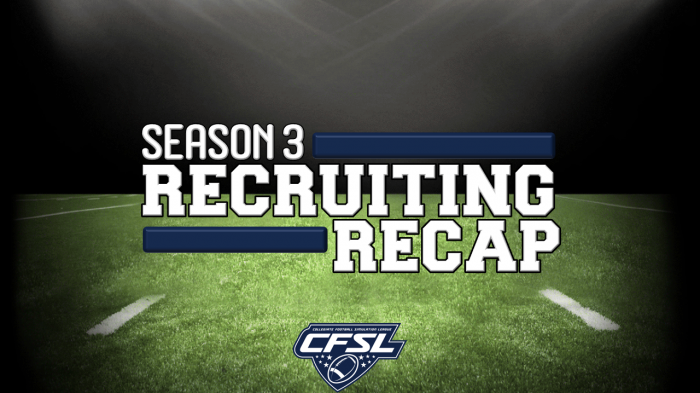 As Signing Day comes to a close we will take a look at the biggest winners and losers from this year's recruiting class. Highlighted by 21 five-star recruits, there is no shortage of talent to be found. Every team was allowed 12 scholarship players with a maximum of 5 scholarships to 4- and 5-star recruits. Grades are based solely how the team fared in recruiting, which doesn't take into account players already on the squad from Season Two or transfers. Teams are listed from best grade to worst grade.
Clemson – A+
Needing to fill 9 scholarship positions, Clemson went above and beyond on the recruiting trail. A pair of early signing day commits in FS Barry Allen and WR Anthony Robertson III set the tone. They're ranked 5th and 9th in the CFSL's recruiting rankings, respectively. 4-stars CB Andrew Fuller, CB Jackson Slade, and S Jordyn Hall all join an impressive DB room with 3-stars TE Ricky Cortez and LB Ben Boulder providing talent at needed positions. A pair of 4-stars in DE Mike Miller and WR Cadillac Chadwick solidified this class as this years best.
Texas – A
Another expansion team, Texas focused heavily on defense. Early commits from 5-star safeties Jimbo Smithers and Randy Charles V got Texas ahead of the game. The biggest gain on the early signing day? 5-star HB Geaux Bamba. The defense further improved on NSD with 4-stars SS Michael Wells, CB Jalen Davis, and 3-star LB Jaxson Morrow all committing. QB Ray Tatum got offensive help in the form of 4-stars TE Jax James and WR Hunter Lewis. 3-star CB Chucky Lozano rounded out a defense that features 8 scholarship players and a defensive backfield with two 5-stars, two 4-stars, and a 3-star.
Tennessee – A
The best current team of the CFSL to win on NSD? Rocky Top. The Vols notched the top ranked recruit in 5-star LB Ronald McFish, the Army-Navy Newcomers Game MVP (unofficially). Another standout from the game was HB 5-star Donny Kazee who also committed to Tennessee. To round out their 5-stars who else than the #3 ranked QB Dewey Ainge. Two receivers also joined the class with WR Glenn Stewart and TE Nash Nixon announcing their decisions on NSD.
TCU – A-
A silent winner that was muffled by Texas came from the Lone Star State. The Horned Frogs, needing to fill an entire team, did so impressively. 5-star DE Jabril Jackson is one of the biggest names to watch among the top talent in the country. QB 5-star Dalton Andrews has plenty of targets with 5-star WR Andre Gyan, 4-star HB Ezell Mack, and 3-star WR Koda Adok. 5-stars LB Aaron Davis and FS Kobe Jordan signed early and added 3-stars LB Danny Colon and FS Frank Peterman Sr. to the defensive side of the ball on NSD.
Ohio State – A-
With the losses of QB DJ Moss, HB AK-47, and LB Kobe King, the Buckeyes needed to strike big on signing day to stay relevant following a runner-up in Season Two. The top QB prospect in DeAndre Evans heads to Columbus where he will have 5-stars HB Frost Carlson and WR ZaZa Bradley to work with. A quartet of 3-stars in ATH Blake James, DT Zach Angle, SS Moody Mitchell, and LB Tyler 'Hitman' Ball will look to bolster the Buckeyes defense that ranked 10th in the CFSL for per game yardage allowed. Late signees TE Austin Jones and WR Blake James also joined the Buckeyes.
Oregon – B+
Florida State – B+
Auburn – B+
Iowa – B
Texas A&M – B-
Notre Dame – C+
Michigan – C+
Washington – C
Penn State – C-
Oregon got their future in the trio of QB Devonte Cribbs, WR King Twixx, and HB Speedy Love. Florida State is going risky with a 4-star QB in James Kovach but has help with 5-star HB Adam Croft. 5-star WR Wayne Carter highlights a three man class for the Auburn Tigers. Iowa snagged a pair of 5-stars with an HB and ATH joining the Hawkeyes. Auburn only added a pair of recruits, a 4- and 3-star. Texas A&M picked up 5-star WR Christian Barnes and 4-star SS Jay Wells along with two 3-stars. Notre Dame improved their defense with 5-star LB Aaron White and 3-star SS Upton O'Goode. The Wolverines picked up a trio of 4-stars in this years class.. Washington, the reigning national champs brought in two 3-star WRs and 4-star FS Tarin Holyoke. The worst of all expansion teams were the Nitanny Lions, garnishing just six players, led by 4-star HB Jasper Johnson.