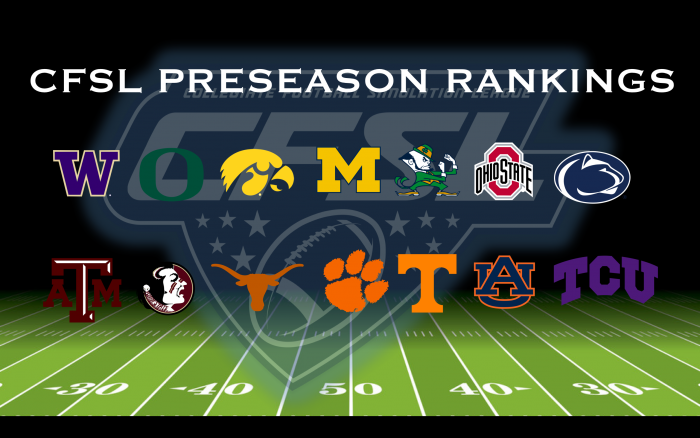 Now that there is a bit of down time before we get rolling with Season 3 games, let's look at the Preseason Poll. This poll consists of 12 Athletic Directors. Teams that receive a first-place vote (# shown in parenthesis) receive 14 points. Teams ranked last receive 1 point from that AD.
1 WASHINGTON (9)
Easy pick here, current National Champions. Washington along with Notre Dame, Penn State, and Michigan have lost a 5-star scholarship for Season 3. They had a quiet recruiting class, because they had few holes to fill, that included 2 3-star Wideouts and a 4-star safety. What really matters is that they bring back QB Doug Ohle and RB Ron Dayne, who were the backbone of the offense.
2 OREGON (3)
Oregon is the only other team to receive first place votes other than Washington. Which means the March 2, 2019 season finale matchup with the Huskies in Seattle is sure to have fireworks. Oregon brings back an additional 5-star scholarship they didn't have last season. They used that newfound capital on QB Devonta Cribbs, who struggled in the Army game, but fans at Autzen know what he brings to the table. They also add a pair of 4-stars at skill positions in WR King Twixx and HB Speedy Love.
3 MICHIGAN
Michigan is coming off a big win in the Rose Bowl over the talented Ducks. They had a small recruiting class, but it is not short on talent including 4-star HB Ezell Mack. Michigan was headed to the National Championship game to face a team they already beat in the Warriors last season, before a shocking loss to the Buckeyes. That sets the tone for a rematch at the Horseshoe, where the reigning Offensive Player of the year Wolverines QB Javon Mack looks to exact revenge.
4 TENNESSEE
Tennessee landed the big 'fish' of the recruiting class of Season 3. LB Ronald McFish joins Smokey and the Volunteers in the 3rd ranked recruiting class according to Huskers Sports. The Vols are coming off a 7-5 season and have added some serious firepower on the offensive side in 5-stars QB Dewey Ainge and HB Donny Kazee, who played very well in the Army-Navy Game. 4-stars in WR Scotty Stallworth and TE Glenn Stewart and 3-star WR Nash Nixon will also be teaming up with Ainge this season.
5 AUBURN
Auburn is flying in a little bit under the radar for Season 3. They are coming off a 6-6 season. Auburn brings back one of the greatest CFSL QBs of all time in Blake Moon, who might even be impressed with the recruiting class headed by 5-star WR Wayne Carter. They look to get back to the title game and it all starts with a scheme change back to their season one ways and a visit to Clemson. War Eagle!
6 CLEMSON
Clemson comes in as the highest ranked expansion team. Led by a 1st year Athletic Director in Nick Larson, they are believed to have the #1 ranked recruit class according to Husker Sports. 5-star FS Barry Allen heads the class and joins the talented core from Ohio State in QB DJ Moss, LB Kobe King, and HB Adric Khaan. This team has a plethora of talent, but also has a ton of questions to answer.
7 OHIO STATE
How did we get here? Coming off a title game appearance and a solid victory in the Big House and the Buckeyes fall to 7 in the preseason polls? Part of it is due to the departure of last season's starters QB DJ Moss and HB Adric Khaan to Clemson. Still, Ohio State's AD finds himself ranked below his own OC from last year. OSU should be able to get a ton of production out of 5-stars QB DeAndre Evans, HB Frost Carlson, and WR Zaire Bradley. They also add a 3-star TE and WR in Jones and James. This OSU offense has the potential to carry this squad like last year's unit.
8 TEXAS
Longhorns start out in the 8 spot and #2 from the expansion teams. Their defense looks vicious on paper. They bring in 3 hard hitting safeties in Jimbo Smithers, Randy Charles V, and Micheal Wells. Pair all that with the addition of 5-star HB Geaux Bamba and electric QB Tatum and you have a recipe for success. Some ADs are unsure of Tatum without an Air Raid attack, but the help he gets from Bamba will be sure to erase those concerns.
9 NOTRE DAME
Ty White returns for his 3rd year in the Irish's system. He is coming off a lackluster year where he posted 16 TDs and 9 INTs. Look for him to have a big year and carry more of the load for the team this year. Notre Dame's secondary takes a bit of a hit with Curry headed to the draft, but they still maintain a fierce defense with the addition of 5-star MLB Aaron White.
10 IOWA
Iowa comes in at 10 and they are excited. They don't want anybody talking about them. They bring in a 5-star HB for the first time in school history and man is the campus buzzing about Avery Jordan. Meis was a terrific rusher, but had some accuracy issues and they address that with the transition to QB by Marcos Hernandez. They add two 5-star WRs and they can have more balance than their previous two years. The loss of Bob Sanders in the secondary will leave a void and someone will have to step up, but the improved offense should be able to mask some of those growing pains.
11 TCU
TCU grabs one of the most gifted QBs in the class in Dalton Andrews. He is going to be teamed up with 5-star WR Andre Gyan and 4-star HB Koda Adok. Their recruiting class is widely under appreciated. They bring in a 5-star at every level on the defense with DE Jabril Jackson, MLB Aaron Davis, and FS Kobe Jordan. They also fill out some other spots with 3-stars. The defense looks to be the strength of this TCU team.
12 FLORIDA STATE
Florida State struggled even more than TAMU last season, but they jump them in this year's first poll. FSU had a worse point differential than winless Boise last season, but this year's recruiting class looks to improve those numbers. They bring in a 5-star HB and OLB in Adam Croft and Darnell Jefferson, respectively. 4-star QB James Kovach gets the best WR in the league in transfer Jared Tetonis to help ease him into this offense.
13 TEXAS A&M
This team will go as far as Tim Riggins can carry them. He was 19 yards short of 1500 rushing yards last season and had 16 TDs to go along with it. They are trying to right the ship from a 4-8 season last year. They bring in 5-star WR Christian Barnes, 4-star WR Jay Wells, and 3-star TE Jerrett Jensen to help ease the load off the run game and open the middle of the field for Big Rig. The defense will have a new look with 5-stars Vladimir Drago and Joshua Kiper moving to LB.
14 PENN STATE
Penn State had a relatively disappointing recruiting class when you look at the other 3 expansion teams. However, they bring in some 5-star transfers including former Boise State. Corner Darius Bowman tied for the league lead in picks last year. Transfer QB Aidric Berry will be getting help from 4-star HB Jasper Johnson and 3-star WR Demarcus Rodgers on offense.