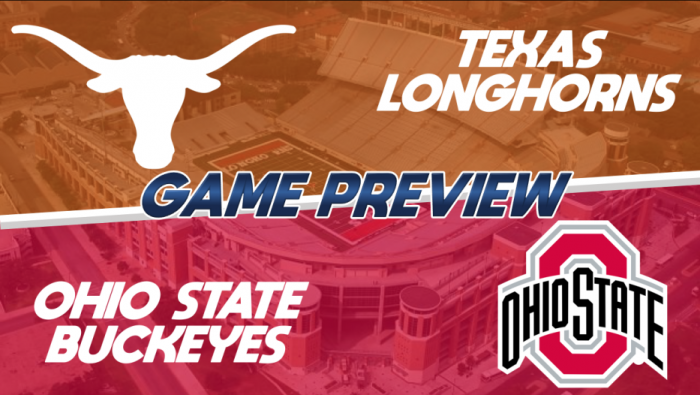 SEASON 3 KICKOFF
OHIO STATE vs TEXAS
BY: HornsNation
Season three of the College Football Simulation League is now upon us. The first matchup provides a dandy with season two runner up Ohio State, traveling to Austin to take on expansion Texas.
---
---
OHIO STATE
Ohio State fell short of a National Championship in season two and will have to rebuild as there was tremendous turnover this past offseason. DJ Moss, Adric Khaan and Kobe King all left for Clemson, leaving Ohio State's AD to fill the gaps. DeAndre Evans suits up for quarterback as Frost Carlson and Zaire Bradley become his likely targets. On defense, Noah Mason returns to the outside linebacker spot while Max Powers returns to the secondary.
TEXAS
The Longhorns begin their quest for CFSL glory as a new addition. Coming over from LSU will be QB Ray Tatum. Tatum set numerous records last season for the Tigers but will now have more of a balanced offense surrounding him. Geaux Bamba joins the Horns at halfback with Jackson James, Hunter Lewis and Jerome Jenkins becoming Voodoo's targets. Michael Sudeikis joins the Horns after the LSU fallout at defensive end. The star-studded secondary will be lead by playmakers Jimbo Smithers and Randy Charles V.
---
---
WHAT TO WATCH FOR
OHIO STATE OFFENSE vs TEXAS DEFENSE
Ohio State brings in a whole new offense to the CFSL in season three. DeAndre Evans will be tasked with navigating this tough Longhorn secondary. Let by Jimbo Smithers and Randy Charles V, the young Horns will be leaned upon to limit big time wideout Zaire Bradley. Za Za, for short, performed remarkably well in the Buckeye spring game and Evans will likely target him early.
---
---
KEY MATCHUP
OSU OLB Noah Mason vs TEXAS HB Geaux Bamba
Noah Mason returns for his sophomore season but will be tasked with covering the swiss army knife in Geaux Bamba. Bamba who comes down south from New York, played well in the spring game for the Horns. Mason will need to be on his A-game in order to slow down this dual threat running back.
---
---
QUOTABLE QUOTES
"Chemistry. We want to see that chemistry that started in the off-season and in the spring game and practices continue to grow and these units to continue to gel, we want them comfortable in their rhythm to make plays and compete. We've got 4 quarters to go on opening night, it's exciting, but our goal is to make sure we play Buckeye football." – Ohio State's AD on what he expects out of his team with all the newcomers.
"There's been a lot of talk about our defense being great but I really think our offense is going to surprise some people. Added a new addition since the spring game at the wideout position. Voodoo was great last season with limited resources, so expect him to shine with a squad built around him." – Texas AD on what to expect in the Longhorns first game in the CFSL.
---
---
GUEST PREDICTION!
"Texas vs. Ohio State is a tough game to call. With roster turnover and transfers it's essentially two expansion rosters squaring off in week one. Ultimately we are going to learn a lot by this game and going off of roster quality alone, I'm going to go with Texas here. Game plans and coordinators will play a big role here, and ultimately Texas well built roster should answer the bell.
I have Texas by 8, 42-34