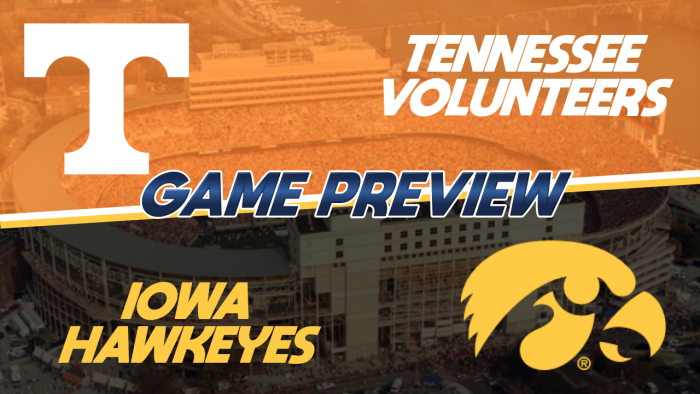 Week One – Iowa at Tennessee
Today's early game features two teams who have been in this league since the beginning. Tennessee owns the matchup thus far, winning both previous meetings by four points. Things are different this year. New freshman arrive on campus. Schemes and ideologies change. Rosters are turned around and shook up. Both of these teams are eager to see if their offseason preparation pays immediate dividends in a tough week one spectacle.
Iowa Hawkeyes
Offense
Iowa scraped by with a winning record in the tough Big Ten last year, going 7-5 with a close bowl win against FSU. This year's squad has some familiar faces on it, just not in the same positions you would expect. Workhorse back Bob Smith and scrambling extraordinaire Justin Meis are both on to better things at the next level. In an interesting move, Junior Marcos Hernandez is sliding over from WR to QB this season. New addition Avery 'A-Train' Jordan should be able to help fill the shoes of Smith in the backfield, bringing his own unique running style into the fold. However, the pride of the Hawkeye offense is the receiving core of Darren Pegues, JJ Meis, Josh Christensen, and Franklin Richards. These four have solid experience under their belts and should cause problems for every defense they face.
Defense
On the other side of the ball, Iowa brings out a staunch lineup with their 4-2-5 scheme. Anchoring the front 7 are Senior Alvin Mack and Junior Jerry James. Mack is going into his final season having already amassed 13 sacks and 33 tackles for loss. His partner in crime James adds some of the best tacking ability the league has to offer with 167 career tackles. These two are playmakers in the truest sense of the word. Expect them to have an impact early and often tonight. The secondary of this Hawkeye team is nothing to scoff at either. Returning both Othello Jones and Neal Mason provides a solid base coverage squad. Adding in Dez Jackson and Joey Hanson further strengthens this team's passing D. The Iowa defense as a whole is a strong, cohesive unit that can match up with any team in the CFSL
Tennessee Volunteers
Offense
What can I say about a team that lost CFSL bettors over $100,000 in their bowl win against Auburn to close the season? This team can come out and shock people if you underestimate them for a second. Like Iowa, Tennessee is also coming off of a 7-5 season with a bit of a roster shakeup. The Ty Jones – Drew Eggers combo is gone, but a set of new players are ready to take over where they left off. Two prized recruits now lead this team into season three, ready to prove that they are more than just hype. Number four recruit in the country Donny Kazee headlines this class as our top halfback. Pairing him with number eight recruit QB Dewey Ainge gives this team a bright future and an immediate chance of winning ballgames. Targets Scotty Stallworth, Nash Nixon, and Glenn Stewart can all prove their worth via soft hands and quick feet. While young, this offense is ready to strike at a moments notice with the poise of a veteran team.
Defense
We all know what the hype is about on this Volunteer defense. One player impressed more than anyone else this offseason through the Highschool All-American game. I am talking about none other than number one recruit in the world Ronald McFish. McFish is an enigma of his own as the only player in this freshman class hailing from mother Russia. After seeing what he can do during the offseason, there is no question that his game will translate well to the next level. However, it's not just a one man show on the defense. Veteran linebacker Thomas O'Donnell comes back to build on his 51 tackle freshman season. Joining him is defensive end James Mitchell, a behemoth on the line that generated 14 tackles for loss and seven sacks last year. The secondary is filled with gamechangers like lockdown corner Aaron Smith and swat machine Tyler Ruano. Safties Andrew Tillman and Josh Bradley round out a well balanced 4-3 defense for Tennessee. This defense is solid all around and will be hard to score on with any consistency this year.
What to Watch For
Iowa Passing Game vs Tennessee Secondary
After Iowa leaned on the run all of season two, it will be interesting to see how this team transitions to a more level split between passing and rushing. The Hawkeyes are built to maintain air superiority with two five star wideouts, a three star slot WR, and a three star TE. The big question is can they pass the ball against a staunch Tennessee secondary that has a 5 star corner, a 4 star corner and FS, and a 3 star SS. Expect an aerial battle on every pass thrown tonight.
Key Matchup
Iowa HB Avery Jordan vs Tennessee MLB Ronald McFish
In a battle of top freshman, these two should end up in a scrum all night long. McFish is one of the most hyped up prospects ever. Shutting down another top prospect in Jordan would quickly put him near the top defensive players in the league. On the other hand, Avery showing dominance against such a hyped player would propel him into the top RB discussion. All it takes is a few big runs or a couple of big hits to decide who really has the upper hand tonight.
Quick Quotes
Iowa HB Avery Jordan on playing his first CFSL game – "I'm beyond excited to get out there and show everyone what Iowa is all about! Woodsmall pushes us in practice every single day, and I know every guy in our locker room is ready to get out there and show everyone who Iowa really is. We are all in this together! But I wouldn't hate busting out for 200 yards from scrimmage" Jordan gave a quick wink as he left the podium.
Tennessee HB Donny Kazee about his feelings on opening night – "Last year we were overlooked. That stops today. Tennessee Vols are here with something to prove and we have the team to do it. Tighten your chin straps"
Prediction
This is a tough one for me to pick. It feels like a 50/50 game as both teams look strong coming into this season. The talent levels seem even. Both teams have guys in the right spots for their scheme and are loaded with gamechangers. I am giving an edge to Iowa as their offense stacks up as one of the best in the league. While I am concerned about their WR turned QB, they have enough tools to pull out a win in a close game tonight. Expect the score to stay low with both defenses flexing their muscles a little bit.
Iowa 27, Tennessee 23