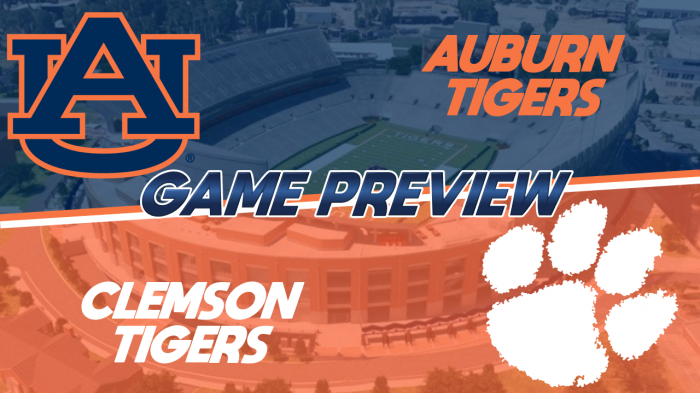 We have finally made it to the start of season three! The prep work has been laid out for each school and the final set of spring games officially in the books. We are now set to get to the games that we've all been waiting for.
There is a lot going on in the CFSL going into Season Three. One of the questions we have to ask is which city has the most ferocious set of Tigers. December 11th is when the Auburn Tigers will host the expansion Clemson Tigers.
Both teams are ready to start their seasons off with a win in week one. Let's dive deeper into these two schools and see what they have to do to secure the first win.
CLEMSON
OFFENSE
The foundation of this Clemson team is set to take off. They quickly formed together to where they are now and the South Carolina Militia is set to make plenty of noise this season.
The offense will be led by quarterback DJ Moss, halfback Adric Khaan and freshman wide receiver Anthony Robertson III. As their nicknames would show, they won't be afraid to fire shots towards any defense that stand in their path.
Adric Khaan came off of a stellar freshman season, falling two yards shy of 3700 All Purpose Yards. Some would say that he set the standard for what an All-American halfback should look like and the league has taken notice. With his mother in his corner, he'll make all adjustments available to reclaim the throne as the best halfback in the CFSL.
DJ Moss was the #1 Prospect for all of the freshman coming into Season Two. It's safe to say that he had a bit of an up and down season as a freshman. Although he fell short in what was a great game called by him, you really seen him come into his own and he definitely made a name for himself. I see him improving as his career moves forward and he can very well top his numbers a season ago with another top prospect named AR-15.
Anthony Robertson III has it all. Size. Speed. Tenacity. Athletic Ability. Soft Hands. Route Running Ability. You can go on and on about this guy. He does it all and is ready to give any corner the business that stands in his path.
DEFENSE
Defensively, their top stars consist of sophomore middle linebacker Kobe King and freshman safety Barry Allen. The defense appears to have the pieces in all of the right places to give opposing offenses trouble for years to come. I'm expecting hard hits from the first snap.
Kobe King is everything you want in the middle of the defense. He can rush the quarterback, set the edge in the run game, hold his own in pass coverage and a vocal leader on and off the field. He's a monster set to have a breakout season. The sky is the limit for where his talent can take him.
Speaking of the sky, Barry Allen would advise you not to throw the football in his direction. Even if an offense was to keep the ball on the ground, he plans on making his presence felt from his first tackle. Having someone on your team that has his type of Big Play ability caps off what is a great set of defenders for this Clemson defense.
The hype surrounding the Clemson Tigers are at a all time high and they want to make sure the hype doesn't go to waste week one. They have a tall task to beat one of the strongest teams in the CFSL but the talent is definitely there to make that thought a reality.
AUBURN
OFFENSE
The Temple of Greatness had a season that I'm sure Blake Moon was "not impressed" with in Season Two, going from being the Season One Offensive Player of the Year to losing the Gator Bowl by 14 points and falling to a somewhat decent 6-6 record in Season Two is not good. It's safe to say that there is a lot of pride on the line for Auburn Athletic Director Matt Pack is set to take off against his first expansion test of the season.
It's safe to say that the offensive production starts and ends with quarterback Blake Moon going into his junior season. Like him or not for his antics off the field, he's still one of the most efficient and productive quarterbacks the CFSL has ever seen. Whenever you have a career completion percentage close to 75%, you're doing something right and I don't see that going down anytime soon.
The efficiency doesn't stop with his arm, seeing as he nearly posted 1,500 yards on the ground last season. He can break down a defense with more than one asset and it's a scary sight for defenders across the league when he stacks play after play.
You can't have a great quarterback like Blake Moon without his set of weapons. Having two studs at the wide receiver position doesn't hurt their cause to wreak havoc for the defense. Wayne Carter is going to be a great asset to the wide receiver core for Auburn. Coming out of high school, he was a very big competitor and one of the best wide receivers in the country choosing to pursue his college football dreams. He plays with a lot of heart and fights for every inch. It also helps that he makes plays going across the middle with no hesitation.
Mr. Carter's running mate is not a player that you can afford to sleep on. Athletic director Matt Pack wanted offensive weapons and its safe to say that he got them. How does pulling Alex A. Cook away from Texas A&M sound? Alex has all of the tools to be a game breaker for Auburn as early as this week if Clemson gets caught slipping. I can see plenty of moves for Alex moving up the wide receiver rankings and a much better chance of him being an All American in Season Three.
DEFENSE
On defense, Auburn and Clemson had similar thoughts with how their pieces are set up. Auburn also has a stud at the middle linebacker position in Tony Bryant. Meanwhile, safety Eric LeClear is all set to make the offense respect his name in similar fashion as they did last season.
Tony Bryant came off of a great Sophomore season where he secured 100 tackles and 15 tackles for a loss. Knowing Tony, he still sees room for improvement and he's working extra hard to put Auburn over the top from the jump.
Eric LeClear is also ready to secure his spot as one of the top safeties in CFSL History. He posted his career high in a season in Season Two with 5 interceptions and over 80 tackles. You look up the word 'playmaker' in the dictionary and you'd find a picture of Eric LeClear next to the word. He's set to take the league by storm week after week.
As we've said earlier, they have a sour taste in their mouth and they have big plans coming into Season Three. This is one team that I can see making some serious strides for the Auburn faithful.
X-FACTOR
Clemson HB Adric Khaan
The All-American halfback is set to start the season on the right note against this Auburn defense. Last time he had sights on Auburn, he posted over 300 All Purpose Yards and two touchdowns. Auburn can not afford to give up another big day to AK-47 if they have plans on winning this game. Look for this Auburn defense to try their hardest to keep the sophomore uneasy and attack him in the backfield. If they slow the halfback behind the line, their chances of winning increases a considerable amount.
The only thing with him is that he can beat a team in so many ways. His work in the receiving game is top notch and his work on both special teams is a huge asset as well. He's his own breed of dangerous going to any matchup and he knows it. Looking forward to see who will have the upper hand in this one.
WHAT TO WATCH

QB Blake Moon vs The World
QB Blake Moon vs LB Kobe King
To think that the whole world is against Blake Moon is ludicrous. That being said, he still has plenty to prove, not only to himself but to the league as a whole. He has a huge following of supporters and worshipers that know just how great he is. But, there's a solid group of people that don't fall in with the hype, saying he's washed up and all of his glory was gone the moment he won the Offensive Player of the Year award back in season one.
There is no better way for the Temple of Greatness to show the CFSL that he's back in peak form than putting up a beast performance against this stout Clemson defense.
Keep in mind that the players on the other side are ready to prove that Blake Moon isn't as a big of a deal as he believes he is. One of those players is the linebacker Kobe King and I expect him to have his eyes on Moon like a hawk all game long. Last time these two went against each other, Kobe King and his Buckeyes got the last laugh with the victory and his eight tackle performance. It's going to be fun seeing these two collide in Mortal Kombat for a second time.
PREDICTION
This is going to be a fun matchup from start to finish. Going off the track record of what AK-47 is, he's not going to give this one up without a fight and I don't see Auburn slowing him down enough to secure a victory. I can see another two TD performance from him and that will be the difference going into the later parts of the game as he continues to grind away the clock and keeping the ball out of Blake Moon's hands.
Blake Moon will show off his greatness as expected, two passing touchdowns and a rushing touchdown will keep the game competitive all game long. I see the Clemson and Auburn defenses both making plays and making the offense earn every inch. The rise of the Clemson begins here and they will hold Auburn just enough to squeak out a one possession victory.
Projected Score: Clemson Wins 35-31
Quotes
"I'm ready to show the CFSL what this offense and defense can do. Everyone has been sleeping on the defense, with these offensive transfers, but they are as good as anybody in this league. It's going to be a fun matchup, for sure."
Clemson WR Anthony Robertson III on the new season
"Greatness is always number one. Moon had to change the way Moon played last season. Moon is more focus this season. Temple of Greatness found Moon reinforcement to be successful. Moon's Eagles are ready to chase a championship. Moon has the talent in the will to win. Greatness is back."
Auburn QB Blake Moon on the adjustments from a season ago.
"Tony is a lead by example kind of guy. The amount of respect he gets in our locker room is unmatched. He was elected captain almost unanimously, but one guy didn't vote for him. That was Tony. He just wants to win, doesn't care about numbers."
Auburn Athletic Director Matt Pack on MLB Tony Bryant's impact
"I remember what I did against Auburn the last time I played against them at OSU but I can't walk in thinking it'll be a cakewalk. We all have the mindset that is ready to get this first win. Auburn is a great test for us and I'm hyped at the possibilities. Although we have to travel to the Temple of Greatness, we all know that the heart of Clemson will support us every play!"
Clemson HB Adric Khaan on Auburn