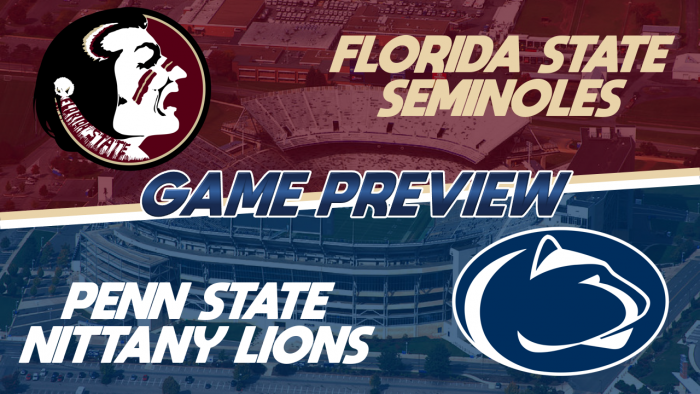 New season, new look. Florida state comes into this year rejuvenated and motivated to bounce back from their disappointing 3-9 performance last season. With their high powered offense taking shape during the offseason, this is a team that can score at will against anybody in the nation. Welcoming FSU into Happy Valley is brand new addition Penn State. PSU faced their fair share of trials and tribulations during the offseason, including some minor sanctions and a little bit of recruiting trouble. However, this team is not one to be overlooked as they roster multiple former All-Americans who have proven to be studs in this league. Each team thinks they have an edge that can lead them to victory. Who will prove they have what it takes in this early season showdown?
Florida State Seminoles
Offense
A trio of five star weapons headline FSU's prolific attack, starting with All-American reception god Jared Tetonis. It's hard to believe he is only a Sophomore after gaining a whopping 1467 reception yards on 81 catches in his debut year. That's an incredible 18.1 YPC! His kick return prowess is nothing to be scoffed at either, totaling 3 touchdowns last year. If you think you can shut him down, look to the other side of the field where Trevor Golinar will pick you apart. Golinar has amassed 1128 yards on 89 receptions so far in his career and will look to have a career year in his Junior season. Finally, a new QB enters the stage in James Kovach. While not highly rated in the offseason, the kid has a cannon for an arm and knows how to place passes right where this talented reviving core wants it.
Just when opposing teams think they can play the pass all night, in comes Adam Croft to clean things up. While a relative unknown coming into his Freshman season, this deceptive back was ranked the 17th recruit in the country and has a chip on his shoulder to prove he just as good as Kazee, Bamba, and Carlson. Filling out the offense are WR Daeshawn Jackson and TE Fitz Johnson. Both of these players will be reliable targets for James Kovach when the opposing secondary focuses the outside. This offense has as much talent as anyone in the CFSL. If put in the right position, they will pass and run all over you to a victory.
Defense
Having this much of a loaded offense does come at expense of the Seminole defense. Five scholarship players line up and look to shut down opposing defenses, starting with the man on his own island Nathan Tetonis. As the brother of Jared, Nathan had the best competition growing up and honed his cover skills like no other. His ability to shadow receivers and bait the QB into throwing bad passes is beyond impressive. His Freshman season was solid, totaling 38 tackles, two interceptions, and a fumble recovery. However, he has improved aggressively this offseason and should reap the benefits of his work early.
In front of Nathan is five star senior Darnell Jefferson and three star Vinny Maddox. This linebacking group looks to shut things down in a role where they will be in coverage as well as up front to stop the run. Due to the lack of secondary behind Nathan, this group will have to be all over the field to maintain a defensive front. On the edges of the D-line stand Mark McCabe and Gable Steveson, two physical edge rushers that play a vital role in putting pressure on the opposing QB. This team is going to need to live in their opponent's backfield if they want to win ballgames. Expect the front 7 to be coming hard at all times and Teonis to clean up the mistakes.
Penn State Nittany Lions
Offense
Penn State may be a new team, but they have some established veterans headlining their program. The offense starts and finishes with Season One star Aidric Berry. His talent is unquestioned, though he did slip into an offensive slump last year with both his completion percentage and yards per carry taking a nose dive during a winless season. The big question for Berry is can regain the composure and running ability that made him so hard to stop in Season One. Penn State is running a spread system this year, perfect for Berry's skillset. If he can get open space in the read option, then this should be a comeback year for Berry.
The rest of the offense is a bit of an unknown. Jasper Johnson completes the backfield as the only four star player on the team. His ability to work in space should compliment Berry well in spread read option sets. Their TE Zachary Steele should be able to pave the road ahead of these two with crisp impact blocking downfield. His ability to come down with the ball will also be key as this team only has two scholarship pass catchers to show. DeMarcus Rodgers will line up on the outside and get the majority of catches for this team as a JUCO transfer. This team is a bit puzzling on offense outside of Berry. If things start to click early, then watch out for some quick scores. If not, then there will be a lot of low scoring games this year.
Defense
Unlike the offense who has more than a few question marks, the defense for this Nittany Lions team is one of the best in the CFSL. Three transfers from the now defunct Boise State team line up for PSU and serve as this defenses backbone. Senior corner Darius Bowman is looking to build on an impressive season where he got 6 interceptions and a defensive touchdown. His great return skills will also be on display as he averaged nearly 30 yards per kick return in Season Two. Assisting in the secondary is fellow transfer Tyler Smith. Tyler had a decent year with 71 tackles, but he failed to record an interception and only had 3 pass deflections. His game will have to elevate if he wants to anchor this defense. Add in Baker Brooks Jr at SS and you have a mean secondary brewing on this PSU team.
While the secondary is a strong group, the front seven refuses to be out shadowed. The heart and sould of this defense is linebacker TJ White. This role is a big step up for him, so expect more tackles than his total of 63 last year. Joining TJ is OLB Devan Davis, a fresh JUCO transfer that is ready to make an immediate impact with his coverage and pass rushing abilities. Up front, two more JUCO players come in at DE in Joey Myers and Malcom Kennedy. This group can get to the quarterback with consistency and will put pressure on the backfield all game. Overall, this defense is the pride of the Penn State team. Their ability to control the tempo of the game will keep them in ballgames against much better opponents.
What to Watch For
Florida State Passing Game vs Penn State Coverage
FSU has one of the best one-two punch receiving threats in the game in Tetonis and Golinar. Their ability to run crisp routes, get open, and come down with passes is second to none. However, Penn State has a lockdown corner in Darius Bowman and a top tier safety net in Tyler Smith. Who ever isn't covered by Bowman should have a significant advantage against a walk on corner. Watch out for one of these two FSU receivers to have some crazy numbers if things go their way. On the other hand, if Bowman and Smith come up with some timely deflections, then the momentum could easily swing Penn State's way.
Key Matchup
Florida State HB Adam Croft vs Penn State MLB TJ White
Bit of a surprise here right? Everyone is looking at FSU as a huge passing team, but it would be foolish to overlook Croft and his abilities. This man has a lot to prove after being underranked in the offseason. Look out for him to get involved as a utility back throughout the game, catching short and mid range passes while the rest of their threats go deep. TJ White is going to have his hands full running around on defense. Will he have enough gas in the tank to keep up with Croft all night? Or will he be imposing dominance on the FSU run game, turning them into a one dimensional offense. It will be a battle up the middle all night long
Prediction
This game could go either way in my mind. FSU has a far superior offense that can spread the field and pick you apart. PSU has a defense filled with stars with experience bringing offenses to a screeching halt. I'm giving the edge to FSU and the offense. Their ability to exploit mismatches will come out on top in this battle. PSU has the better QB, but he doesn't have the tools around him to put up numbers even against a lackluster defense.
Florida State 34, Penn State 26