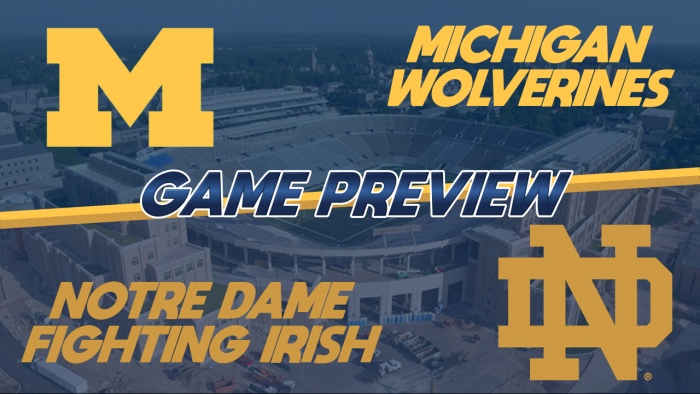 Who knew the stakes could be so high for a week one game! We have been blessed by our schedule makers in this season opening matchup between Michigan and Notre Dame. We all know about this storied quarrel, but it means a little more when you open up the season against a rival. Michigan had a roller coaster of an offseason – losing a five star scholarship due to sanctions. However, they managed to fill out a roster that can rival the best of them and added some new weapons for their star Javon Mack to play with. On the other hand, Notre Dame is also down a five star, rostering only 11 players. The season one champions will look to lean on their stars Ty White and Tyson Ali to set the tone tonight. Lets dive in and see what these top teams have to offer.
Michigan Wolverines
Offense
The offense for this team needs no introduction as we all know who the star is here. OPOY Javon Mack is ready to pull out a repeat season and show that the S2 trophy was no fluke. His rushing ability is at the top of the quarterback class, but it's time for him to prove he is more than a game manager this time around. Helping him pull out the wins this season is Mack #2, Ezell Mack. This HB has to fill some big shoes after last years rushing performance by Leeroy Jenkins. If he shows half the running skill Javon has, then this shouldn't be a problem. The WR group for Michigan has changed a lot this year. Bobby Jackson is joined by Darwyn Garcia and Markell Chapman after the WR shakeup. This unit should be solid and may even put up better numbers using Michigan's new scheme.
Defense
On the defensive side of things, everything starts with Nate Jones in the middle. This kid can fly all over the field and should have his fair share of TFL's tonight. Joining him is Jesse Horrigan, a freshman with a lot to prove after being overlooked in the offseason. But the real strength of this team is the star studded secondary. Brum James dons a new uniform this year and will be the primary lockdown corner for the Wolverines. His running mates Dee Parker and Buchanan Simons both have what it takes to be more than just a complimentary piece of this defense. Safetys Shea Carroll and Blue McFadden both will clean up anything that gets by this group of corners, but watch out for McFadden when he comes up in the box. This unit as a whole is one of the best when it comes to speed and versatility.
Notre Dame Fighting Irish
Offense
Last year was a little disappointing for this team coming off a championship season. Don't be fooled, the talent is still there and better than ever. Ty White enters his final season looking to get another trophy and some career records along the way. His help this year will be Brody Bodine and Upton O'Goode, with TE Trent Bodine pitching in as well. Look out for Upton O'Goode to outlive his three star status. His performance in the HS All-American game and the spring game was extremely impressive. Jacob Philhart returns to keep defenses guessing with his deceptive speed and strong through the tackle skills. The unit as a whole is extremely well balanced and can beat you everywhere.
Defense
While the ND offense is stellar, what makes them tick is this strong defense. Tyson Ali is possibly the best defensive player we have in the entire CFSL. His ability to push through the O-line and lay a beat-down on the RB is incredible. It's almost immeasurable how much of an impact he has, but you could just take a look at his trophy case and recognize he's the man. Backing him up on the line is Shane Razorback, a beefy DE that can get to the QB with ease. With Ali in the middle and Razorback on the edge, its a tough unit to gameplan against. They also return Aaron White at MLB to get the bulk of the defenses tackles. Tyrell Solo, Trey Elijah and Michael Jerome Pluth head the secondary and look to pick up the scraps that the front 7 miss.
What to Watch For
Michigan Read-Option vs Notre Dame D-Line
While Michigan has changed their offense a bit, the read option is still going to be Jevon's bread and butter. Now we have two Macks on this team to worry about, so ND will have to rely heavily on pressure from their D-line. Ali and Razorback have plenty of experience in stopping this kind of attack. If they get consistent pressure, the read option could end up not reaching the line of scrimmage. It will also be interesting to see how often Jevon chooses to keep the ball himself as opposed to handing it off when there is a couple of hulks on the D-line.
Key Matchup
Michigan CB Brum James vs Notre Dame WR Brody Bodine
While I expect Notre Dame to have a fairly balanced attack, the passing game is something Ty White excels at. His number one option is obviously Bodine, but how will he fare against new competitor for Michigan Brum James? These two feel very evenly matched. Keep an eye on them both as they fight it out down the sidelines for the deep ball.
Prediction
Both of these teams are near the top of the league. The talent level on both sides is extremely high and each team has what it takes to come home with a win. Even though the Notre Dame defensive front is a force to be reckoned with, I'm giving an edge to this Michigan team. Their secondary is one of the best in the CFSL and will have no problem containing ND's WR crop. If ND tries to run, a top MLB in Nate Jones can snuff the play out before it even crosses the line of scrimmage. Even though I believe Michigan will come out on top, remember that anything can happen in a rivalry game.
Michigan 39, Notre Dame 27