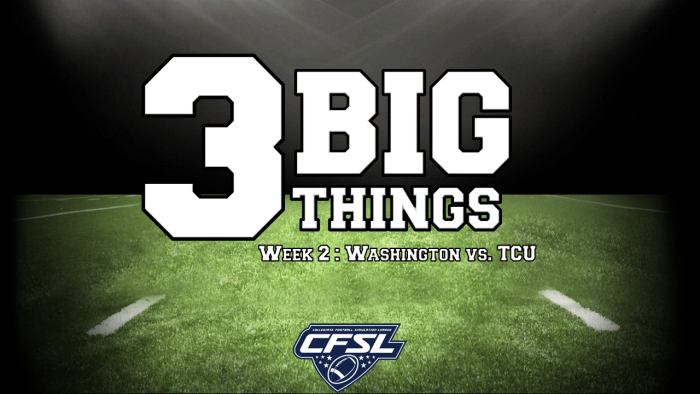 The kickoff game for week two couldn't have been any better. A dominating first half by each offense, while the defenses took control in the second half. What started out as an explosive shootout that saw a combined total of 59 points going into halftime, turned into a combined six point standoff in the second half. Washington and TCU both sit at 1-1 on the season, with TCU claiming victory over the Huskies, 38-27. The Horned Frogs had an 11 point lead going into halftime and never let go, their defense stepping up. Although, they did have some help from the Huskies. An Ohle interception and some weird playcalling certainly helped TCU to hang onto that 11 point lead until the end. Here are the three big things we learned from tonight.
1) Great Dayne Gone Missing
Look, Washington halfback Ron Dayne Jr. had about as great of a first half as any player could have asked for. Three rushing touchdowns in the first quarter and on pace for over 200 rushing yards, if not more. It would have been Dayne's second straight week of running for over 200 yards. Not to mention the Huskies' opening drive was all Dayne, seven carries going the length of the field and being capped in a touchdown. Yet somehow, other than a couple big plays here and there, Dayne seemed to have disappeared from this offense in the second half. Questionable playcalling at the end of the first half where the Huskies were in the redzone with a chance to take a lead, and they seemingly ignored Dayne and had to settle for a field goal? What? Especially since they were down eight with a fourth and short in the redzone with four minutes to play. And instead of a field goal or giving it to Dayne, the Huskies opted for a pass which resulted in a sack.
2) Who's Doug Ohle?
Okay, this is a little mean, but listen it's not untrue. Washington quarterback Doug Ohle has not scored a touchdown since he was a Hawaii Warrior. What makes things worse is that Ohle was the one who iced Hawaii's National Championship victory a season ago. Ohle broke off a 20 yard touchdown run in overtime for the win. Now we're two weeks in to his follow-up performance and he's coughed up two interceptions with no touchdowns. It's not for lack of trying though, as the Huskies turned to Ohle in this one. Unfortunately, the TCU defense was stifling. TCU free safety Kobe Jordan was all over the place as was corner back Gladwin Wolfe and it certainly was a joint effort. It didn't help Ohle to have TCU defensive end Jabril Jackson in his face, including the big sack on fourth down with four minutes to play. But still, Ohle was an All-American a season ago and appears to be a shell of his former self so far. Washington needs to get Ohle back his mojo and fast.
3) TCU Is Real
So, just in case last week's 23-27 fight with Oregon wasn't enough, are you a believer now? TCU quarterback Dalton Andrews looked phenomenal with four passing touchdowns in the first half. Not to mention he had over 324 yards passing to close the half. TCU tight end George Williams and wide receiver Andre Gyan each hauled in two touchdown catches. Gyan's second was set up by wide receiver Matt Barnes who caught a beautiful dime dropped by Andrews. Then the second half happened. TCU halfback Koda Adok runs for a little over 100 yards to seal the deal for the Horned Frogs. It's the second straight week the Horned Frogs were held to just a field goal in the second half though. But, defensive end Jabril Jackson recorded eight tackles, four for a loss, and three sacks. It was Jackson's last sack that put the nail in the coffin of this one and why TCU was able to hold on to an 11 point lead.
You can catch the Huskies trying to rebound against Florida State next week. The Horned Frogs, on the other hand, have a date with Notre Dame in TCU's home opener. We'll see if TCU can maintain this kind of performance going forward and if Washington can some of the bugs out of their system. Week two is just getting started, but if tonight has been any indicator, we're in for a great week moving forward.