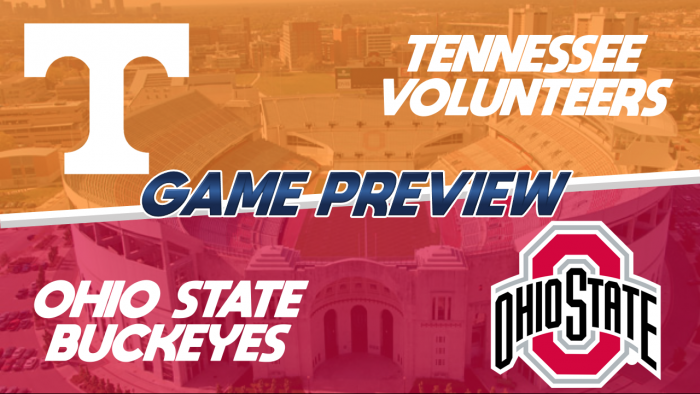 The third game of week two features two very different stories. One team is coming off a quietly impressive win over Iowa. The other is coming into their home opener following a near 40 point shellacking. The Tennessee Volunteers (1-0) debuted an impressive offense and potent defense, while the Ohio State Buckeyes (0-1) came out flat in their debut. We'll see if Tennessee can stave off a hungry Buckeye unit, and here's how the Volunteers can do it.
TENNESSEE
Offensively, Volunteer halfback Donny Kazee exploded on the scene last week. The tune of 259 rushing yards and four touchdowns on 34 carries can make any offense sing and that's what happened. That kind of performance means that quarterback Dewey Ainge doesn't have to do a lot. 17 pass attempts, nine completions for 166 yards with a pick. Considering what Kazee did, not much to be concerned with in respect to Ainge. Especially since wide receiver Jonah Woods racked up 115 yards on just three catches, it makes Ainge's job fairly easy. The only area that really needs improvement was being shut out in the second half and their ineffectiveness on third down. The Volunteers went three for 11 on third down, that needs to be cleaned up moving forward.
Defensively, a solid outing all things considered. They gave up 14 in the first quarter, shut the Hawkeyes out in the second, and then gave up a total of nine points in the whole second half. This defense is scary and will only get better. Middle linebacker Ronald McFish led the way with 13 tackles and one for a loss. Free safety Andrew "Smiley" Tillman helped out with 12 tackles of his own. Oh, and this defense forced three interceptions, with corner Aaron Smith and safety Josh Bradley each getting one. No sacks for this unit, but the pressure was there and it will need to be there again.
OHIO STATE
Look, after a blowout loss like that, it can be difficult to see any silver lining. But, fortunately for the Buckeyes, there is a silver lining. Quarterback DeAndre Evans passed for over 400 yards and three touchdowns. He did have four interceptions, but showed resiliency and a willingness to go down swinging. The concern that Ohio State needs to resolve is getting halfback Frost Carlson out of park. Five carries for 14 yards and a touchdown? Not what they wanted, and something they hope to resolve. Still, wide receiver Zaire "Za Za" Bradley showed some great speed and hauled in one of Evans' touchdowns to go with his 115 yards receiving. Still, this offense needs to find a way to get balanced out.
Defensively, the Buckeyes gave up over 60 points in the loss. Not to mention, that 41 of those points came in the first half. The redzone efficiency didn't help either. Eight trips into the redzone and this defense couldn't keep the Longhorns from scoring on all of them. But, linebackers Noah Mason and Tyler Ball combined for 15 tackles and a tackle for a loss. Safety Moody Mitchell had seven tackles of his own to add to that. This defense will gel in time, but they cannot allow another 139 rushing yards and two touchdowns from Kazee to be victorious.
WHAT TO WATCH
Kazee is likely going to run rampant, and the challenge will be on the Ohio State linebackers to get to the edge where Kazee is most effective. That's a major mismatch considering the strength of this Buckeye defense is their interior and Kazee is likely to run away from that. If this happens, watch out, Kazee could have another big night for the Volunteers and things could turn ugly for Ohio State again.
PLAYER MATCHUP
MLB Ronald McFish v. HB Frost Carlson
We all know the story of McFish by this point, that's not surprising. He helped keep Iowa halfback Avery Jordan to just 100 yards rushing. Ohio State wants to get Carlson involved, and that means McFish is going head-to-head with him all game long. The winner of that confrontation will go a long ways to being the deciding factor in this one. For Ohio State to win, they need Carlson to explode on the scene.
PREDICTION
We all know Ohio State got embarrassed last week, but this is their home opener. Last week hurt them, but expect them to come out swinging. Unfortunately, Tennessee knows how to fight back, meaning we're looking at an all out brawl. Evans and Carlson, should they get a rhythm going fast can pull the upset. McFish is on the other side looking to freeze both on a cold night in Columbus, and that means Kazee can run rampant. The Volunteers take the W tonight, but in a nail-biter.
Tennessee 31, Ohio State 28