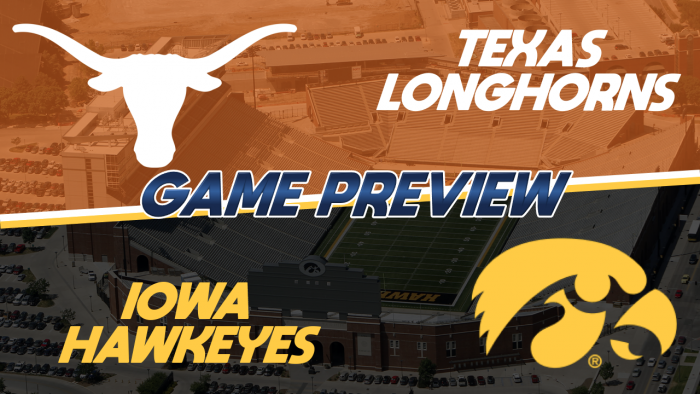 Week two and the Longhorns are on the road for the first time this season as Iowa engages in their home opener. The Longhorns, of course, are coming off their CFSL debut where they put up 62 on Ohio State in a blowout win. Now, they're looking to repeat against an 0-1 Iowa team. Let's take a look at what we can expect.
TEXAS
Not much to point out when you're looking at a Texas offense that put up 62 last week. Longhorn quarterback Ray "Voodoo" Tatum put up 333 passing yards and two touchdowns on 25 completed passes. He looked solid, but was not the main attraction for a change. Texas halfback Geaux Bamba lit up the stage with 139 rushing yards and two touchdowns on just 24 carries. Bamba and the Longhorns routed Ohio State in part because this offense just didn't know when to stop. That's the mentality they'll need as they face an Iowa defense that struggled to stop the run.
Defensively, the Longhorns managed to shut out the Buckeyes in the first quarter, but couldn't pitch a complete one. They were disappointed, but hey, they picked Ohio State quarterback DeAndre Evans off four times. Defensive end Michael Sudeikis and middle linebacker Jaxson Morrow combined for five tackles, three for a loss, and three sacks. It was their pressure that led to corner Chucky Lozano and safety Randy Charles V each getting one of Evans' interceptions. Hard to complain about that, although, they did give up three passing touchdowns. It may have been a blowout of a rout, but still, the secondary is going to have to tighten up in the redzone.
IOWA
New offense, not so new problems. Quarterback Marcos Hernandez's debut following his transition from wide receiver did not go well. Three interceptions to just one touchdown is not a great performance, and neither is 189 passing yards on 27 completions. There is a silver lining for this offense though and his name is Avery Jordan. The young halfback picked up 110 yards on 17 carries and if the Hawkeyes can make him the feature back of this offense, watch out. Similarly, tight end Franklin Richards looks pretty good, eight catches for 73 yards and a touchdown last week. Unfortunately, most of those were checkdown throws and Hernandez looked scared to throw more than 15 yards downfield. We'll see if he fares better in his second outing.
Defensively, there's a lot more going for them. I know they got shredded to the tune of 259 yards and four rushing TDs but Volunteer halfback Donny Kazee, but hear me out. This Iowa defense kept Tennessee to under 30% in terms of third down conversions, and didn't let them score in the second half. They may have spotted the Volunteers 28 to start, but they really tightened the screws in the second half. Defensive end Alvin Mack played a role with his three tackles, two for a loss, and sack. Safety Othello Jones came up with an interception, while corner Neal Mason led the team in tackles. This week, they're in for another challenging run game.
WHAT TO WATCH
So, here's the deal, Iowa needs to get this offense figured out and it all starts with halfback Avery Jordan. If Jordan can get off to a quick start then that will take pressure off Hernandez and hopefully let him be comfortable throwing more than 15 yards downfield. Unfortunately, this Texas defense made life miserable for Buckeye QB DeAndre Evans, and he looked better last week than Hernandez did, and Hernandez had more of a running game on his side. It's a tall order, but a necessary one for Iowa to claim victory.
PLAYER MATCHUP
Iowa HB Avery Jordan v. Texas LBs Jaxson Morrow & Justin Boudreaux
If Iowa is going to win, they need Avery Jordan to have a monster of a game. Which means, he'll have to beat Texas linebackers Jaxson Morrow and Justin Boudreaux. Morrow and Boudreaux combined nine tackles, with one for a loss and a sack. They'll need more production tonight against a halfback who's looking to make a name for himself.
PREDICTION
Iowa had some flashes of their potential last week, and if they can get a ground game going tonight, they show a lot more than just flashes. Unfortunately, Texas is riding high off their blowout of the Buckeyes and have a lot of momentum. Easy to have confidence when Geaux Bamba runs like an out of control freight train. Factor that in with an impressive quarterback in Ray Tatum and, well, it's hard to pick against them. Texas should win this but not without a fight.
Texas 38, Iowa 28