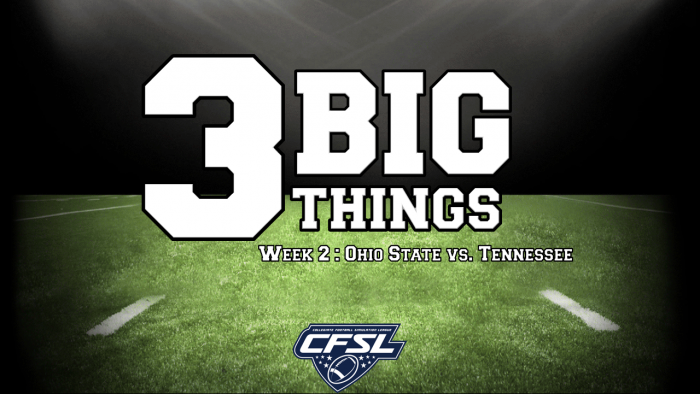 Last night's opening game was wild, and the nightcap was no different. A good ol' fashioned slugfest started the night between two teams that, while they made offensive plays, the defenses stood strong to keep this one from getting out of hand, even if the final score doesn't reflect it. Ohio State came into their home opener after giving up 60 the week before. Tennessee was hot on the helm of Donny Kazee's breakout game. The Buckeyes hung in until they could leap in front, to win this one 41-27. Here's what last night told us.
1) THE BUCKEYE HANGOVER SPECIAL
Last night marked the sixth time that Ohio State was coming off a blowout loss in their tenure in the CFSL. Going into last night, the Buckeyes were 5-0 the week after. Now, they're 6-0 the week after the doors get blown off them. New Buckeye roster, same Buckeye story. Ohio State QB DeAndre Evans coughed up four interceptions in week one, and coughed another one up early in this one. Then, he goes 15 of 19 with four touchdowns. Wide receivers Zaire Bradley and Blake James each had over 130 yards receiving and a touchdown each. Oh, and halfback Frost Carlson had 133 rushing yards on 28 carries. If this Buckeye offense can find consistency, they'll be back in position to have a shot at the Big Ten Title.
2) THE TENNESSEE BIG THREE
Look, Tennessee halfback Donny Kazee lit up week one to the tune of 259 yards on 34 carries with four rushing touchdowns. We all came to expect Kazee to dominate going forward. Then last night happened. Kazee got locked up by a Buckeye defense that kept his longest run to just 27 yards. His longest in week one was almost three times that. Usually when a player like Kazee gets held to just 93 rushing yards on 19 carries and no touchdowns, your offense could struggle. Not these Volunteers, though. Quarterback Dewey Ainge came off a game managing performance and stepped into "do-it-all mode." In week one Ainge went 9 of 17 for 166 with an interception. Last night? 28 of 35 for 367 yards, three touchdowns, and an interception. Oh, and he added 37 yards on six carries of his own.While the interception helped to swing the game in Ohio State's favor, Ainge proved that he can guide this team and can win a game should defenses key in on Kazee. Part of Ainge's success? Wide receiver Scotty Stallworth. Six grabs, 114 yards, and three touchdowns. This is the kind of chemistry that allows Ainge to grow and lean on, making this offense more threatening than when opponents just had to worry about Kazee. Good luck defenses that face this big three.
3) A SLOW RIVALRY
This game had a slow, hard-hitting, defensive start. That's almost in spite of the offensive numbers put up. No team scored more than 10 points in each quarter. Both Tennessee and Ohio State managed to get into the endzone just once in each of the first three quarters, trading a field goal every other quarter. Then the fourth quarter happened. Ohio State went on a 17 point run and kept Tennessee from responding. Not to mention, Buckeye safety Moody Mitchell snagged a pass from Ainge. Ohio State and Tennessee have never had a clear cut winner until the fourth quarter. A finish like that though? With Evans going for the throat in the closing seconds for his fourth and final touchdown pass? That's the sort of thing that can spark a rivalry, and so far Tennessee against Ohio State has had the scores and the games to make it.
Hard to see a team lose, but hey, both Ohio State and Tennessee now have the same record, 1-1. Now the Buckeyes get to try and hold off some Oregon Duck revenge tour in Eugene, while the Volunteers have an SEC play-date with Clemson in Knoxville. You can catch both games next week as we press on in week two.