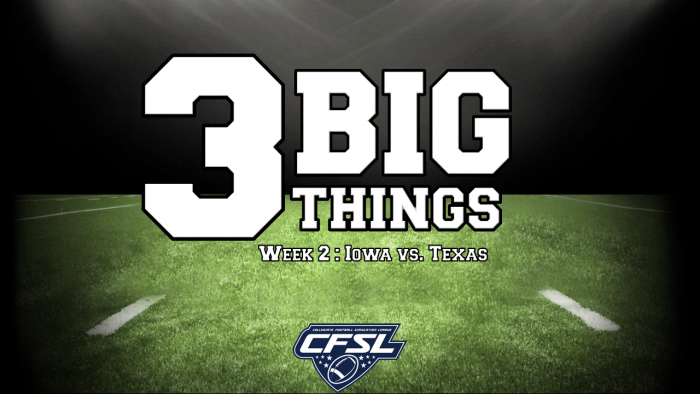 Another night of CFSL action took place in the state of Iowa, and among the cornfields stood Kinnick Stadium. The Texas Longhorns (1-1) and the Iowa Hawkeyes (1-1) engaged in massive warfare, all the way until the final seconds. When the triple zeroes hit, the Hawkeyes stood a point ahead in a wild one, 43-42.  It was Texas' first outing after stunning the Buckeyes in week 1 and Iowa's first chance to work out some of the flaws they stumbled upon a week ago. Here's what we learned last night.
1) GEAUX THE BAMBA WAY
An explosive kickoff return for a touchdown usually spells disaster for your opponent, especially when that's at the start of the game. Texas halfback Geaux Bamba did exactly that, taking one the distance on their opening return. You would think that's grounds to feed the man right? Wrong, Bamba didn't get 4 carries on offense until the 3:35 mark of the second quarter. Don't get me wrong, Tatum played a great game, and Bamba finished with 14 carries for 135 yards and a touchdown so he finished great on the stat sheet. The problem is, he should have been more involved early on, especially when you consider the Longhorns jumping out to a 14-13 lead. Bamba could not be stopped and would have helped keep this game out of Iowa's reach.
2) BALANCED…AS ALL THINGS SHOULD BE
We knew Iowa halfback Avery Jordan was going to be an ace for the Hawkeyes, even if he didn't necessarily show it last week. Well, he showed it this week. Jordan capped the night with 31 carries for 208 yards and a pair of touchdowns. Jordan had 111 of those yards by the four minute mark of the second quarter. Then, add in quarterback Marcos Hernandez, who coughed up three interceptions last week. This week? He comes out, 21 of 31 for 185 yards and a pair of touchdowns himself. Oh, and add on his own 12 carries for 76 yards and a touchdown. If this Iowa offense can maintain their balanced look, they're a force to be reckoned with and has certainly put the Big Ten on notice.
3) MACK OF ALL TRADES
Make no mistake, Iowa defensive end Alvin Mack is a stud, and tonight he showed out for the Hawkeye faithfuls. While neither defense could come up with a turnover, it was a matter of stops. Late game, Hernandez drops a dime for Christensen to put Iowa down two. A punt later and Iowa has managed to drive down the field for a field goal with :39 left on the clock to put the Hawkeyes up one. The return and a couple plays later set up Texas quarterback Ray "Voodoo" Tatum with a shot at a hail mary with just two seconds left. Tatum is a proven commodity in the long ball and could have nailed one. That's when lightning struck. Alvin Mack finished the game with three tackles, two for a loss, and two sacks. He had played a role in both the passing and running game for a majority of the night, helping to slow Bamba. But it was the second sack that mattered most. Tatum dropped back, Mack flew off the edge from Tatum's right, and came bearing down on him like a semi on the freeway. Tatum goes down, time empty, ball game Iowa.
The tough fought games are the hardest to absorb, and that's what Texas will have to do. They've got a date with the Wolverines in Austin next week. As for Iowa, a nice building block win that they hope will carry them into College Station next week to face the Aggies.