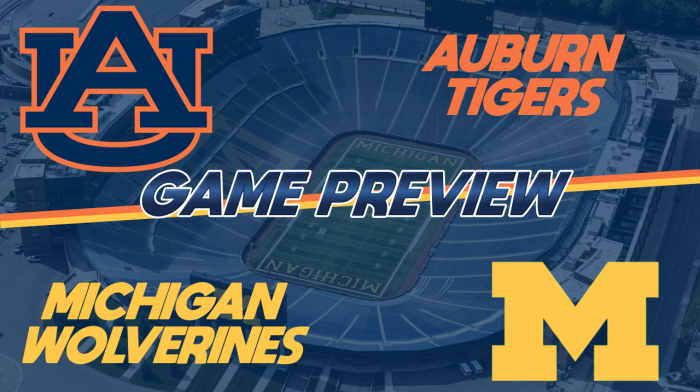 The nightcap of our festivities takes place between Auburn (0-1) and Michigan (0-1).  Both Auburn and Michigan have not had the start to the season they expected. Auburn had Clemson down big time, and then gave up the largest comeback in CFSL history. Michigan, on the other hand, didn't have their best game at all against Notre Dame. Yet, somehow, the Wolverines only lost by three. Here's how each team can avoid an 0-2 start.
AUBURN
I'm aware the Tigers lost last week, but they looked scary. Quarterback Blake Moon looked to be back in his Offensive Player of the Year form, with 425 passing yards and five touchdowns. Not to mention, wide receivers Wayne Carter and Alex A Cook looked great. Carter had 12 catches for 249 yards and four touchdowns, while Cook added 89 yards and a touchdown on five catches. Oh, and halfback Billy Carter racked up 109 yards and a touchdown on 21 carries. The only issue is the offense slowed down in the second half, but even then, they did enough to try and stay ahead. This offense is not to blame for last week.
Defensively is another matter entirely. They had Clemson down two touchdowns going into half and had all the momentum. Then they gave up 31 in the second half. It's not like they couldn't get off the field either. They held Clemson to a conversion rate of 25% on third down. And, this defense came down with two interceptions. So what's the issue? Big plays. They couldn't get any pressure home, even though they had one sack. They gave up 181 rushing yards to a quarterback, who ran in three touchdowns. Linebacker Tony Bryant had seven tackles and a pick, while his partner, Hank Davis, recorded another three tackles and a tackle for a loss. Defensive end Rick O'Shea came up with a sack as well as his own three tackles and tackle for a loss. They need to get some kinks worked out defensively and limit the explosive plays for tonight.
MICHIGAN
What a weird start for a Wolverines team that isn't used to starting their season with a one in the loss column. But, this is where they're at. Quarterback Javon Mack, coming off an offensive player of the year winning season, coughed up four interceptions with only two passing touchdowns. The crazy part? The Wolverines only lost by three. Mack ran in a touchdown and had 84 yards rushing to go with his 243 passing yards. The bigger story, though, was halfback Ezell Mack. His success kept Michigan in this, with 141 rushing yards on 20 carries and two touchdowns. Still, Javon's passing woes linger and the Wolverines are hoping homefield advantage can erase them tonight.
On the other side of things, not a bad outing. Your quarterback turns the ball over four times and you manage to keep it to a field goal deficit. Linebacker Nate Jones brought the hammer back down with 11 tackles and a tackle for a loss. Still, only one interception for this secondary that got strengthened with the addition of corner Brum James. They're going to have to create more than just one interception tonight, especially if they want to avoid a repeat of last week.
WHAT TO WATCH
Auburn's offense is going to be angry now. They went ballistic in the second quarter, Blake Moon played his best game in a while, and they have nothing to show for it. Expect the Tigers to come out mad tonight and Wolverine is no less happy. Lost by three in a rivalry they hoped to own, now they've got their second rivalry to deal with. It's a fight to the finish now.
PLAYER MATCHUP
QB Blake Moon v. QB Javon Mack
These two have been going at it for forever, and coming into tonight's game, that's no different. Blake Moon won Offensive Player of the Year in season one, Javon Mack won it last year. They've been bickering over a Temple of Greatness for about a week. Throw it all out the window. When they step on the field tonight, the Temple is no longer at stake. It's pride. One quarterback wants to prove he's better than how he performed last week. The other wants to prove he's still the best in the CFSL. The beasts are being let loose in Ann Arbor tonight, and neither one is going to back down.
PREDICTION
A ton of talk, passion, determination, and excitement surrounds this matchup. On one hand, Auburn dominated but let one slip away. On the other, the Wolverines didn't look great and still managed to keep things close. The way I see it, it's going to come down to the defense that can come up with the last stop, and frankly, I think this Auburn defense is the one with more to prove.  The offenses are going to put on a show, no doubt, but one defense is going to come up with a stop. Give me the Tigers in a nailbiter with a late drive by Blake Moon.
Auburn 45, Michigan 42