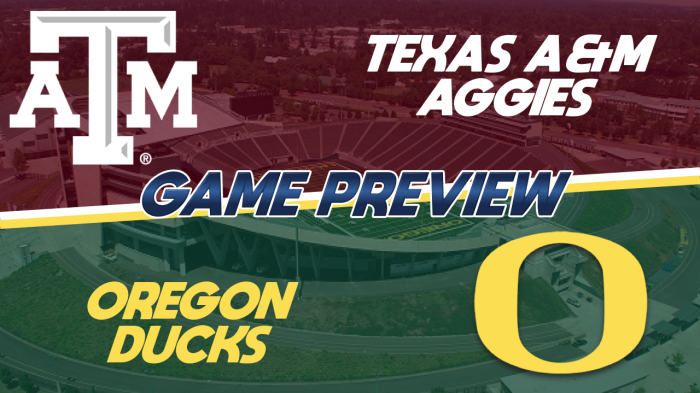 Week two action continues tonight as the Texas A&M Aggies (0-1) head to Eugene for a date with the Oregon Ducks (1-0). The Ducks are coming off a nice win over TCU, keeping the Horned Frogs from getting away with one. The Aggies, on the other hand, are looking to bounce back after failing to close one out with the Huskies last week. Here's what they need for a win.
TEXAS A&M
I know the Aggies lost, but they didn't look bad. Quarterback Daniel Murphy went 19 of 27 for over 200 yards and three touchdowns. Murphy added an extra 37 yards on nine carries. A solid passing performance, and a solid start. They had outscored Washington 10-6 in the first half, unfortunately, they couldn't seal the deal. Halfback Tim Riggins was kept to 93 yards rushing, which normally wouldn't be the worst thing in the world, except that it came on 23 carries. The Aggies are going to have to figure out how to get this rushing offense straightened out to avoid losing games late.
Defense, like the offense, had a nice start. Unfortunately, they stumbled down the stretch. While the Aggies defense kept Washington to just six points in the first half, they gave up 28 in the second half. Linebackers Paul Cunningham and McKinnley Hall combined for 13 tackles, unfortunately, they couldn't keep Washington halfback from picking up over 220 yards on the ground. The run defense will need to be on watch tonight against a dynamic Oregon offense.
OREGON
The Ducks came away with the win last week, primarily due to the efforts by quarterback Devonta Cribbs who had 236 passing yards for two touchdowns and a pick. Cribbs added another rushing touchdown and 68 yards on the ground, including a 41 yard scamper. However, the offense had its share of struggles too. It took 15 carries for halfback Speedy Love to eclipse 50 yards rushing. Love finished with 54 and a touchdown. Oregon put up 14 in the first half and didn't score the remaining 13 until the fourth quarter. They'll be looking for a much faster start tonight.
Defensively, three whole quarters of great ball is nice, and tonight I expect they'll be looking for a full four quarters. They kept TCU to just three points in the first and fourth quarters, and shut them out in the third. This defense gave up 17 in the second quarter though. It worked last week, but not every week. Corner Israel Cassius and safety Jack Frost came down hard on defense, combining for 23 tackles, a pair of tackles for a loss, and two passes defensed. Solid work, but the front seven will need to get going tonight with linebacker Noah Lopez and defensive tackle Ben Marquez.
WHAT TO WATCH
If Texas A&M builds a lead tonight and can get Riggins going on the ground then this game is over, so long as Murphy doesn't make any mistakes. Oregon has a strong secondary, and they'll have to play in the box against the Aggies, otherwise Riggins could find himself running roughshod over the Ducks. Just in time for the holidays too.
PLAYER MATCHUP
WR Jay Smith v. CB Scott Davis
We've looked at the units, but the former Oregon quarterback turned receiver has to have a big game. I know he had five catches for 66 yards and a touchdown, but he didn't look quite as explosive as expected. He has to have a breakout game tonight against Aggie corner Scott Davis. Davis had seven tackles for Texas A&M last week, but he's going to be challenged tonight. This matchup will definitely play a role in the outcome.
PREDICTION
This is where things get dicey. It all depends on whether or not Texas A&M can get out in front and find a way to hold onto their lead. Unfortunately, Devonta Cribbs has shown he can mount a comeback, so the Aggies have to build a sizable lead and not let the Ducks hang around. Given what Cribbs did last week, and the fact that this A&M defense gave up over 200 yards rushing last week, I don't see the Aggies getting out of Eugene with a win. The Ducks take it by 10.
Texas A&M 28, Oregon 38