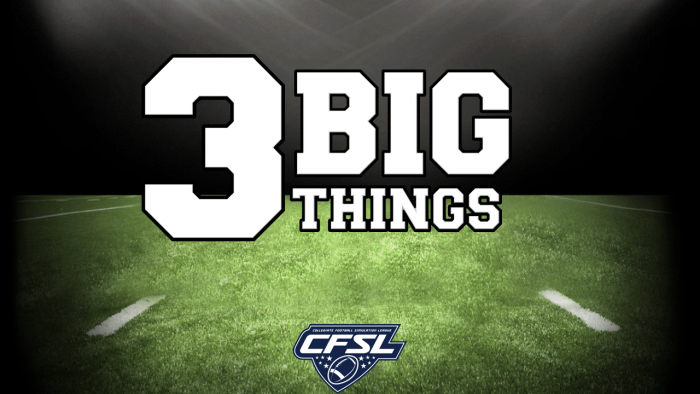 The nightcap last night came with a lot of baggage from a season ago. Auburn ended Michigan's perfect season and knocked them out of their number one spot following the first official rankings. Mack and Moon left unfinished business on the field. Well, last night it got settled, as Michigan maintained their unblemished record at home. Here's what we learned from Michigan's win last night.
1) MACK'S OVER THE MOON
Last year, Auburn quarterback Blake Moon pulled one over on the Wolverines. Not last night though, as Michigan QB and reigning offensive player of the year Javon Mack got even. 202 passing yards and a touchdown coupled with 160 on the ground and two rushing touchdowns. Mack had a nice response following his four interception game from a week ago. And yet, somehow Blake Moon was right there, only to be let down by a wide receiver who dropped the tying score. Still, Javon Mack looked better and more dominant than Moon did last night.
2) DOUBLE BIG MACK
We've mentioned quarterback Javon Mack, but how about Ezell Mack? The Michigan halfback put up three rushing touchdowns with 99 yards on 21 carries. Now, I know that doesn't sound impressive, but let's be clear, Ezell made some big plays. With the two Macks running the backfield and this offense, the Wolverines look explosive and dangerous. Defenses are going to have a tough time stopping Michigan's Double Big Mack.
3) HISTORY REPEATS
Just something fun, there are four similarities between last night and the matchup between Michigan and Auburn last season. Both teams combined for 10 redzone trips, and combined for nine touchdowns on those trips. A single five star wide receiver got a touchdown pass and that was Michigan's Bobby Jackson. Last season, that was Derek McFadden. And Michigan did not score in the fourth quarter. And, the winner was decided by seven points. All four of these have been the same between the two matchups, the only difference is who came out on top.
Michigan is back to .500, and will look to continue their winning ways in week three against Texas. Meanwhile, Auburn will aim to get out of their 0-2 hole against Penn State next week.