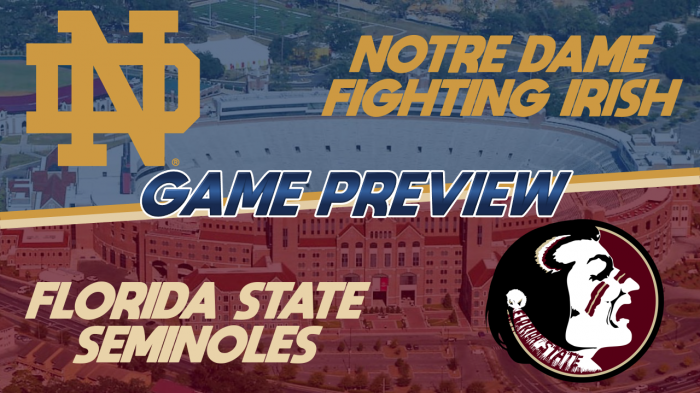 Our Saturday kickoff game features a hyped up Notre Dame vs a motivated Florida State. Notre Dame pulled a little upset last week, knocking down a rival Michigan team with high expectations in a close battle. Florida State also was in a close fight, but ended up losing by three to a shocking Penn State squad. It's still early in the season. Lets find out what these teams can do to pull out a victory this week.
Notre Dame
Offense
The game tape from last week's showdown has an interesting story to tell. Despite their high powered offense putting up 508 total yards, Notre Dame's third down conversion rate was a dreadful 38%. How can a team with such a powerful offense fail on eight of 13 third down attempts? This is something that quarterback Ty White will need to correct as the Florida State defense isn't considered a top squad by any stretch of the imagination. Letting them get off Scot-free on third downs would be disastrous. Week one showed that ND is one of the more versatile teams in the CFSL. Their rushing ability is evident when looking at both White and halfback Jacob Philhart. Combine this with the Bodine crew's reviving ability and you have one strong offense. If the read option keeps getting steady gains and the mid range passing attack shines through, this game should be no problem for Notre Dame.
Defense
If I asked you right now who leads Notre Dame's defense in tackles for loss, what would your answer be? Tyson Ali right? It turns out that sophomore safety Michael Jerome Pluth is actually that title holder. His game vs Michigan was incredible, totaling eight tackles, two tackles for a loss, and an interception. His partner in the secondary, Tyrell Solo also pulled down a pick and helped lock down the skies against reigning OPOY Javon Mack. This week's task is James Kovach, a newcomer that looked extremely composed in week one. Rattling him will open up opportunities to capitalize on offensive blunders that are bound to happen with a young quarterback. The real test will be shutting down wide receiver Jared Tetonis. It doesn't seem like anyone can do that one on one. Zone play and forcing the ball to anyone not named Tetonis will help bring a win back to Indiana.
Florida State
Offense
Despite the loss, FSU actually played a pretty good game of football offensively. Any game where you don't turn the ball over is exceptional with how much defenses have improved this year. In addition, their passing was near the best in the nation with the Kovach to Tetonis connection humming all night. The improvement needs to come from halfback Adam Croft. 15 carries for 33 yards is inexcusable for a HB of his talent level. His level of involvement is fine since this team is built on the pass, but getting him some different looks could do wonders for this offense. On an unrelated note, can we please have Jared return more kicks than his brother? He proved he was one of the best kick returners with his 33 yard average last year. Getting drives started with good field position could really help this team convert and pull the upset.
Defense
Defensively, this team was lacking against Penn State. Letting opponents get 26 first downs does not lead to many wins even if your offense is clicking. This defense needs to tighten up and do some work against the run, because it's coming this week. White and Philhart are both great runners, and ND surely saw Jasper Johnson put up 6.75 yards per carry. Defensive ends Mark McCabe and Gabe Stevenson need to get off the line quicker this week to stop the read option as much as possible. In addition, the stars of this defense, corner Nathan Tetonis and linebacker Vinny Maddox, need to continue to produce at a high level. They were flying all over the field last week. Its going to be a rough battle, but slowing down the ND rushing attack will be key for this defenses confidence.
What to Watch For
Notre Dame D-Line vs James Kovach's Pocket Presence
James took one sack against Penn State and it was by a walk on. Getting hit once in 45 dropbacks is nothing. The Notre Dame defense is an entirely different animal when compared to PSU. Defensive end Shane Razorback will pick you up and slam you down so hard you'd think this was actually a wrestling match. His pressure combined with Ali's constant presence in the backfield will put Kovach's resolve into question all night. If Kovach can prove that he can stop up in the pocket and make plays this week, it might be time to keep a close eye on him as he becomes a premier pocket passer in the league.
Key Matchup
Notre Dame CB Tyrell Solo vs Florida State WR Jared Tetonis
Unlike last week where I thought Adam Croft would be the X factor, this week I'm taking the obvious choice. Tetonis proved that he is every bit as good as he was last year during his near 200 yard performance. It's going to be up to Solo to try and slow him down as much as possible. Its a tough task, but Solo has shut down his fair share of playmakers during his career. Denying the deep ball will be crucial as the majority of Tetonis's yards come from long streaks or deep post plays. Take away Kovach's 1st option will give the d-line some extra time to get in the backfield while the young QB makes his second and third reads. Keep an eye on these two as they battle down the sideline.
Prediction
This is an interesting matchup as I feel there is upset potential for FSU. Notre Dame's pass defense is good, forcing 4 interceptions against a stellar QB last week. However, the WR core of FSU is extremely talented between Tetonis and Golinar and Kovach looked really good throwing to them last week. I might actually go as far as saying that I like their offense more than ND. It's the defense that puzzles me for FSU. They gave up 363 rushing yards last game! Then there is their secondary that one stud and a bunch of walk-ons. While I don't totally agree with the "Defense wins championships" moniker, there is a line of how much an offense can compensate for a lackluster defense. ND should pull through and win this one handily by scoring on at least 70% of their drives.
But that's not actually going to happen. It's possible for Notre Dame to lose if they aren't ready for the Florida State passing game. FSU will upset some teams – why not today in front of their home crowd? Kovach is going to throw the ball all over on the way to a victory. Regardless, this passing attack is going to prove it's for real even if they don't get the win. Look for my money to go on an FSU cover and an over for the game.
Notre Dame 41, FSU 43