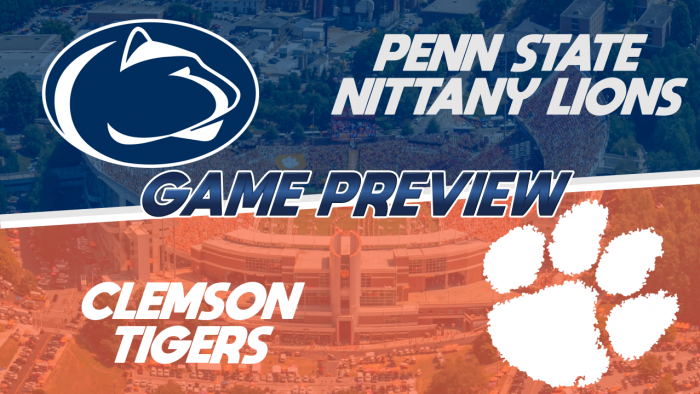 Two undefeated expansion teams enter. One will leave the arena with the win. The stage is set for the Penn State Nittany Lions to take on the Clemson Tigers in South Carolina. After today, there will only be one expansion team cheering for a 2-0 start to Season Three. For Clemson, this will be their home opener and will be the first game on the road for Penn State. Both teams impressed the league with securing a win last week. It's time to review the battle of the Lions and Tigers.
PENN STATE
The Nittany Lions enter week two beating Florida State by three points at home. Quarterback Aidric Berry and halfback Jasper Johnson both ran at will on the Seminole defense, posting almost 370 rushing yards in the game. Aidric had some struggles in the passing game, not passing over 150 yards and threw two interceptions. Despite those errors, his addition to the run game favored in their plan of attack of getting first downs and draining clock. In their game against Florida State, the Nittany Lions converted on almost 70% of 3rd down conversions. Also helping them securing the victory was time of possession, holding the ball for over six minutes more than Florida State. Expecting for Penn State to have a similar plan in testing the Clemson run defense to get the job done.
Defensively, they've also played great on slowing down the run game. Besides the three touchdowns Florida State halfback Adam Croft gained, he only reached 33 rushing yards when the final whistle blew. linebackers TJ White and Devan Davis had 13 tackles between them. The defense was swarming all game as they held off FSU to win by three. They also have one of the best corners in the nation with Darius Bowman. Can do it all with his ability in the run game and pass game. Although the team allowed over 400 passing yards and 2 touchdowns, they still have talent all over this team and Clemson should not slack up one bit.
CLEMSON
As we've reviewed earlier, Clemson started their season off with a bang. Coming back from a 21 point deficit to defeat the Tigers of Auburn. The DJ/AK Connection proved to be ready to answer the call when needed. After a multitude of stops by the defense, they clawed their way back for their first win of Clemson History in the CFSL. Quarterback DJ Moss led the comeback with all of his stellar passes and running ability after a slow start. Moss threw two interceptions in the first half but recovered when his team needed him.
Let's talk about the elephant in the room. After reports of an injury to their star halfback Adric Khaan, it's confirmed that he will not be playing in the game this week. In retrospect, it's a huge blow to their offense. Will they be able to stand strong despite the loss? It's definitely possible. For a team that fought back from the chatter week one, the adversity could build them up to bigger heights.
One reason why they have a big shot is because of this opportunistic defense. Led by safeties Barry Allen and Jordyn Hall, and linebacker Kobe King, all three had huge impacts on their comeback victory. It did come with a few spots of worry. Their defense was beat repeatedly in the first half by Blake Moon and company. After half time, the adjustments worked in their favor, notching three turnovers in the second half. It will be interesting to see what could happen if this defense plays with that intensity for ball four quarters.
MATCHUP SPOTLIGHT
A lot of people were waiting on the Johnson verse Khaan matchup this season. Adric Khaan not being present for this game will put an even bigger spotlight on Jasper Johnson, who impressed the league with his running ability week one. We will see how effective he will be against this Clemson defense, who showed great ability to stop the run game in their first game. I'm not expecting JJ to carry the ball 35 times like last week but he did impress with those amount of carries, adding a TD and moving for almost seven yards a carry. Another performance like that can help get Penn State over the top.
Another player that we will keep an eye on will be Clemson quarterback DJ Moss, who has never played a game without his chunky road warrior. Will he be able to shoulder all of the offense on himself and make up for Khaan in the run game? He shown flashes of a two way stud week one against Auburn but it's a different ball game with Penn State. He needs to come out swinging and play without forcing turnovers. It's a long shot but the #1 Prospect has all of the tools to make this a matchup nightmare for the Penn State. This can open a lot of eyes on him and catapult him higher in the quarterback rankings.
PLAYER MATCHUP
Clemson WR Anthony Robertson III vs. Penn State CB Darius Bowman
This is definitely going to be a fun sight to see. There's one guy that needs to show up for Clemson outside of DJ Moss and that is wide receiver Anthony Robertson. His first game could have been better  if you base it off his stats. One underrated asset to his game is his ability to block downfield effectively for his teammates. He hasn't shown too much in the receiving game but this could be a perfect chance to make his mark against one of the best defensive backs the CFSL has ever seen. It won't come easy, though. Darius Bowman is about as tough of a player in the weight room as he is on the field every week. Bowman Island has left plenty of receivers confused and broken in his wake. Will AR-15 be another name checked off of his hit list?
PREDICTION
This will be a fun match from start to finish. Physicality is key. Do I believe the Tigers will be slowed down without their bulldozer AK-47? Yes, I do. Is it the worst thing in the world for them? Absolutely not. It's something that Clemson can overcome but will make this track much harder for them to move on.
Penn State has a lot to prove in this game. Some would say that they are the most slept on team in the CFSL. It's a chip on their shoulder that can help lead them to victory this time around.
The key to this victory will be from the defensive side of the ball and making key stops. I believe Clemson will fall short to Penn State by a TD but there will need more minutes to decide this game.
Clemson Loses to Penn State 44-37 in 2OT
QUOTES
"Obviously you saw how dominant he was against Florida State. Well, we are looking to recreate that all season because we believe he can be the next great HB in the CFSL."
Penn State Athletic Director Tyler Smith on the impact of HB Jasper "JJ" Johnson for the Nittany Lion offense.
"The coaches put me in the best positions to make plays week one. Going into week two, the opponent is very good and defensively we need to ball out again. We need to take that ball away."
Clemson Strong Safety Jordyn Hall on his performance last week and what it takes for Clemson defense to come out on top against Penn State.
"Bowman is very excited for this matchup. He knows with their top running option down that there will be a focus on the passing game, emphasizing an already huge matchup. Darius loves big matchups and I can't wait to take on this huge match up. He has no lack of confidence, so he expects to dominate the matchup."
Penn State Defensive Coordinator Kyle Emlet on his CB Darius Bowman and how he plans on working to get the victory.
"Adversity builds character. I have all of the faith in my young men to pull this one out with or without my son. The game plan is ready for battle no matter the circumstances. We were backed into a corner in the last game and we're in another corner before this game started. The fight of the Clemson Tigers will always be present and if you was unfortunate to miss last week's game, you'll see our claws swinging until the clock reads double zeros in the fourth."
Clemson Recruiting Coordinator Adrienne Khaan on her son not being able to play and the outlook of Clemson going forward.