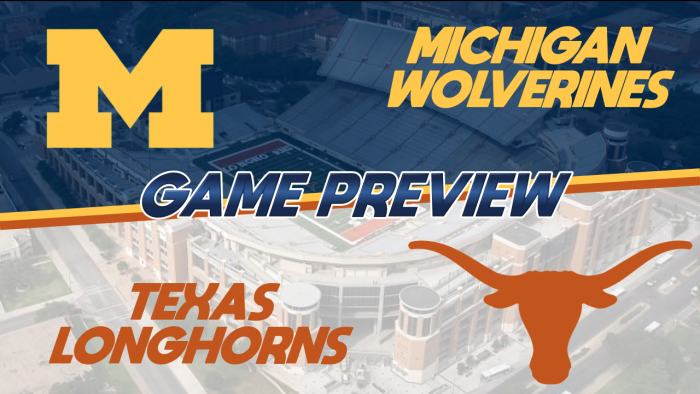 WEEK 3 PREVIEW: Texas vs Michigan
By: HornsNation
The Michigan Wolverines (1-1) head to Austin, Texas to take on the Longhorns (1-1) in what should be a classic match up.
MICHIGAN
The Wolverines come into this game off the heels of an impressive win over Auburn at home. Javon Mack accounted for 362 yards total and three touchdowns. His backfield mate, Ezell Mack, accounted for three touchdowns of his own. The Wolverines did struggle late in the game, only scoring once in the second half.
In order for Michigan to win this game, they will need to keep their foot on pedal late into games. The Wolverine defense is ranked 12th in the league in total offense, giving up close to 500 yards per game. Michigan has limited opposing teams offenses to just 38% 3rd down conversion rate this season.
TEXAS
The young Longhorns look to rebound after a tough loss to Iowa last week, losing late thanks to a miscommunication on the final drive. The Longhorns were once again led by Geaux Bamba as he continues to make teams pay on kickoff returns. Outside of Bamba, the defense struggled containing the run allowing Iowa to run all over them.
For Texas to win this game their run defense will need to step up. The Tatum of Jaxson Morrow and Justin Boudreaux will be leaned upon heavily to stop the Mack attack. The Longhorn offense will need to find their groove again after a less than stellar attack last week. Voodoo and Bamba will need to steer this offense to get on a roll early.
MATCHUP TO WATCH
TEXAS HB Geaux Bamba vs MICHIGAN MLB Nate Jones
In one of this seasons early marquee match ups will be the La-Bamba vs the Judge. Bamba currently averages 7.2 yards per rush and has shown to outdance opposing defenses this season. Nate Jones, nicknamed "The Judge", has continued to establish himself as the best linebacker in the CFSL. Judge can bring down the best that the CFSL has to offer and it will be a collision course in the gaps against Bamba.
QUOTABLE QUOTES
"Happy Holidays folks. Looking forward to a fun, competitive game between two marquee CFSL teams. Hopefully we make the Michigan faithful proud, and ultimately I hope we can put out an enjoyable product and a good show." -Michigan AD on tonight's game.
"Michigan is a tough opponent. This will not be an easy win. Looking forward to all the match ups and making the home faithful proud." -Texas AD on tonight's game.
OUTSIDE SCOUTS TAKE
After struggling with the new playbook in week one, Javon Mack showed vast improvement in his second game of the season, he now has yet another tough defense to go against this week. Which Mack will show up this week?
Texas is a team that has shown they can get it done in many ways so far this season. Their run game is lethal, and they have one of the top QBs in the league. We can definitely expect a shootout between these two teams and two of the best QBs in the league.
PREDICTION
This match up will be a difficult for both teams. Both AD's are students of the sims and both will likely have an excellent game plan for tonight. Texas will need to get rolling early to force the Mack attack into a singular entity. Michigan will need stellar defensive play to stop the multi-dimensional Longhorn attack. Texas wins a close, overtime game, 38-31.