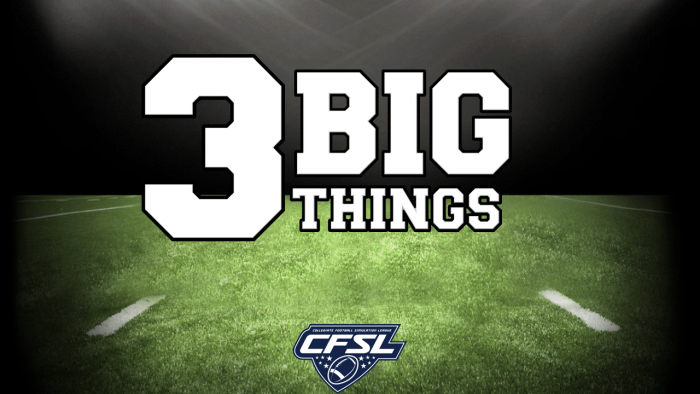 A wild ending in the wild state of Texas. The Wolverines seemingly had control of this game for the better part of it. Then, their well-built lead came crashing down around them, in part because of a man by the name of Geaux Bamba. The Wolverines very quickly lost their lead, and for all their efforts, they just couldn't get it back. Here's what we learned.
1) GEAUX-T BAMBA?
Is it a little premature? Maybe, but let's get one thing straight. The Wolverines had Texas dead to rights midway through the third. Then, Texas halfback Geaux Bamba struck gold on a kick return. He broke two tackles, and took it 95 yards for six points.  When the fans, the league audience thought this was in the books, Bamba basically asked us to hold his beer. His kickoff return pulled Texas back within ten, sparked a pick six from this Texas defense, and the offense played with new energy. After that, Michigan struggled to keep the Longhorns from running away with this one. By the way, we're three weeks in and Bamba already has three kickoff returns for touchdowns. He also added 137 rushing yards with two touchdowns on 25 carries. Stick that in your cap.
2) DOUBLE MACK SPECIAL
Michigan's twin Macks of the backfield put on another show. Quarterback Javon Mack and halfback Ezell Mack combined for 223 rushing yards and three touchdowns, looking incredibly dominant. Now, I know statistically, Javon had a decent game passing wise, but while he started efficient, he looked far more comfortable and potent running the ball. They had the lead, running effectively, even after Bamba picked up six points on a kickoff. The Wolverines fell behind by four, when Texas wide receiver Jerome Jenkins had the 84 go ahead touchdown bomb from quarterback Ray Tatum. It's not like the Wolverines had means to panic though, they had controlled the majority of the game. Then Javon Mack threw a wide receiver screen, and instead of letting the pass sail out of bounds, wide receiver Bobby Jackson gets jumped, ball snagged, and Mack has officially handed Texas safety Michael Wells six points, with :54  in the third. He flashed a couple great passes late, but it wasn't enough.
3) JUDGEMENT DAY
Look, many of us were wondering when Michigan linebacker Nate "the Judge" Jones would take a game over. He didn't quite do that last night, but he sure made a lot of noise. He recorded 13 tackles, with four for a loss. We all know the man's an animal, and he did all he could to keep the Wolverine lead the way it was. Including lay the wood on Bamba and Tatum both. Shame it wasn't quite enough. Look, Jones is great, but even if Jones were to take a game over, the rest of this defense has to do its part to help win.  Last night, that didn't happen but for Michigan's sake, it's going to have to happen sooner rather than later. They're sub .500 now.
The Wolverines will get their opportunity to bounce back against Oregon in week four, which could be a critical game in terms of the Big Ten fate. Meanwhile, the Longhorns will hope to stay above .500 in a major SEC showdown with Tennessee in Austin.