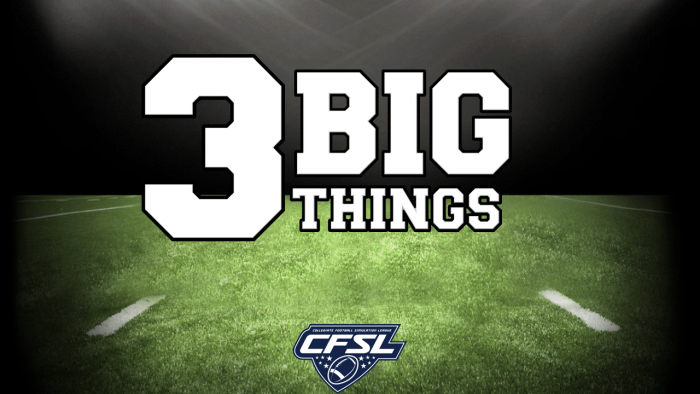 Week three action wasn't slacking yesterday, as Auburn nailed down their first win of the season. Penn State, on the other hand, is now riding a two game losing skid. To make matters worse, the Nittany Lions were essentially manhandled in this one. Here's what we learned.
1) EARLY BIRD GETS THE FUMBLE
So, Penn State quarterback Aidric Berry finally eclipsed 200 yards passing in what, I think, was a nice passing game. He put up 359 yards passing with two touchdowns and the one interception. It's unfortunate that the nice passing game is stained with the hole this offense dug in the first quarter. Both Berry and halfback Jasper Johnson fumbled in the first quarter, and each time Auburn jumped on them. The Tigers took advantage, putting up 10 points on those two fumbles. The defense didn't help either as Auburn was spotted a 24-7 lead in the first quarter. It's hard to be recognized for a performance when you lose by 21, and unfortunately, such is the case.
2) BLAKE IS BACK
To the doubters, who may wonder how can Blake Moon be back in the Temple of Greatness when Auburn is 1-2, let's get some things straight here. Auburn is a few plays and ball bounces away from at least being 2-1, and who knows what would have happened had Auburn taken Michigan to overtime. And, Moon has tossed nine touchdown passes with just two interceptions through three weeks. The man is averaging three touchdown passes a game. Oh, and of quarterbacks who have played three games, guess who leads them in quarterback rating. Blake Moon. This nonsense of throwing shade at Blake Moon can stop, especially with the rhythm he's in.
3) TWIN TIGERS
For all the credit I believe Blake Moon deserves, his success is only possible because of his twin Tigers. Wide receivers Wayne Carter and Alex A. Cook have been phenoms at Auburn. Cook came down with 10 grabs yesterday to the tune 190 yards. He didn't snag a touchdown, but made some unbelievable grabs. Carter snagged the two touchdown passes, but that's just the beginning. The real incredible fact is this. Wayne Carter and Alex A Cook both have 21 catches, with Carter picking up 342 yards on those catches, while Cook has racked up 333 yards. The only major difference is that Carter has six touchdown catches, Cook has one. These two receivers are the most dominant pair that Auburn has ever had, better than Duncan and Smoker. And, if they continue this level of play, Auburn could very well find themselves in contention to win the SEC at the end of the year.
You can see Auburn head to Tallahassee to take on Florida State in week four, while Penn State tries to bounce back in Happy Valley against Washington.