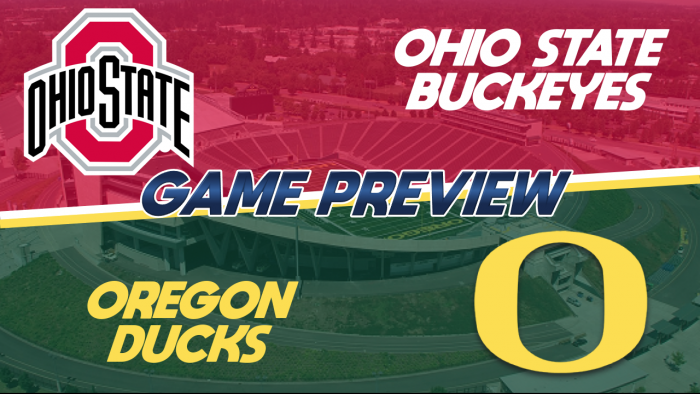 Saturday afternoon football is back and better than ever with a match between Ohio State (1-1) and Oregon (2-0). Both teams are coming off impressive wins last week against Tennessee and Texas A&M respectively. Ohio State shocked a lot of viewers last week, coming out of Tennessee with a big win just one week after Texas beat the Buckeyes in a blowout. On the other hand, Oregon barely hung on against A&M in a 31-37 battle. Will Oregon get to ride it's stellar defense to a win and stay undefeated? Will Ohio State be able to start a winning streak and return to the championship like they did last year? Tune in to our afternoon game and find out!
Ohio State
Offense
Part of the reason for the quick turnaround after the Texas game is DeAndre Evans's improved play at quarterback. Completing 75% of his passes, DeAndre threw for a total of 404 yards and four touchdowns in a defining performance. His backfield partner Frost Carlson bounced back from his poor week one performance to put up 133 rushing yards on 28 carries. If the Buckey backfield can step up again, Ohio State can compete with Oregon's tough defense. The X-factor on offense may come down to Ohio State's receivers Zaire Bradley and Blake James. These two broke out in a big way with insane receiving numbers against what is considered a solid Tennessee defense. Austin Jones also has been chipping in here and there. Look out for him to be used more today as Oregon has one of the best secondaries in the nation.
Defense
Ohio State's recent win was not all because of the offenses turnaround. The defense stepped up with secure tackling and some timely plays to swing the momentum. Through two games, Nicholas Reynolds has emerged as the heart of this defense. While still looking for his first interception, the senior's tackling ability has been on display this year and should continue through the rest of the season. Tyler Ball was also stellar last week, totaling eight tackles and a sack. Something a little unique to OSU is their use of two scholarship defensive tackles in Cricket Williams and Zach Angle. While not a strategy used by many teams, their interior run defense is something to keep an eye on as they are one of the best units in the CFSL. If they can create some early pressure, Oregon could lose some confidence and the game.
Oregon
Offense
Heading into Season Three, Oregon was considered one of the most complete top teams. This offense backs that up by being a solid unit that avoids turnovers and runs with consistency. Freshman quarterback Devonta Cribbs has looked exceptionally good so far, boasting an insane 77% completion percentage and a 152 QB rating. His legs have got him a handful of first downs, totaling 118 yards thus far. HB Speedy Love knows something about getting first downs too. His ability to catch out of the backfield has bode well so far this season and he looks like a complete back out there. One major strength this team has is their balanced receiving core. While no receiver has broke 100 yards in a game, everyone is catching the ball with consistency and making plays. Look for the receiver squad to make a big difference tonight in splitting apart Ohio State's secondary.
Defense
What can I say about this defense that hasn't already been said? The secondary boasted by Oregon is one of the top three in the nation. Led by sophomore corner duo Israel Cassius and Thor Odinson, it's hard to find anything to exploit as an offensive coordinator. Just in case anything gets by these two, Star Jack Frost is there to end the offenses hopes and dreams. He already has 28 tackles in just two games and will build on that total tonight. Even Derrick Racowski is hot after he had a clutch interception against TCU in week one. Down in the trenches, Ben Marquez dominates in the middle. He is their #1 run stopper and will play a big role in keeping the run game locked down. The Oregon defense is a complete unit. It's going to be tough to score against them with how they have been playing.
What to Watch For
Ohio State's Receivers vs Oregon's Secondary
Two of the top units in the league battling it out – sign me up! Oregon has a slight edge due to their secondary being full of five star talent. It's going to be incredibly difficult to find a seam against this group. However, Ohio State has some shifty receivers that can break any coverage. Blake James is quite possibly the best three star receiver in the game right now. You can't afford to underestimate the kid. Then you have stud Zaire Bradley out there who can make any DB look silly. It's going to be a touch matchup, but look to the sky to see some serious action this afternoon.
Key Matchup
Ohio State HB Frost Carlson vs Oregon DT Ben Marquez
Ohio State knows that Oregon has an overpowering secondary. That's why I would expect Frost Carlson to turn into a workhorse back and tear through the somewhat weak front line of Oregon. However, Ben Marquez has no intention of making that happen. If Carlson really does get 30 carries tonight, Marquez will need to bring his A-Game in order to keep him contained. This game also serves as a game where Carlson can prove that he is more of the player we saw in week two as opposed to the mess that was week one. With is a chip on his shoulder, he will bring it all game and Marquez has to be ready.
Prediction
This game could be a low scoring affair after seeing the box scores from Oregon's last couple of games. They play a very controlled style, scoring in a methodical manner that is interesting to watch. On the other hand, Ohio State slings the ball everywhere and can make you pay downfield. I think today is the day we officially say that OSU losing so bad in week one was just a fluke regardless of the outcome today. DeAndre Evans is the real deal. However, his insanely deep depth of target is going to be a huge issue against this Oregon defense. If he gets a little too aggressive and tosses a couple of interceptions, the game could be over in a heartbeat. I am going to give the smallest of edges to Oregon due to their defensive prowess.
Ohio State 27, Oregon 28