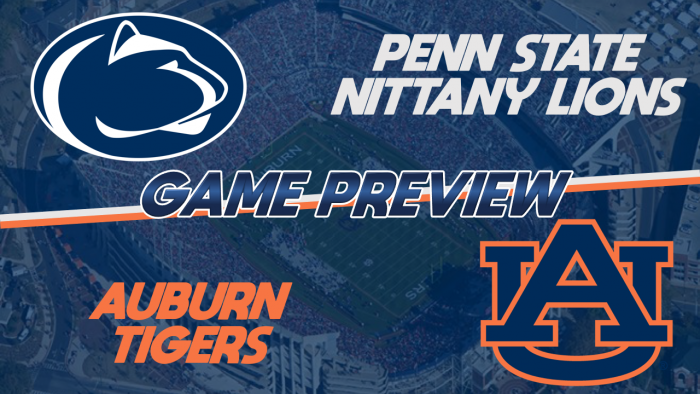 Week three action continues with a matchup between two teams who, quite frankly, didn't have the week they hoped for. Penn State couldn't score more than six points, and Auburn was a dropped touchdown away from overtime and potentially a different outcome. Here's what both teams can do to bounce back today.
PENN STATE
So, not the offensive performance they wanted, and definitely not the one they expected. Penn State halfback Jasper Johnson racked up 236 yards rushing with a touchdown in week one's win. He had just 24 in the loss a week ago. We've seen quarterback Aidric Berry run the ball effectively before, it's what helped get him into the OPOY voiting back in season one. Berry even looked pretty good as a runner in week one. Shame the Nittany Lions couldn't replicate that. Aidric Berry finished with minus 26 yards rushing. That was on 12 carries. Ouch. It was also the second straight week that Berry threw two interceptions and no touchdowns. Goals for today? Get this running game sorted out and no interceptions by Aidric Berry.
Defensively? Well, they gave up 600 yards of total offense to a team that didn't even have their five star, All-American halfback. Of those 600, the Nittany Lions gave up 251 rushing yards, 227 of which came from the quarterback spot. That's a situation that definitely needs fixed going into this afternoon. Maybe the most important thing for this defense, though, is consistency. In week one they gave up over 400 yards passing, last week the 251 rushing. That all starts with linebacker TJ White, who recorded seven tackles in week one, and 11 in week two, with a tackle for a loss in that second game. He's playing in the middle, which makes him the unofficial quarterback of the defense. White's play will help set the tone of this defense moving forward.
AUBURN
Well, the Tigers are 0-2 for the first time in their CFSL career. They're the best 0-2 team ever though. So far this season, quarterback Blake Moon appears to be in season one form where he won OPOY. Moon has a touchdown to interception ratio of 6:1 coming into today. Oh, and his quarterback rating is top three, again. As long as Auburn can get wide receivers Alex A Cook and Wayne Carter active and rocking like they were in week one, even if it is a touch secondary, things will go smoothly for this offense. Still, halfback Billy Carter has been playing great. He's got over 100 yards rushing and a touchdown in each of the last two games.
Defense, so far, has been the one issue for Auburn. Unfortunately, this seems to be the norm. The defense couldn't kill momentum in week one, when they allowed Clemson to mount a 21 point comeback. And last week, they allowed Michigan to get too much momentum out of the gate. Players have been making plays though, like corner Edgar Allen who had a pick and a big tackle for a loss in week one. And, there's safety Eric LeClear who racked up 18 tackles and three for a loss last week. The question is, though, who's going to be the consistent playmaker on defense. Is it LeClear? They need someone who can take a game over on this defense and build some momentum. This Auburn defense hasn't had much of that this season.
WHAT TO WATCH
Penn State needs to get this running game cleaned up, and today's the day to do it. Auburn struggled against the run last week, and if Penn State can capitalize we could be in for a close one. Look for halfback Jasper Johnson to get work early and often to open up the lane for Berry to take shots down field and do some leg work of his own.
PLAYER MATCHUP
SS Baker Brooks Jr. v. QB Blake Moon
We all know the story of Blake Moon, but we're witnessing this safety, Baker Brooks Jr. potentially form into a star. He recorded 10 tackles last week and five with a tackle for a loss in week one. Moon has an affinity for being able to take off and run. Brooks is going to have to be the one to crash the box and make plays to slow Moon down. If he can do that and keep Moon in the pocket, then it helps this Penn State defense greatly. If not, then things could get ugly.
PREDICTION
So, here's the deal, there's history between Auburn AD Matt Pack and Penn State AD Tyler Smith. There's history between Blake Moon and Aidric Berry, and unfortunately, Moon is back to his golden standard of season one, Berry is not. Auburn is hungry for their first win after feeling like they let at least one get away, maybe even two. This Auburn offense is so dynamic and powerful, for all their defensive struggles, it's hard for me to pick against them. Sorry Penn State, but I'll take the Tigers at home.
Penn State 24, Auburn 34