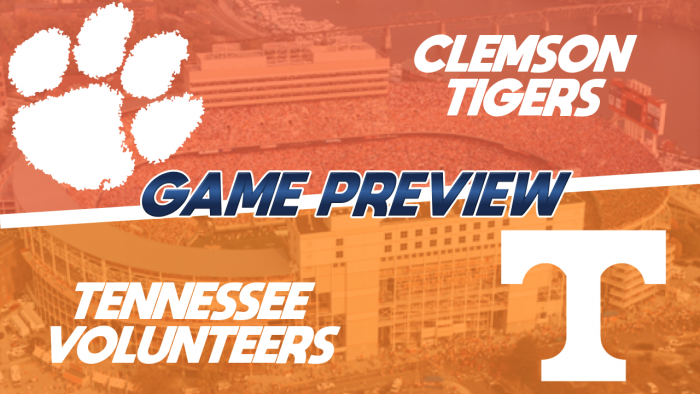 Here we go, the first CFSL action of 2019 is ready to kickoff with a bang. A major SEC showdown between Clemson and Tennessee is taking place in Knoxville tonight. For one team, they're looking to bounce back from a tough loss in Columbus last week. For the other, they controlled a 50 point win a week ago, and are looking to control this one with a walk-on at halfback for a second straight week. Here's what you can expect tonight.
CLEMSON
One would think that losing an All-American at halfback would be detrimental and that's usually true. Unless you've got quarterback DJ Moss at the helm. The Clemson running game didn't lose a step, picking up 349 yards on the ground with Moss accounting for 227 rushing yards. He's had impressive rushing numbers and still looks as efficient as ever in the passing game. This offense lives and dies by Moss, but for his sake, he needs some help. Wide receiver Cadillac Chadwick has made plays, including a touchdown grab. Unfortunately, it's wide receiver Anthony Robertson III who needs to step up. Through two weeks, Robertson has six catches through two games for 65 yards. Five of those six came last week and he's yet to record a touchdown this season. Moss needs Robertson to have a breakout game, and elevate, especially with a walk-on at halfback.
The defense, on the other hand, has stepped up majorly since the first half against Auburn. After giving up 35 in the second quarter, they gave up ten in the second half of that game. Then, they only gave up six to Penn State last week, including just one redzone trip by the Nittany Lions. Safeties Jordyn Hall and Barry Allen have looked incredibly, and defensive end Mike Miller has been a stud. The three have combined for 40 tackles, 15 tackles for a loss, six sacks, a fumble recovery, and a pick. The sacks and the fumble recovery belong to Miller, and the pick to Allen. These three have emerged as the star power on this Clemson defense, and they have more than lived up to it so far.
TENNESSEE
I'm aware the Volunteers lost in week two, but you've got to admit, the jitterbug known as halfback Donny Kazee is a legitimate threat out of that backfield. Kazee was held to just 93 yards rushing, no touchdowns. Oh, and let's not forget quarterback Dewey Ainge. A week ago he put up 367 passing yards with three touchdowns and an interception. Wide receiver Scotty Stallworth hauled in all three of those touchdowns to the tune of 114 yards. Stallworth and Kazee are incredible playmakers and help Dewey Ainge breathe back there. The only thing they need to do a better job of? Clean up the redzone. They made four trips and settled for two field goals with one touchdown. They need to be punching it in more when they get down there.
Defense is another matter. Getting off the field matters, and unfortunately, they couldn't do that last week. They allowed a third down conversion rate of 58% and gave up 17 in the fourth quarter. This secondary got diced up a week ago and gave up 151 rushing yards. That's with linebacker Ronald McFish back there. Now, to give credit, he's recorded 12 tackles in each of the last two games and it's been impressive. However, he hasn't quite looked as explosive as we saw back in the Newcomer Game that opened up the season. He's been solid, but not as great as we expected. He has to take control of this defense, and continue to make plays, that will help the rest of this defense to play with incredible energy.
WHAT TO WATCH
Ball control, that's the name of the Volunteer game. Clemson is so incredibly explosive that the Volunteers know they can't afford a back and forth game. Long drives that chew clock and a lead are the ingredients to Volunteer success and Donny Kazee is explosive in his own right. In all of that, they can't afford to let DJ Moss on the field or to convert third downs. Meanwhile, expect DJ Moss to do what he always does, find ways to try and win games.
PLAYER MATCHUP
WR Scotty Stallworth v. CB Jackson Slade
We've talked a ton about Moss and Kazee, even Ainge. The key  though is this matchup. Stallworth has to get open and make plays for Ainge. He'll need to come up big on the long third downs and to do that, he has to beat Clemson corner Jackson Slade. If Stallworth wins and Tennessee is able to convert more often than not, then the Volunteers have a great chance at delivering a loss to the Tigers tonight.
PREDICTION
This is tough, the Tigers are undefeated, but with all the drama swirling about, how motivated are they, on the road no less? The Volunteers want to get the bitterness of the loss washed out, and to do that, they have to win. Problem is, I'm not sure they can keep pace if Moss gets rolling. This defense will need to step up big time this week to put the breaks on Clemson and DJ Moss. I suspect McFish will finally break out, I'm just not so sure it's enough. Clemson takes home the nail-biter win.
Clemson 41, Tennessee 38