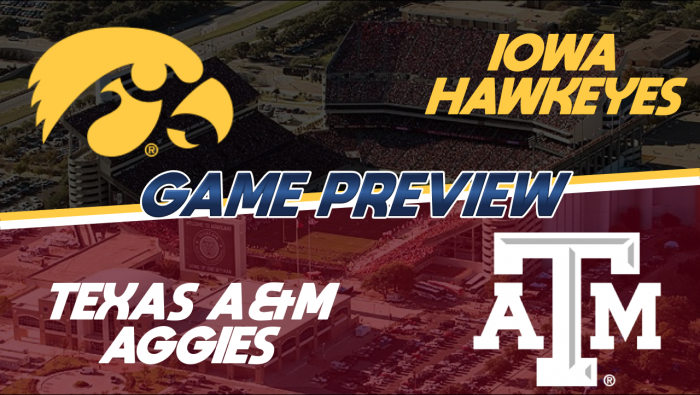 The nightcap. While everyone has their eyes on Clemson and Tennessee, folks are sleeping on Iowa making their journey to College Station. The Hawkeyes pulled an upset on Texas last week so that Iowa could boast their first win of the season. Texas A&M, on the other hand, may not have their first win yet, but they've come close, hanging with both Washington and Oregon. The nightcap should be just as great to watch as the first one, and here's why.
IOWA
Iowa quarterback Marcos Hernandez looked a bit more comfortable in the pocket last week, tallying 185 yards for two touchdowns with another rushing on 76 yards via the ground. It was halfback Avery Jordan, though, who earned his merits. After a sluggish week one start, Jordan lit the stadium in a blaze. He recorded 208 yards on 31 carries with two touchdowns. Jordan is the key to this offense, and if he can get going early, Hernandez can utilize play action and, more importantly, the read option.
Defensively, there was a solid performance a week ago. They managed to get off the field on third down, keeping Texas to a conversion rate of 36%. That's big, and maybe even bigger is the fact that they held Texas to under 150 rushing yards. Safety Othello Jones recorded seven tackles a week ago and defensive end Alvin Mack had three tackles, two tackles for a loss, and a sack. They'll need to continue that level of play today.
TEXAS A&M
The Aggies looked pretty good on offense up in Eugene. Halfback Tim Riggins recorded 150 rushing yards and three touchdowns on 34 carries. The workhorse mentality was in full effect, and likely will be again tonight. In spite of that, though, quarterback Daniel Murphy posted 216 passing yards and a touchdown. This offense is dynamic, and of course rolls through Tim"Big Rig" Riggins. Wide receivers Jay Wells and Christian Barnes have to make plays because of workhorse emphasis for Riggins, and they have so far. The ball control mentality only works with a maintained lead though, which brings us to the defense.
It's been a rocky road for the A&M defense. The Aggies traded the lead with Oregon several times last week, and it didn't quite work out. Even worse, Texas A&M had the lead at halftime again, and this defense couldn't seal the deal. Linebacker Paul Cunningham gave his best effort though, recording 13 tackles, three for a loss, and a sack. Safety Billy Kidwell added seven tackles to the stat sheet, with his own tackle in the backfield. The rest of this defense will have to gel and elevate their game, otherwise, no Aggie lead will be safe.
WHAT TO WATCH
We're going old school tonight, in what's likely shaping up to be a battle of the workhorses. If you like aerial duels, stay away, because this is going to feature the likes of Avery Jordan and Tim Riggins to determine this outcome. Meaning the run defense has to show up in force tonight, or get exposed.
PLAYER MATCHUP
MLB Jerry James v. HB Tim Riggins
Tim Riggins is the workhorse to this offense, and a dominating one at that. 150 rushing yards last week, and one of the more powerful backs in the league. it means Iowa linebacker Jerry James has to step up and command this game. Once upon a time, he was heralded as one of the best in the league. Now, he looks to be more mediocre than anything. He'll have to do better tonight, otherwise the Big Rig could be driving home a win.
PREDICTION
Look, I don't see Texas A&M going winless, but they're in the middle of a skid dating back to last season. Unfortunately, in a battle of the backs, I have to side with Avery Jordan. The flip side, Aggie linebacker Paul Cunningham looked better than Iowa linebacker Jerry James a week ago. It's hard to predict between two ball control offenses, but I'll side with the better quarterback to eliminate the skid for the Aggies.
Iowa 28, Texas A&M 31