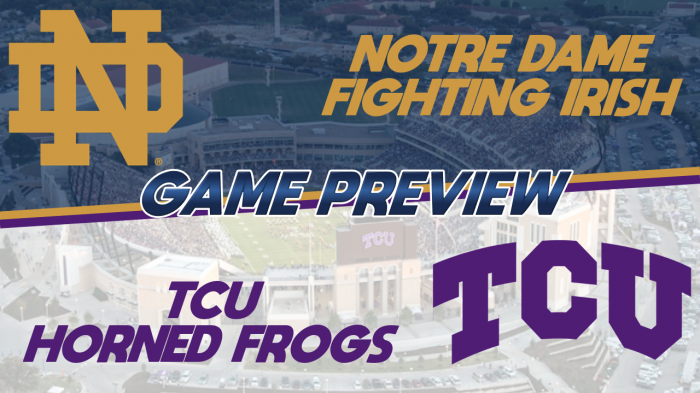 WEEK 3 PREVIEW: Notre Dame vs TCU
By: HornsNation
The Irish of Notre Dame (2-0) take their undefeated mark on the road against TCU (1-1). Both teams are coming off of impressive wins. Notre Dame crusised to victory against Florida State, 48-23. The Horned Frogs upset Washington, 38-27.
NOTRE DAME
The Fighting Irish seemed to have found their championship swagger after a disappointing season two. Notre Dame is led by junior quarterback, Ty White. White so far this season has passed for 527 yards and rushed for 175. Running back Jacob Philhart has stepped up their game this season by averaging 157.5 yards on the ground with 6.3 yards per carry. The receiving core is led by Brody Bodine. Bodine has become more involved this season with 213 receiving yards on 13 receptions. He is on track to shatter his season two mark of 401 yards.
Defensively, Notre Dame was able to create key turnovers in their win against Florida State a week ago. The Irish did allow the Seminoles to pass for 341 yards but junior linebacker Aaron White was able to secure two interceptions. Surprisingly the defensive line combo of Shane Razorback and Tyson Ali have struggled so far this year. They will need to step up against this tough Horned Frog attack.
TCU
The Horned Frogs come into this game after a huge statement win over Washington. Dalton Andrews passed for 352 yards and four touchdowns, while his backfield mate Koda Adok rushed for 141 yards and one touchdown. Andre Gyan, Matt Barnes and George Williams terrorized the Huskie defensive backfield and will look to do the same against the Irish.
While the offense played great for TCU, it was the defense that stood out. Jabril Jackson continues to play in the opposing teams backfield by securing five tackles for a loss and three sacks so far this season. The Frogs defense limited Washington to just four third down conversions to 12 attempts. That number will be key to stopping the Notre Dame offense.
WHAT TO WATCH FOR
Are you there Tyson Ali? 
The Notre Dame defensive tackle has started slow this season and has only eight tackles with three coming by loss. Notre Dame will need him to break out of his slump to try and slow down this Frog attack. As the key cog in the middle, it will be up to Ali to force pressure on Andrews and allow his defensive backfield to create turnovers.
Quiet but deadly.
TCU comes into this game as the CFSL quiet underdog. What they lack in trash talking, they make up for it in their gameplay. Quiet, but deadly can describe this Horned Frog offense. After last weeks upset win over Washington, teams are starting to take TCU more serious. This would be another huge statement win, one that would propel TCU to the likes of Michigan, Auburn, etc.
KEY MATCHUP
TCU QB Dalton Andrews vs NOTRE DAME Defensive Backs
As mentioned earlier, Dalton Andrews torched the Washington defensive backfield. The Notre Dame defense gave up 341 yards to Florida State. The Horned Frogs average 328 passing yards a game while Notre Dame has allowed 292 yards per game so far. The winner of this battle will likely win this game.
PREDICTION
TCU has proven so far that they can be taken seriously, while Notre Dame brings in an undefeated mark. This game will likely be decided by turnovers. The game will be close but the grind it out style of Ty White and Jacob Philhart will propel the Irish to their third straight victory. Notre Dame wins, 38-34.