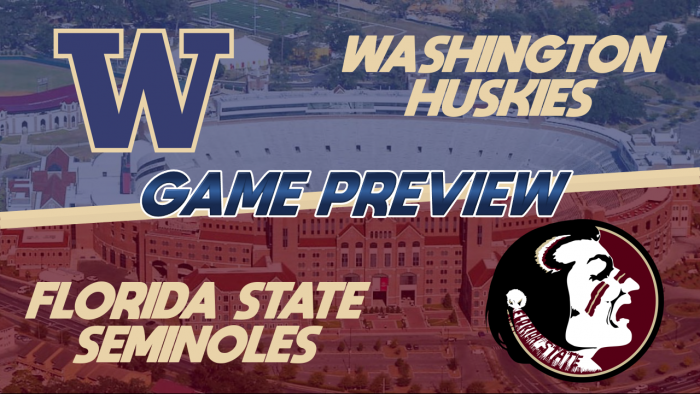 WEEK 3 PREVIEW: Washington vs Florida State
By: HornsNation
The Huskies (1-1) travel on the road to the Sunshine state to take on Florida State (0-2). Both teams are coming off a loss last week. Washington fell to TCU 38-27 and Florida State were blown out by Notre Dame, 48-23.
WASHINGTON
The Huskies come into this game after an upset loss to TCU. Ron Dayne Jr. has looked great so far this season, accounting for 410 yards and seven touchdowns. His backfield mate, Doug Ohle, has looked sluggish so far. Ohle, the star of Season 2, has surprising not scored one touchdown this season. Ohle is currently completing passes at a 74 percent rate but only averaging 6.2 yards per attempt. Ohles top targets Ace McFreely, Jacob Iverson and Aaron Easton have yet to top 100 yards receiving this season.
Defensively, the Huskies will be led by their outstanding safeties, Mason Ryan and Kalu James. Both safeties have combined for 30 tackles so far this season and will need to shut down this Seminole attack. DeJounte Wilson will be the linebacker manning this Huskie defense. Wilson currently has 15 tackles on the year.
FLORIDA STATE
The Seminoles head into this game on the heels of a two game losing streak. Last week this offense struggled to run the ball, gaining only 66 yards. Star halfback, Adam Croft, rushed for 20 times for only 57 yards and a touchdown. Trevor Golinar continues his impressive play with 209 yards receiving on the season and one touchdown. Jared Tetonis rounds out this offense with 234 receiving yards and no touchdowns.
Defensively Florida State has struggled. The Seminoles have given up 44.5 points per game and over 500 yards in total offense. Safety Nathan Tetonis has already added 30 tackles this season, only eight away from his total last season. Darnell Jefferson will need to get more involved as he has only 10 tackles on the season. This unit really struggles on third down stops, allowing a whopping 71% completion rate.
WHAT TO WATCH FOR
Florida State's Offensive Identity 
So far this season, the Seminoles have struggled to find an identity on offense. With a 5-star halfback and two 5-star wide receivers, this FSU offense ranks near the bottom in all categories. Florida State will need to figure out how to have success running the ball in order to get their star receivers more looks downfield.
Washington's QB Doug Ohle
While running back Ron Dayne Jr. has had a good year, Doug Ohle has been surprising absent. Accounting for none of his teams touchdowns, Ohle will need to step up and contribute. Teams will start to focus on stopping the run giving Ohle every opportunity to show that last year was not a fluke.
KEY MATCHUP
WASHINGTON DB KALU JAMES, MASON RYAN vs FLORIDA STATE WR JARED TETONIS, TREVOR GOLINAR
Florida State has shown that they can get the ball to their playmaking wideouts, Tetonis and Golinar. Key in on one receiver and the other one is usually open. This will be a big test for the Huskie defense that struggled to contain TCU's playmakers last week. If Florida State can open up the field, Ryan and James will need to play sideline to sideline to stop this passing attack.
PREDICTION
Both teams have started the season on sour notes. Washington has high expectations after winning the championship last season but they have failed to show that pedigree that got them there. Florida State recruited well and the offense on paper looks explosive. So far this year they have struggled to find the formula to win games. The Seminoles will need to win today to avoid an 0-3 start. Washington needs to win to keep pace in a tough Big 10 division. Look for Ohle to get more involved as Washington cruises to an easy victory, 38-24.