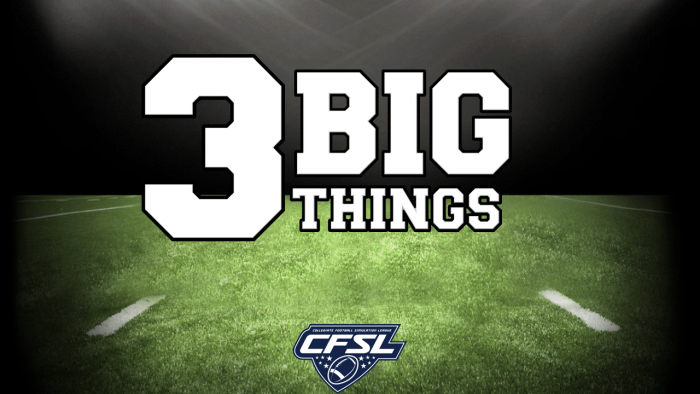 A lot of action through four games to round out week three, meaning that there's a lot of ground we have to cover. Don't stress it though, from defensive battles to offensive shootouts, and record-breaking performances. We were exposed to all of them, and here's what we learned from every single one.
CLEMSON 12, TENNESSEE 17
1) STEAL CURTAIN
In a game this tightly contested, especially from a defensive standpoint, turnovers play a big role. When both quarterbacks turn the ball over a couple times, then it comes down to timing. The defenses climbed the ladder, making plays on either side. Ultimately, Tennessee defensive end James Mitchell and linebacker Ronald McFish's four combined sacks helped to steal Clemson's comeback attempt. Oh, and the fact that Clemson quarterback DJ Moss had two interceptions late as opposed to Tennessee quarterback Dewey Ainge's earlier ones. As strong as Clemson is offensively, their defense doesn't seem capable of winning a game on their own, they'll need to get that worked out.
2) DROWNING MCFISH
In a night of incredible defensive performances and battles back and forth, Tennessee linebacker Ronald McFish had a pretty nice stat line. Seven tackles, three for a loss and two sacks with a pass defensed. The problem is, McFish seemingly disappeared in the second half of action. Tennessee stepped up as a unit and managed to hang on for a win, but McFish hasn't been able to perform to the level expected. He's been pretty quiet. Still, it is three weeks into the season, so he has time to continue to take the necessary steps to own this defense. But he can't afford to disappear in the second half of games, especially as bowl season gets closer.
3) FREE KAZEE
In week two, Tennessee halfback Donny Kazee had some problems finding a rushing lane. Unfortunately, those problems persisted when Kazee racked up just 73 yards on 21 carries. He did, however, manage to find the endzone a couple times. One rushing, one receiving. His two touchdowns proved to be the difference necessary on a night when both teams struggled to find the promised land. Teams are keying in on Kazee, but he's going to have to find a way to put up big numbers even in spite of that to help quarterback Dewey Ainge. Otherwise, things could get messy for the Volunteer offense.
IOWA 56, TEXAS A&M 28
1) THE HAWKEYE TANGO
We've all heard that it takes two to tango. Fortunately for the Iowa Hawkeyes, they have their dance partners in a great rhythm. Halfback Avery Jordan and quarterback Marcos Hernandez put on a stunning performance, combining for 277 rushing yards and six touchdowns on a combined 41 carries. Then, Hernandez added 272 yards through the air with a pair of touchdowns to light up the skyline of College Station. Between Hernandez and Jordan this Iowa offense looks effective, but much like they always have. Run the ball first and let the passing game build off that. The only difference between this Iowa offense and the offenses of old, they look far more formidable than ever.
2) MARATHON
Seasons are typically described as being a marathon, however this one was a marathon in the beginning. In a game that saw no field goals kicked, touchdowns were traded early and often. The Aggies were actually keeping pace with the soaring Hawkeyes. Following one such Iowa score, the Aggies had an opportunity to respond late in the second quarter. Then quarterback Daniel Murphy did the one thing the Aggies could not afford to see. Murphy tossed an interception and the offense never recovered. Iowa, of course, capitalized and the Aggies became an afterthought despite their best efforts. Which brings us to the third thing we learned.
3) D F N S
I know the Aggies had an interception at a bad time, but they weren't out of this game either. The Texas A&M defense had an opportunity to swing momentum back into the Aggies favor. Unfortunately, this defense had more holes than Swiss cheese. They had no answer for the run or the play action off it, the defense couldn't get a stop and the Aggies just seemed to lose heart. They need to get this defense resolved, otherwise, things will only continue to get worse for Texas A&M.
WASHINGTON 52, FLORIDA STATE 49
1) RETURN OF THE OHLE
Ladies and gentlemen, I give to you Washington quarterback Doug Ohle. He hasn't been himself for the first couple weeks but he looked like his old self this time. Over 300 passing yards with four touchdowns and a pick, with another touchdown on the ground. That's how Doug Ohle played a season ago and with him getting back out to a hot rhythm, the league should officially be concerned.
2) COUNT EM KOVACH
While Ohle looked good, Florida State quarterback James Kovach looked great. A yard shy of 550 passing yards with six touchdowns and an interception is insane, but that's what Kovach did. He did everything he could through the air to a record shattering performance. It's a shame the Seminoles couldn't capitalize that performance with a win. Speaking of performances…
3) RECORD CATCHERS
In order for your quarterback to have a record shattering performance, you have to have some really good wide receivers. However, it really helps if you've got a great wide receiver. Low and behold, Florida State wide receiver Jared Tetonis set a receiving record, racking up 273 yards on nine catches with two touchdowns. Then, fellow wideout Trevor Golinar matched the old record with four receiving touchdowns to the tune of 150 receiving yards on just five catches. The pair of receivers in Tallahassee are immensely talented, and will need help from their defense and a running game. If they get that worked out, they could very well be looking at a 2-1 record instead of being 0-3.
NOTRE DAME 45, TCU 52
1) WHITE OUT
Notre Dame quarterback Ty White recorded just his second 300+ yard passing game during his time in the CFSL. Furthermore, he tossed four touchdowns with an interception in the performance. He also added another rushing touchdown. Ty White, in essence, balled out and unfortunately it wasn't enough. Still, it's incredibly promising for Notre Dame. If White can continue to perform at a similar level, then the Big Ten could be in big trouble.
2) THE FROG'S HORNS
The TCU Horned Frogs have some established threats on offense, namely quarterback Dalton Andrews, halfback Koda Adok, and wide receiver Andre Gyan. Andrews delivered a flawless performance as far as turnovers are concerned. Five touchdown passes with 338 yards through the air and the man never turned the ball over. Then, Adok added 154 yards on the ground with a touchdown of his own. And finally, Gyan put up a pair of touchdowns on both catches with 42 yards to go with those receptions. A dangerous trio for TCU could be the difference in the SEC.
3) THE MISSING LUCK
Notre Dame has boasted an incredible secondary for the first two seasons. It appears that's something they no longer have, even with corners Trey Elijah and Tyrell Solo. They watched as Andrews picked them apart. What was once the strong suit for the Fighting Irish now appears to be mediocre at best. Notre Dame is going to have to lean on strong performances by defensive tackle Tyson Ali and defensive end Shane Razorback to cover up for it.
Week three had an incredible finish and week four is on the horizon, here's to another great week of great information about each team.