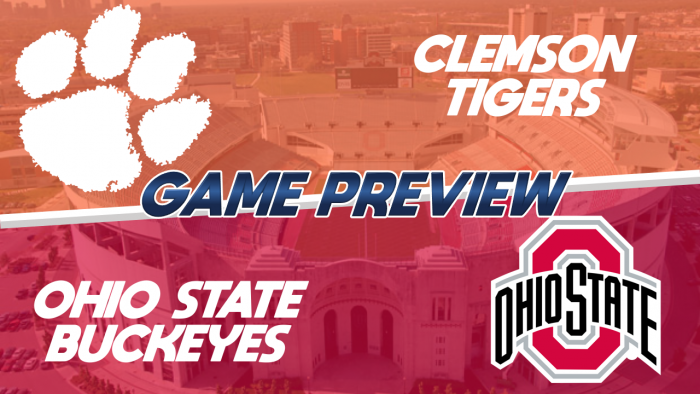 WEEK 4 PREVIEW: Clemson vs Ohio State
By: HornsNation
Clemson (2-1) travels to Columbus, Ohio to take on the Buckeyes (1-2). This will be the first meeting between the two teams and the first meeting between Ohio State's AD and his protege, Clemson's AD.
CLEMSON
What a tale of two weeks. Clemson went from blowing out Penn State in Week two, 56-6, to struggling to score against Tennessee in a loss, 17-12. Clemson did not score their first touchdown until late in the 4th quarter. DJ Moss struggled to run the ball, only garnering 14 carries for 23 yards. Clemson, as a whole, gained 346 total offensive yards, well short of their average of 476 yards. DJ Moss will need to get star receiver Anthony Robertson more involved as he has been held out of the endzone the first two weeks. Flanking Robertson on the offensive side of the ball is wideout Cadillac Chadwick and Ricky Cortez.
One positive to take away from Clemson's last game was the stellar play of their defense. The defense picked off the Tennessee QB twice and Kobe King secured 12 tackles with one tackle for loss. Mike Miller was able to garner a sack in that game, bringing his total up to seven so far this season. Kobe King and Benjamin Boulder will have a tough task today defending this Ohio State attack. Jackson Slade, Andrew Fuller, Barry Allen and Jordyn Hall will need to play these Buckeye receivers tough and allow Miller to get to the QB.
OHIO STATE
The Buckeyes come into this game with one win and two losses. Last week, Ohio State managed to put up 35 on Oregon but fell short 45-35. Quarterback DeAndre Evans threw four touchdowns with 246 yards passing. Frost Carlson, Zaire Bradley and Austin Jones each had 5+ catches. Ohio State struggled in their 4th down attempts, going 1 for 3.
Defensively, Ohio State ranks near the bottom of the league in a lot of categories. The Buckeyes have struggled to contain the pass, as they are giving up 317 yards per game, which ranks 12th in the league. Nicholas Reynolds is having a stellar season so far with 33 tackles and an interception. Max Powers and Moody Mitchell will need to play a great game, as Clemson will look to pass.
WHAT TO WATCH FOR
Can I get a touchdown please?? 
Anthony Robertson the third came into this season as one of the highly ranked recruits. He dominated the rookie game but hasn't been seen since. Robertson has made 10 catches for 104 yards, good for a 10.3 clip. With a depleted offense of scholarship players, Robertson needs to get involved if Clemson plans on trying to win this game.
Just Wing It
The Ohio State offense carries a 5-star player at every level. A QB, RB and a WR. Currently the only ones in use are the QB and WR. Frost Carlson has only has had the opportunity to rush 48 times for 208 yards and two touchdowns. With Clemson likely to key in on the pass, it would be a good idea to get Frost Carlson 20+ carries.
KEY MATCHUP
Ohio State AD vs Clemson AD
Both of these AD's know each other well. Clemson's AD was the offensive coordinator for Ohio State last season. This will be the interesting matchup as these two had so much success working together last season en route to a National Championship appearance. The battle of the wits will be on display tonight.
PREDICTION
Clemson offensively struggled last week and will look to try and bounce back in this game. DJ Moss will need to get his playmakers more involved to help shoulder this offensive load. If Robertson can have a breakout game, look out. For Ohio State, they will need to get back to running the ball more successfully to open things up for Evans. Evans has displayed the tools necessary to win games by himself but getting everyone more involved will keep him fresh and not force mistakes.
I see Ohio State taking this game, 31-14.