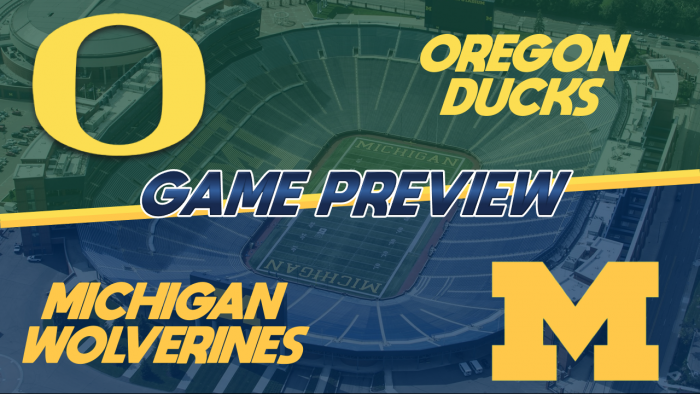 And then there was one. Oregon is the last unbeaten team in the CFSL and they hope to carry that mantra out of Ann Arbor tonight. Unfortunately for them, the Wolverines are coming off a 10 point loss from a week ago and are undoubtedly hungry. Take a look at what you can expect tonight.
OREGON
Well, the Ducks survived yet again. Now, it's difficult to say that considering they had a 10 point win, but this offense has struggled to put some teams away. Quarterback Devonta Cribbs turned the ball over twice, and is lucky his defense bailed him out, but more on them later. He struggled to run the ball for the majority of the game until late, the same with halfback Speedy Love. Now, the bright side is, they finally got Love going down the stretch and he played a big role. Love racked up 131 yards and two touchdowns on the ground. They'll need him to continue that momentum tonight to help Cribbs out.
The defense had it's own problems. A pick six early on usually spells a long day for the opponent's offense. Except, it seemed to wake them up and get them into a groove of their own. Every time the Oregon offense scored, it seemed like Ohio State had a response. It wasn't until late that they finally shut things down. This is an issue. If this defense can't help put teams away, then Oregon's record is in jeopardy, especially in Ann Arbor. Still, four players came up with a tackle in the backfield. Corner Israel Cassius, linebackers Jordan Connor and Noah Lopez, and defensive tackle Ben Marquez. Cassius had the pick six as well. This defense has to put away the Wolverines tonight if they get a lead to play with.
MICHIGAN
As far as offensive performances go, the Wolverines had things rocking. Quarterback Javon Mack racked up four total touchdowns in spite of his one interception. And, halfback Ezell Mack picked up 143 yards rushing and a touchdown of his own. The offense outgained Texas in total offense too, the problem stemmed from third downs and the redzone. Six trips to the redzone, but only three touchdowns. That's hard to overcome, so is a conversion rate of 45% on third down. The Wolverines will want to get that fixed to pull the upset tonight.
Defense wasn't a major issue, except for the fact that they allowed a third down conversion rate of 69%. That's not a good sign, especially for a team that's looking to bounce back from their 1-2 start. That said, linebacker Nate Jones racked up 13 tackles with four for a loss. The only problem was that on top of their inability to get off the field, they couldn't force a turnover either. They'll want to get one tonight, and I doubt corner Dee Parker will be missing out on the action again.
WHAT TO WATCH
Oregon is likely going to try to get the ground game rolling a lot sooner than they did a week ago. Meaning the read option between Devonta Cribbs and Speedy Love will be in full force. If this Michigan defense can't stop what their offense loves to do, then there's a big problem for the Wolverines tonight. If they can force the Ducks to beat them through Cribbs' arm, well, then they're in a better spot.
PLAYER MATCHUP
WR Bryce Kellogg v. CB Brum James
So, in theory this should be Oregon receiver Jay Smith, except for the fact that he's been pretty quiet and that wide receiver Bryce Kellogg caught all three of Cribbs' touchdown passes a week ago. Kellogg will likely be matched up against James, meaning if Kellogg can't get open, then Cribbs will have to look elsewhere. The problem is, with Brum James on the field, one side is getting taken away from Cribbs already.
PREDICTION
Oregon has struggled with putting away teams and have let some hang around for far too long. If they do that with the Wolverines? Yikes. The two Macks of Michigan will do a fair bit of damage, leaving a talented secondary open to some shots later as the run becomes the concern. Expect Javon Mack to nail them on the way to nailing a one in Oregon's loss column tonight. Wolverines take the win.
Oregon 34, Michigan 37