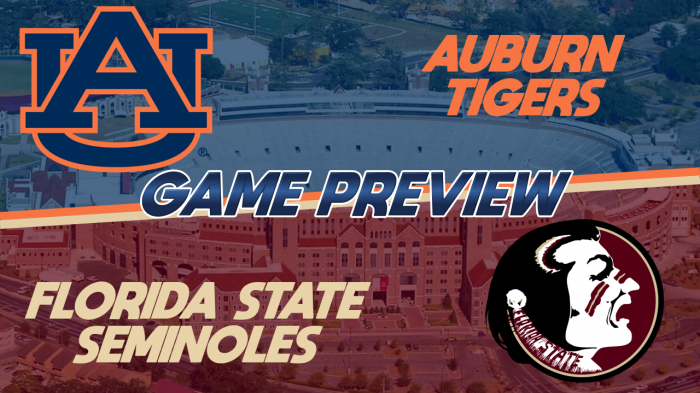 Week four action continues to roll with the Tigers of Auburn heading south to Tallahassee to battle the Seminoles. Auburn is coming off a 3 TD win over Penn State, while Florida State is coming off a 3 point loss to the reigning champs. Hope you are ready for some fireworks in this one.
AUBURN
Tiger Quarterback Blake Moon is fresh off a performance that saw him go for 3 touchdowns and 373 yards through the air and tallied 3 scores and 43 yards on the ground. Wide receivers Alex A Cook and Wayne Carter continued to light the league on fire with a 10 catch 190 yard showing for the former and a 54 yard 2 touchdown game for the latter. Billy Carter added a 14 carry 80 yard performance against Penn State. This offense will look to continue where it left off against Seminoles defense that just allowed 52 points.
Last week, the Auburn Defense allowed 30 points to the Nittany Lions. Penn State Quarterback Aidric Berry had 359 through the air and 2 scores with an interception. Halfback Jasper Johnson was contained by the Tigers most of the day and finished with 23 total touches for 92 total yards and a rushing touchdown. Strong Safety Eric Leclear led the way with 12 tackles and a forced fumble. Cornerback Stratton Mowry capped off a big day with 10 tackles, 2 tackles for loss, a sack, and an interception. Auburn only sacked Berry once, but they forced 3 turnovers.
FLORIDA STATE
In the loss, all Seminoles Quarterback James Kovach did was sling it for 549 yards and 6 passing touchdowns! He also threw 2 interceptions. Not the outcome he was looking for in the win column, but an amazing performance by this offense. Halfback Adam Croft did not quite get in on the explosion, but he rushed for a tough 35 yards and a touchdown on 17 carries. Croft also caught 6 passes for 43 yards. Wide receiver Trevor Golinar hauled in 5 catches for 150 yards. If that 30 yard per catch stat line was not impressive enough, four of his 5 receptions were touchdowns. Standout wide receiver Jared Tetonis arguably has the biggest day, with 9 catches for 273 yards and 2 touchdowns.
Defense is clearly where it wrong for the Seminoles last week, granted they were up against the Huskies led by Quarterback Doug Ohle and Halfback Ron Dayne Jr. They allowed 52 points, forced 1 turnover, and only sacked Ohle once. Defensive end Gable Stevenson was the man who provided the sack, and Florida State is going to need him to get to Moon multiple times this week. Linebacker Vinny Maddox compiled 10 tackles and a tackle for loss for the Seminoles defense. It does not get any easier for this unit, but they only have to make a few plays when they have the offense FSU has.
WHAT TO WATCH
Auburn is going to do what they have been able to do all season, test the opposing secondary. Lone Florida State Cornerback on scholarship, Kam Luani, will be tested early and often by Alex A. Cook and Wayne Carter. If Blake Moon gets going early, it might be squarely on Kovach's shoulders to keep the Seminoles in the game.
PLAYER MATCHUP
WR Jared Tetonis v. CB Stratton Mowry
Tetonis is believed by many to be the best receiver in college. He is obviously very important to the FSU gameplan and somebody will be asked to slow him down. Auburn Corner Stratton Mowry will likely be tasked with that assignment. He completely shut down Clemson WR Robertson III and limited Wolverine receiver Bobby Jackson to 3 catches. If he can find that success against Tetonis, Auburn should have no problem winning. Though as we saw last week, that is much easier said than done.
PREDICTION
We have two teams trying to get a much needed win and they have the offenses to do it. Auburn just seems to be the more capable team on defense. They allow 6 less points than FSU on average. They also have the third best scoring offense in college at 43.7 points per game.
Auburn 45, Florida State 35