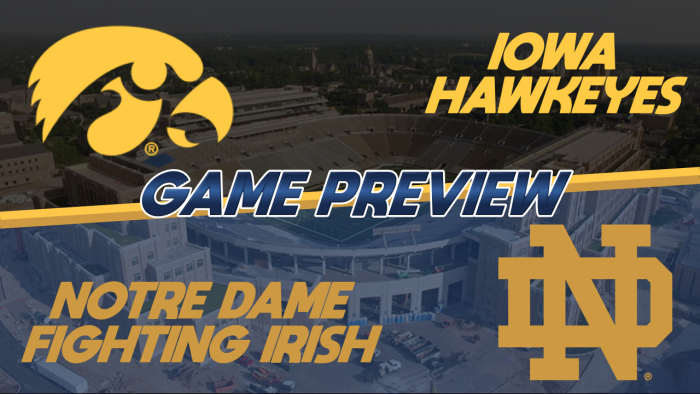 Week four has a battle of two one loss teams for the Thursday night cap, as we see Iowa head to South Bend for a Big Ten showdown. Iowa has won their last two and Notre Dame is coming off their first loss.
IOWA
Iowa Quarterback Marcos Hernandez had an incredible performance last week against Texas A and M. He finished with 272 and 2 touchdowns with his arm, and 145 yards and 4 touchdowns with his legs. Halfback Avery Jordan rushed for 132 yards and 2 touchdowns on 24 carries. Wide receiver Josh Christensen caught 5 balls for 120 yards and 2 scores. This offense makes it's living on the ground and so far has averaged 245 rushing yards per game to 215 passing yards.
Hawkeyes defense allowed just 28 points last week. Strong Safety Joey Hanson led Iowa with 9 tackles, including 2 sacks. Safety Brian Williams forced the lone turnover in their game last week with an interception off Aggies Quarterback Daniel Murphy. Iowa held TAMU Halfback Tim Riggins to 87 yards rushing, which is his lowest amount on the year. Iowa will look to pressure Ty White as much as possible in this game, as they have the third highest sack total in the league with 9.
NOTRE DAME
Fighting Irish Quarterback Ty White throws for 392 yards and 4 touchdowns with an interception, and somehow it was not enough for the win. Halfback Jacob Philhart galloped his way to a 64 yard, 1 touchdown day, on 16 carries. Wideouts Brody Bodine and Upton O'Goode both had solid efforts. Bodine posted a 9 catch, 107 yards, and 1 touchdown line. O'Goode added 11 catches for 89 yards and 2 touchdowns. Tight End Trent Bodine got in on the fun with a 13 catch, 139 yard, and 1 score day.
On Defense, Notre Dame gave up 52 in the loss to TCU. Corner Tyrell Solo tallied a team high 9 tackles for the Irish. Linebacker Aaron White finishes just behind him with 8 tackles. The defense struggled against both the passing and rushing of the Horned Frogs last week. TCU Quarterback Dalton Andrews threw for 338 yards and 5 touchdowns. Running back Koda Adok ran for 154 yards and a touchdown for Texas Christian. The Irish are tied for 1st in the league forcing 7 turnovers, despite having none against TCU.
WHAT TO WATCH
This is an interesting battle of strength vs. strength. Hawkeyes defense averages a league best 41% success rate to opposing offenses on 3rd down. Who is best on converting 3rd downs on offense? Notre Dame at 61% success rate. This game also pits the 5th best rushing defense and 4th best rushing offense in Notre Dame, against the 6th best rushing defense and 3rd best rushing offense. Both teams only have 3 turnovers on the year. This game could come down to who runs the ball better.
PLAYER MATCHUP
HB Avery Jordan v. MLB Aaron White
As mentioned earlier, it is a battle of rushing attacks against rushing defenses. Who will be able to tip the scales for their team between these two? In one corner we have Aaron White averaging just shy of 8 tackles a game and a tackle for loss per game. In the other corner, Avery Jordan, who averages 150 yards per game on the ground. Aaron White is going to have to get to Avery Jordan a few times behind the line of scrimmage or Avery Jordan is likely going to keep moving the chains.
PREDICTION
Somebody is headed to 3-1 and keeping pace with the Conference leading Ducks. The other team is headed to .500. This one is almost a pick em to me. To me, it will come down to the Iowa defense getting to Ty White on 3rd down vs. the Notre Dame defense forcing turnovers. I think Halfback Avery Jordan gives Iowa the slightest advantage in this one.
Iowa 34, Notre Dame 31