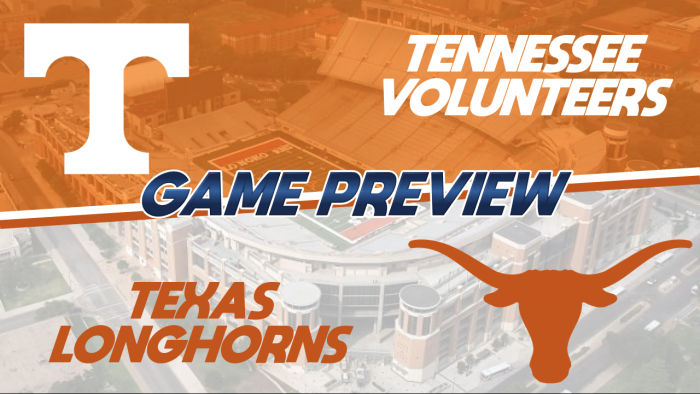 The final game of week four is another big SEC showdown between the Longhorns and the Volunteers. Both teams sitting at 2-1 in a game that has major implications on an Orange Bowl appearance. Let's break it down.
TENNESSEE
The offense didn't look great last week, but didn't need to either. Just needed to be better than their opponent and they were. Quarterback Dewey Ainge had two interceptions, yes, but they were early. He had a touchdown pass later to halfback Donny Kazee. Kazee had his own struggles too. 20 carries for just 73 yards and a single touchdown. Still, his touchdowns made the difference on a night when defense ruled.
Speaking of defense ruling, this Tennessee defense did. They held an opponent to 12 points in spite of Clemson coming in putting up 50 in each of their previous games. Linebacker Ronald McFish looked great in the first half, and ended with a stat line of seven tackles, three for a loss, and two sacks. Corner Aaron Smith had a tackle for a loss as did linebacker Thomas O'Donnell while defensive end James Mitchell recorded three tackles, three for a loss, and two sacks. They played lights out, and will need to again.
TEXAS
The stories of quarterback Ray Tatum and halfback Geaux Bamba are well documented. Ray Tatum has been dang near flawless for a better part of the season, with no interceptions to speak of and six passing touchdowns. Bamba racked up another game of 100+ rushing yards with two touchdowns last week. But maybe the unsung story is receiver Hunter Lewis, who's played a sizable role despite just one touchdown catch. He has nine catches for 171 yards. Not a big stat line, but an important one for the efficiency of this offense.
Giving up 42 points doesn't feel like a win, but that's just the way the league is. Points don't come at a premium, and that's okay. Linebacker Justin Boudreaux has 19 tackles and four for a loss, making plays here and there. And, safety Michael Wells recorded an interception in the win last week, playing a major part in the Texas success. They bend, they give up points, but when the chips are down they make plays.
WHAT TO WATCH
I don't expect another 17-12 defensive turnout. I also don't expect Tennessee's offense to look like they did. Expect Kazee to get involved and for Tennessee wide receiver Scotty Stallworth to get in on the fun. Texas will lean on the ways of Geaux Bamba and the ground game to open up Ray Tatum's effective passing game in what looks to be a fun show.
PLAYER MATCHUP
MLB Ronald McFish v. HB Geaux Bamba
We know Texas loves their Bamba action, but if there's one player who can slow it down, it's Tennessee's Fishy defense. Ronald McFish has shown that he can make big hits and big plays, and against Bamba, watch out. Collisions are abound in what is shaping up to be an instant classic between these two teams and a potential rivalry birth.
PREDICTION
Texas and Tennessee have both stumbled, and while I love what Texas is doing, Tennessee is scary. With their defense and what Kazee and Stallworth can do. It just spells trouble. This will be a fun matchup, of that there is no doubt. I just don't know that Texas is prepared for a defense this good. Texas has their own defensive prowess, but not like Tennessee and I believe that gives an edge to the Volunteers with a road win.
Tennessee 34, Texas 31