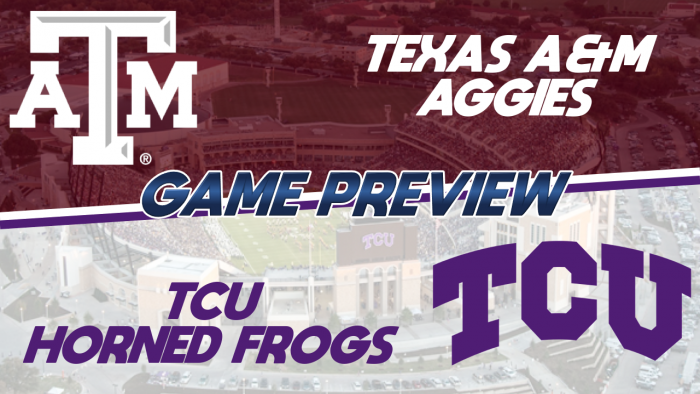 The conclusion of week four begins with the start of the War for Texas. TCU is hosting a winless Aggies team, but a win today could make all the difference. It's something the Aggies have come close to in the first couple weeks. Now, they just want to seal the deal while TCU wants to stake their claim on the SEC with another win. This is what you can expect for either team.
TEXAS A&M
Offensively, be prepared for halfback Tim Riggins. The Aggies want to establish the run and then pound it into your skull and make sure you remember it. He's averaging a little over 25 carries a game at the rate he's going. However, as good as Riggins is, it seems to be a bit of a disguise for what the Aggies don't want you thinking about. Quarterback Daniel Murphy has seven touchdown passes and just one interception. While the one pick proved costly, he's shown that he's exceptionally bright when it comes to being efficient with the football. With a lot of unsung talent around him, especially in wide receiver Jay Wells who looks like he could make a major impact if he can get a little more involved, then this offense can be dynamic.
The defense has proven to be the real Achilles heel of Texas A&M. The Aggies have built leads twice this season but have failed to close them out. Even last week, the offense was going back and forth with Iowa until the interception by Murphy. From there, the Hawkeyes built a two-score lead and never stopped adding to it. Still, linebacker Paul Cunningham has done more than his share, having 10+ tackles in each of his last two games. The new addition at safety, Derrick Doyle, added 12 of his own. Unfortunately, it wasn't enough to slow down a balanced attack. Today, that has to change in order for Texas A&M to go back to College Station with their first win of the season.
TCU
Say hello to the offense that just keeps growing. They have continued to progress from the moment they've touched the field. Halfback Koda Adok looks like he's one of the more overlooked halfbacks in the league, and he shouldn't be. He has over 100 rushing yards in each game this season and has looked pretty great for TCU's offense and quarterback Dalton Andrews. Andrews who has 10 touchdown passes on the season to just one interception. Which, by the way, he threw back in week one when he had just one touchdown pass. Meaning over the last two weeks, Andrews has nine touchdowns and no interceptions, five of which came in the win last week to the tune of 338 passing yards. That's impressive and Andrews is quickly making a name for himself in the league.
The defense has done its job, that's all that can be said. Their players may not put up crazy stat lines every week, in spite of defensive end Jabril Jackson's eight tackles, four for a loss, three sack game. But, this defense is consistent in doing it's job, stepping up when they need to and winning some close games. Corner Jorge Jenkins Jr. recorded a pick six a week ago which proved to be a major help, and linebacker Aaron Davis produced 12 tackles for the team. But for the most part, their play doesn't necessarily "wow" you or look greater than anything you've ever seen. And to be honest, TCU doesn't need them to, at least not yet.
WHAT TO WATCH
A balanced attack from TCU could unravel the Aggies. To stop it, they need to force the Horned Frogs into one dimensional play. The way to do that? Well, your guess is as good as mine. They stopped the pass in week one, but gave up a ton of rushing yards to Ron Dayne Jr. and Dalton Andrews isn't someone to be trifled with. Whatever Texas A&M cooks up on defense, it has to work for this offense to be able to play with a lead.
PLAYER MATCHUP
CB Scott Davis v. WR Andre Gyan
Texas A&M corner Scott Davis is going to be challenged by TCU receiver Andre Gyan. Should the Aggies force Andrews to the air, then Gyan becomes a major part of the Horned Frog's success. With that comes the responsibility on Davis. He has to keep Gyan quiet, which is tough considering the fact that he averaged 21 yards a catch last week and had two touchdown grabs. If Gyan can't be kept quiet, then Texas A&M could be in for a long game.
PREDICTION
It would be easy to take TCU here. In fact, if you're betting, take TCU, it's the right thing to do. However, Texas A&M is getting desperate for a win, and they have the pieces to come up with one. A win today is also a major upset and can change the tide in the SEC. Daniel Murphy and Tim Riggins can't be the reason why the Aggies win today though. It has to be the defense, they have to make the plays and force TCU into uncharacteristic turnovers. They have to play way over their heads today, so give me the upset on a little last minute craziness from Texas A&M.
Texas A&M 38, TCU 35