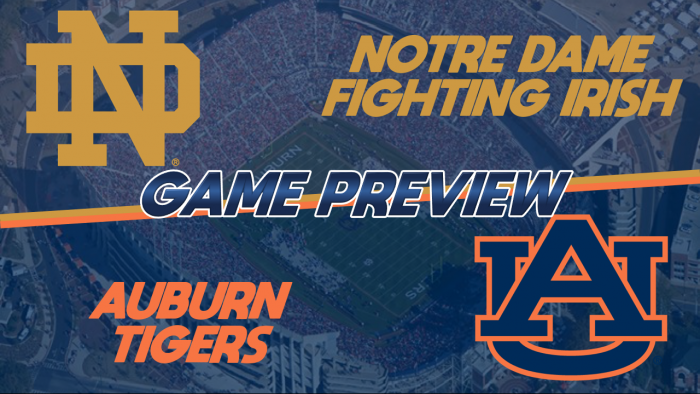 It's week five in the CFSL, and a rematch of the season one National Championship game kicks it all off. The Fighting Irish sit at 3-1 and are looking to continue their rise within the Big Ten with another win tonight. Auburn, on the other hand, is finally sitting at .500, having won their last two. They're not out of the SEC yet, and tonight could prove to be a major help in that department. Here's what you can expect.
NOTRE DAME
Think back to week four, when quarterback Ty White lit up the sky with 319 passing yards. He had one passing touchdown and a pick, with his longest pass being a 32 yarder. We can sit here saying that it wasn't impressive, but I think it showed something to the league. While Ty White can run, and be a dual threat, he has the ability to light up a secondary if you let him. Receiver Brody Bodine had nine catches for 82 yards and the lone touchdown, but more helpful is halfback Jacob Philhart. Philhart may not have had the most statistically pleasing game with 19 carries for 75 yards and two touchdowns. But, Philhart shows that a running game is alive in Notre Dame and should absolutely be respected.
Defensively, they held the Iowa Hawkeyes to just 25 points. Keep in mind, that was an Iowa team that put up 40+ points in the two previous games leading into week four. Safety Michael Jerome Pluth racked up 14 tackles in that game, making all kinds of plays. The other threat, is the same threat to quarterbacks that has been in the Notre Dame locker room since season one. Defensive tackle Tyson Ali racked up five tackles, three for a loss, and two sacks. The Fighting Irish have boasted the best secondary for the past couple seasons, but honestly, I think their front seven is one of their biggest strengths in terms of quality right now.
AUBURN
The Tigers picked up 640 yards of total offense, and quarterback Blake Moon had the largest contribution to that total. Moon picked up 434 yards passing and and four touchdowns. The caveat, is that it came on 61 pass attempts, of which he completed 45 and had three interceptions. But, Moon's arm isn't his only weapon, as he picked up 85 yards on 11 carries. Halfback Billy Carter, though, nailed down 116 yards rushing on 16 carries with two touchdowns. The run game for Auburn has been mostly unsung, but the receivers haven't been. Wayne Carter and Alex A Cook have been absolutely stellar for Auburn. Carter had 198 receiving yards on 15 catches with two receiving touchdowns. Cook had nine catches for 77 yards and a touchdown reception as well. Watch out for this offense.
On the flip side, to go against an undeniably explosive offense in the Florida State Seminoles. They gave up 441 passing yards and five touchdowns while unable to force an interception. However, the run defense did well. Corner Stratton Mowry had nine tackles, two for a loss, and a sack, while safety Eric LeClear had 12 tackles with one for a loss. They held Seminole halfback to just 89 rushing yards on 14 carries even though they did give up a rushing touchdown. This defense will need to tighten up in the secondary, but maintain this run defense against the Fighting Irish tonight.
WHAT TO WATCH
Notre Dame is going to have to attack the air, because this Auburn run defense has stepped up in recent weeks. Throw to run should be the mantra, that way the legs of Philhart and White can gash this Auburn defense. Otherwise, the Bodine brothers will have to make big time plays unless they want Ty White to get rocked.
PLAYER MATCHUP
MLB Aaron White v. HB Billy Carter
The rushing game for Auburn has been a big part of Auburn's identity as far as complimenting Blake Moon. Carter has done a great job of making plays to take some of the pressure off of Moon and catch defenses by surprise. To force all the pressure on Moon, and allow Ali and defensive end Shane Razorback to tee off on Blake Moon, then linebacker Aaron Davis has to make plays. Davis will be called on to keep Carter quiet, if that happens then it's open season on Blake Moon.
PREDICTION
The Fighting Irish are banking on this one as the Auburn Tigers look to enact revenge for being unable to beat Notre Dame in their history. Part of me has hope for Auburn, believing that they can in fact beat Notre Dame with the way their offense is playing. But, Notre Dame is 3-1, and it would be quite the story if they lose. Unfortunately for Auburn, the Fighting Irish are trying to keep up with Oregon, and in order to do that they have to win. Blake Moon will shred this secondary with his incredible receivers, but that's if this pass rush doesn't get home. If Auburn can't get Billy Carter established on the ground, it's a long night. Unfortunately, I don't think that will happen. Ty White and Jacob Philhart lead the Irish to victory in a close one.
Notre Dame 41, Auburn 38