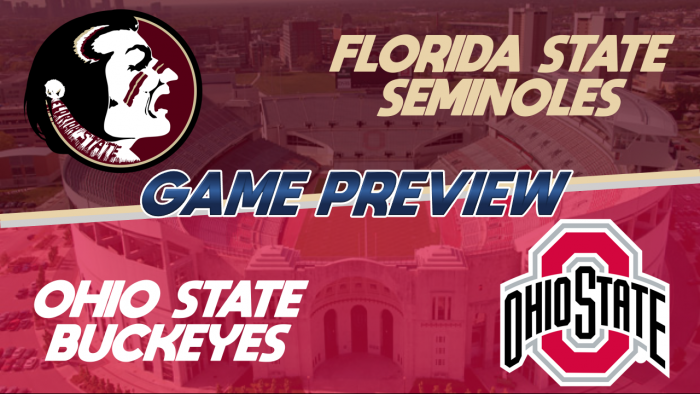 Week five action continues between two teams that have some pretty dynamic offenses. Florida State has become one of the hottest teams in the league, even though they haven't won a game yet. But, it's going to be a cold one in Columbus when the 1-3 Buckeyes take the field under new management. Let's take a closer look.
FLORIDA STATE
Quarterback James Kovach has lit things up, but he's also had a little help in doing so. Kovach, in his last two games, has 11 touchdowns to just two interceptions and has 990 passing yards in just the last two weeks also. It's been a fun ride for these Seminoles, putting up points like clockwork and for Kovach to have over 440 passing yards in each of the last two games. His help? Wide receivers Jared Tetonis and Trevor Golinar. In the last two games, Tetonis has a combined 365 yards receiving and three receiving touchdowns. Golinar has a combined 273 yards receiving and seven receiving touchdowns. This offense knows how to set off fireworks.
The defense though, while not being the proverbial Achilles heel, has not helped as much as the Seminoles would like. In each of Florida State's last two, the Seminoles have lost by three points. A stop at any point by the Florida State defense could have made the difference in Florida State being 0-4, and potentially 2-2. This defense has gotten incredible contributions from linebacker Vinny Maddox and safety Nathan Tetonis. Against Washington in week three,Maddox recorded 10 tackles and a tackle for a loss. In week four, against Auburn, Tetonis recorded 12 tackles. A complete game by this defense would go a long way to digging Florida State out of their 0-4 hole.
OHIO STATE
Another case of offense not being a major problem. Ohio State's offense has had some of it's own blunders in a few varying aspects. But in spite of them, they've seemingly been in two of the four games this season. They lost to Clemson in week four by 14 points, but really it felt like a larger gap. Still, Ohio State quarterback DeAndre Evans has lit things up in his efforts to keep games close. He passed for 380 yards and four touchdowns in that game, but unfortunately, it wasn't enough. If Ohio State can get halfback Frost Carlson going, then it should help receivers Zaire Bradley and Blake James to have a big game.
This has been the larger issue for Ohio State over the last couple of weeks. They were able to slow Oregon down initially but then a big play and the defense broke. Against Clemson, the breakdown had continued, they couldn't stop the run and got beat twice and major screen passes. Surprisingly, it's not the secondary that is the issue, but this run defense hasn't been up to snuff since the Tennessee game. Linebacker Noah Mason had 10 tackles and a tackle for a loss in the backfield. They need more plays in the backfield though. Defensive tackles Zach Angle and Cricket Williams are going to have to make major plays in the backfield today and keep the pressure cooking.
WHAT TO WATCH
Both Ohio State and Florida State want to get their respective halfbacks going. For Florida State, they're waiting for Adam Croft to breakout and have a big game. Ohio State is hoping Carlson can find the same success he had in the Tennessee game. We know both teams are pretty explosive by quarterbacks and can make big plays in the passing game, but if their respective running games can get rolling, then these teams become more dangerous.
PLAYER MATCHUP
WR Jared Tetonis v. CB Max Powers
Tetonis was arguably the best wide receiver in the CFSL a season ago, and he's not showing any signs of slowing down. To slow him down, though, Ohio State corner Max Powers has to bring his A-game. If Powers can do his part, then Ohio State's safeties can work to take away Golinar. If that happens, then Ohio State has a great chance of keeping Florida State winless.
PREDICTION
It's the first game that Ohio State's new AD will be calling tonight. It's a big night and a tough opponent to open up your career against. But, here they are. Ohio State should try to get Frost Carlson going, but with the moves Florida State's been doing, I'm not so sure it's enough. If Florida State can get a running game going against Ohio State's defense's kryptonite, then all bets are off for the Ohio State Buckeyes. As it stands, Florida State wants that first win, and I don't know that Ohio State is ready for to chill that fire in Columbus tonight.
Florida State 41, Ohio State 38