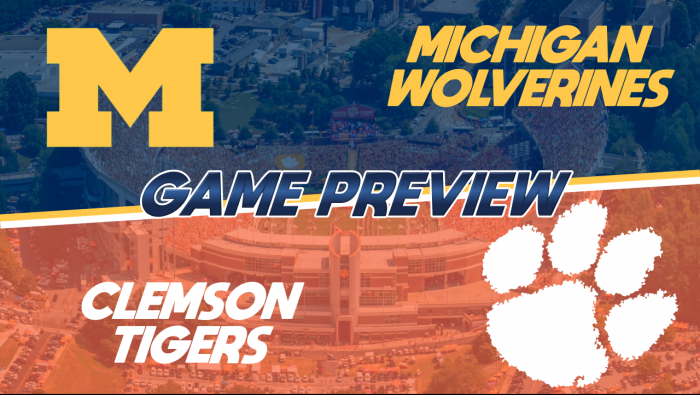 The Tuesday nightcap is one with some deep seated vengeance. While Clemson and Michigan have never played each other before, the same can't be said for their quarterbacks. The two signal callers have a rivaled history between them. Clemson wants to keep pace to win the SEC, while the Wolverines are off to a surprising 1-3 start on their season. Let's take a closer look at each team.
MICHIGAN
The Wolverines aren't where they thought they would be when the season began. Quarterback Javon Mack has turned the ball over a few times in recent weeks, including two interceptions against Oregon in week four. He did have 243 passing yards and a pair of touchdown passes, but unfortunately, his running effectiveness wasn't on par as usual. He recorded just 34 rushing yards on 11 carries and no touchdowns. Unfortunately, halfback Ezell Mack wasn't better off despite his productivity. He tallied nine carries for 45 yards, but no scores. His yards per carry looked good, and he was effective as a receiver too, but it wasn't the right attack. If Ezell had seen more carries, then the Wolverines might have been able to convert more than 38% of their third downs.
The defense played well, they kept Oregon relatively quiet in the first half, they just couldn't maintain it. The Ducks were held to 10 points in the first half, but scored 21 in the second half. Still, linebacker Nate Jones put on a performance. 17 tackles with five for a loss and fellow linebacker Jesse Horrigan added another 10 with a tackle for a loss of his own. This linebacking corps is impressive, unfortunately it couldn't stop Oregon from converting on 71% of their third downs. If the Wolverines can't find a way to get off the field on third down, they're in big trouble.
CLEMSON
The Tigers put up a measly 12 points against Tennessee, so they needed a big response in week four. They got it by taking Ohio State almost completely out of the Big Ten race it seems like. While quarterback DJ Moss didn't put up the passing numbers we became accustomed to in season two, he did have two rushing touchdowns and two passing touchdowns, with 181 passing yards. The more impressive part though, is the fact that wide receiver Anthony Robertson III finally had his breakout game. Hard to imagine when Moss didn't put up a major passing performance but it's true. Robertson had four catches for 80 yards and a touchdown, including his 64 yarder off a simple screen pass. But that's not even the best part. Robertson added two carries for 66 yards and a touchdown. The dynamics of Robertson make this offense an even greater threat.
The defense did what it needed to, in spite of their secondary seemingly getting carved apart. They kept the Buckeye running game to a crawl. Safety Jordyn Hall recorded nine tackles, while linebackers Kobe King and Benjamin Boulder combined for 17 tackles and King added his own interception to that stat line. In this affair, they'll lean on stopping the run, but the secondary is going to have to step up in pass coverage in order to maintain their winning record.
WHAT TO WATCH
Pay attention for Clemson to potentially change tactics. With Michigan's strong linebacker corps, the Tigers could take to the air in this one and light things up, hearkening back to Moss' days as a Buckeye. The Wolverines, on the other hand, are going to have figure something different out offensively. The Clemson run defense is strong, but the secondary is talented too. Pick your poison I guess.
PLAYER MATCHUP
QB Javon Mack v. QB DJ Moss
Some rivalries never go away. While Moss isn't a Buckeye, the rivalry between Mack and Moss is still there. One was heralded as the number one recruiting prospect the other led his Wolverines to a game that decided the Big Ten. The same game that was the culmination of The Rivalry. Unfortunately for Mack, it was Moss who kept him from the Orange Bowl. So, expect there to be words and fireworks.
PREDICTION
The Wolverines are eager, Mack is in for revenge against Moss, and Clemson just wants to keep pace within their conference. The issue for the Wolverines, their defense has been struggling and their offense hasn't been nearly as effective as it was a season ago. The running game won't work on the Tigers, so Javon Mack is going to have to win with his arm and help from his receivers. I just don't if they can pull it off against this secondary. And, unfortunately, I'm not so sure the Wolverines can stop Moss. Clemson wins at home.
Michigan 28, Clemson 38