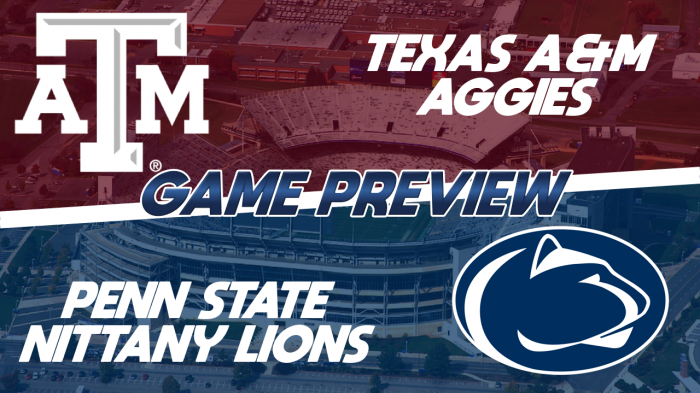 While not looked at as a premier match-up due to their lackluster records, both Penn State and Texas A&M desperately could use a win to turn around their season. That desperation can spill onto the field in some interesting and exciting ways. Texas A&M (0-4) narrowly lost to in state rival TCU in overtime despite putting up gaudy offensive numbers with their multi-faceted attack. Will they be able to get their first win against a Penn State (1-3) team? Or will Penn State please the home crowd with a throwback to vintage Aidric Berry en route to victory? Find out in this cross conference battle!
TEXAS A&M
Offense
Believe it or not, Texas A&M has lost by less than one possession every game this year except for the Iowa blowout in week three. Losing to TCU last week in OT hurts. Even though it was a loss, the momentum is on their side. It all starts with the long haul trucker himself, Tim 'Big Rig' Riggins. Riggins is coming off of a monster 238 yard performance that won't be forgotten anytime soon by power back enthusiasts. The Senior running back showed serious composure while amassing a whopping 39 carries, trucking and slipping would-be tacklers. His backfield mate Daniel Murphy is going to need to step up big time. While his QB rating is a respectable 160, his volume is negligible. Mixing in a little more play action could propel this offense to outperform their measly 389 YPG quota.
Defense
While it seems that the league has trended towards a stronger secondary at the expense of their defensive line, Texas A&M has gone for the gritty approach of pairing top D-lineman with tough interior tacklers. The results have been mixed this season. Only 5 sacks have been accumulated so far, one of the lowest marks in the league. Their only positive statistic on defense is that they are dead average when it comes to opponent yards per game. This doesn't mean that the defense won't feast in this game. It's no secret that Aidric Berry takes a lot of sacks. Defensive pressure will be key in forcing Berry out of the pocket and right into the awaiting defensive lineman. If McKinnley Hall has another game like last week, expect to see a lot of PSU's the special teams unit.
PENN STATE
Offense
22.8. That is the average number of points this Penn State offense has scored per game this season. That's dead last by a solid 7.5ppg. If this team wants to turn it around, this is the game to do it. A&M has shown poor defense all year long, posting near league worst numbers in nearly every category. We need a little bit of week one Jasper Johnson with a dash of season one Aidric Berry for flavor. This team plays better when they hand the ball off to Johnson more. Funnel the offense through him and you might be able to take control of the game clock and the momentum. Also look for Zachary Steele to get some more touches off of quick passes in order to avoid pressure from the A&M line.
Defense
Defense is going to be the key of the game for Penn State. They forced just one turnover this season and will need to double that if they want to win this game. TJ White is the heart and soul of this defense. It's time for him to be a leader and put an end to this trend of giving up 40+ points a game. Fellow veteran Tyler Smith can be a big part of that, playing closer to the line against the rush. Containing the Big Rig is top priority for this defense. Expect to see a lot of seven in the box looks and even some 8 man stacks against the A&M rushing attack.
WHAT TO WATCH FOR
The Ground Game – Texas A&M's Tim Riggins vs PSU's Jasper Johnson
Who else was it going to be? These two running backs have both shown flashes of brilliance with high carry counts. They can fight through fatigue and put up yardage numbers all night long. The real question is who can get into the end zone more? Riggins has that power you look for in a bruising back, but Jasper has a finesse to his game with catches out of the backfield and quick cuts. Look for both of these players to have great games against sub par defenses.
KEY PLAYER
Penn State CB Darius Bowman
Penn State needs a turnover badly if they want to win this game. Darius was a top CB last year with 6 interceptions and a touchdown being complimented by his KR skills. He has yet to flash the same ability this year, but the stage is set for him to step up and make an impact today. You can only hand the ball off so much before taking a shot through the air, and you best bet that Bowman will be waiting for his chance to strike.
PREDICTION
This game could go in any direction once we hit kickoff. Both teams are near the bottom of the league in both offensive and defensive metrics. However, Texas A&M just found something in their last game vs TCU. Will they be able to build on this power rushing attack? Or was last game a flash in the pan? I'm inclined to believe that this is real. On the other side, Penn State should be able to rely on their experienced players to get the job done on the offensive side of the ball. If the game plans for both teams are at least somewhat aggressive, expect the score to get out of hand fast. I'm giving A&M an edge for recent performance, but this feels like a pick to me.
Texas A&M 41, Penn State 38