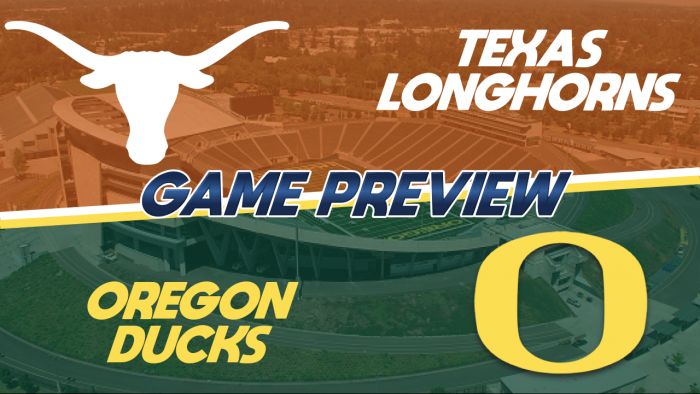 Texas comes into this game as quite the conundrum. Currently clocking in with a 2-2 record, this team has gone through it's fair share of ups and downs during the first half of the season. Their losses, by 1 and 3 points, were every bit as frustrating for fans as they sound. They don't get a week to feel sorry for themselves either, as juggernaut Oregon is waiting on their home turf to cement themselves as the #1 team in the CFSL. Boasting a 4-0 record and having beat the only two teams Texas has beat, Oregon is primed to continue their run to the postseason. Their win over Michigan was impressive, with their vaunted defense holding former OPOY Javon Mack to only 243 yards through the air and 34 on the ground. It's time to delve a little deeper into this barnyard matchup between the Longhorns and the Ducks.
TEXAS
Offense
Offense has never been the problem for the Longhorns. Their league leading 48.8 points per game is quite the statistical feat for any team. Except… offense did turn out to be a problem in their recent loss against Tennessee. Quarterback Ray Tatum had one of the worst performances of the season, totaling 97 yards through the air on 18 attempts. Most of these yards were on a deep bomb to Hunter Lewis. Now he goes up against the best secondary in the league after that horrible week. Tatum is veteran of the game. His last meeting with Oregon while playing for the LSU Tigers was a one point loss where he threw for nearly 300 yards. As long as he stays poised and confident in his arm no matter what the defense is doing, he can bounce back and have a major performance.
Defense
If the Texas offense is considered one of the best in the CFSL, their defense is considered one of the worst. The bend not break strategy is working for the most part, giving up only 38.8 points per game. But letting opponents get over 500 total yards on offense every single game is not optimal. With names like Michael 'Sack City' Sudeikis and Jimbo 'Smothers' Smithers, you'd expect this team to be getting the upper hand on opposing offenses. It's up to junior Justin Boudreaux to put this team on his back and send a message to the young secondary that this is unacceptable. Michael Wells has matured quickly before our eyes, but are him and fellow mates in the secondary ready to face the fullback in a quarterbacks body called Devonta Cribbs? If so, this is a game you don't want to miss. If not, yikes.
OREGON
Offense
I love speed. It's what makes this game so hectic and jaw dropping to watch. Fortunately for this writer, Speedy Love is just that. A wild, all over the place guy who can cut through defenses like butter. Not to mention that Devonta Cribbs provides the perfect pairing in the backfield for this kind of back. These two are an unconventional 1-2 punch putting up some great numbers. Cribbs has an unheard of 77% completion rate with an average yards per attempt of 7.4. Not to mention that he has 300 yards on the ground. The read option is key to this team's success and will light up an inexperienced defense. Not to mention that the receiving core for this team is top notch. Jay Smith has settled into his wide receiver role nicely after his transition. King Twixx and Bryce Kellogg are also great complimentary pieces who always seem to be open. The crazy part is their lead pass catcher could even be considered their TE, Dakota Anderson. This offense has a plethora of weapons it can and will unleash throughout this game.
Defense
Oregon has built their defense on the old mantra that defense wins championships. Right now it looks like that statement is holding true. As a stark contrast to the Texas defense, Oregon allows only 379 yards per game and 27.8 points per game – both league leading marks. They do this while only putting up average turnover and sack numbers. That's pretty impressive when it comes to defensive metrics. Their consistency is remarkable so far, keeping opponents under 35 points in every single game thus far. It all starts with Jack Frost playing center field. While he hasn't got an interception yet, his tackle numbers are right on par with his 100 tackle season last year. The Israel Cassius – Thor Odinson tandem also has been locking wideouts down with ease so far. This secondary is a tough one to crack, even for a mind like Voodoo Tatum.
WHAT TO WATCH FOR
Texas Passing Game vs Oregon Secondary
Things could get really really ugly if Texas isn't passing well to start the game. Oregon knows this and will be trying to get Voodoo to throw his first pick as soon as possible. If Tatum can get into a rhythm early with some good completions to his tight end Jackson James, there could be hope for Longhorn fans. Throw in a couple of deep bombs here and there and they could get the win. Of course, if Oregon breaks this rhythm before it even starts, things could get ugly quick. An interception early would be devastating for Texas as they rarely get or give up turnovers.
KEY PLAYER
Texas HB/KR Geaux Bamba
You thought I was going to go through the whole preview without talking about La Bamba? This man is 4/4 in games with a kickoff return touchdown, already amassing the most in CFSL history in just 4 games. Not to mention that he has the second most rushing yards per game at 160. Averaging 7 yards per carry isn't even human. It's like he has limitless energy on the field. Oregon is going to be gunning for him all game, but all it takes is one mistake and he's gone. Watch #35 from the second the ball is kicked off.
PREDICTION
Judging by the defensive metrics of both teams, this game should be a little more of a defensive battle. Yes Texas is giving up some crazy yardage, but their 3-3-5 matches up well against the Oregon offense. That being said, Texas has some huge flaws and will have to play well above the performance they put on against Tennessee last week. Oregon is ruthless. They have playmakers in the right spots and can rip even the best of teams apart. I can easily see them exposing the Texas rushing defense from start to finish. That said, the game should still be close.
Texas 29, Oregon 37
No KR TD by Bamba