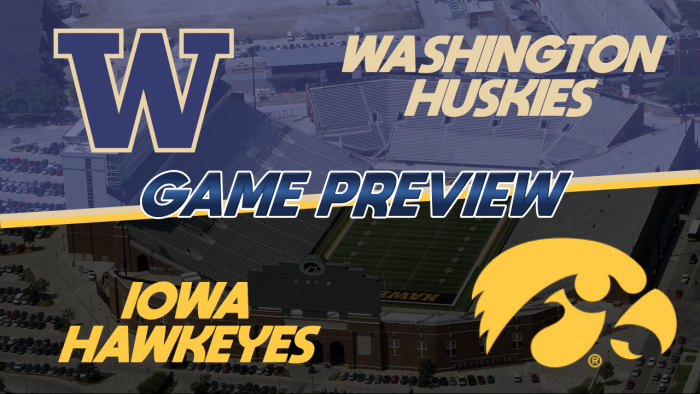 Week six is here, and it kicks off with a pivotal Big Ten matchup. Washington and Iowa both come into this with a winning record, but one of these two teams will fall to .500 and slide behind in the Big Ten race. We'll get into which team I anticipate falling, but first, we need to break them down, starting with the road team.
WASHINGTON
The offense was not lacking in the loss to Tennessee last week. Quarterback Doug Ohle was efficient in the passing game, but exploded with his backfield partner. Ohle picked up 101 rushing yards and two touchdowns on the ground to go with his 183 through the air and single passing touchdown. Additionally, halfback Ron Dayne Jr. raked in 154 rushing yards and a pair of touchdowns of his own on the ground. Wide receiver Aaron Easton pulled in Ohle's lone touchdown grab. The offense has been on fire for a couple weeks now and I don't anticipate that changing anytime soon.
Defense, to be honest, wasn't the major issue. Other than, you know, giving up an 86 yard bomb. That lone pass spelled disaster for the Huskies and contributed to the abuse the secondary took, allowing 439 passing yards. Still, safety Kalu James was a stud in that game. 14 tackles, three for a loss, and a sack. Linebacker Dejounte Wilson added eight of his own with two tackles for a loss and a sack. However, it wasn't the run defense, it was the pass defense that suffered. The good news is, considering tonight's opponent, that's not the biggest threat for the Huskies to have to deal with.
IOWA
Another case of an exceptional offense. Quarterback Marcos Hernandez was just shy of passing for 200 yards, but he did have two touchdown passes in spite of his one interception. Hernandez is an athlete, even if his rushing yards don't reflect that. He had just 54 yards rushing, but he added a pair of rushing touchdowns. Here's the deal though, while Hernandez didn't dominate on the ground, halfback Avery Jordan did. Jordan racked up 205 rushing yards and a touchdown on 23 carries. He had two runs that went for 20+ yards, including his longest being a 41 yarder. Oh, and tight end Franklin Richards has become a staple of this offense. He had six grabs for 55 yards and snagged one of Hernandez's touchdown passes last week.
The defense played stout, now I know they gave up 31, but still. The Hawkeyes held TCU to just 50 rushing yards, and corner Neal Mason was all over the joint. Six tackles, a tackle for for a loss, an interception, a pass defensed, and a forced fumble. It almost seems as though each week sees a new hero of the defense stepping up and making plays. Still, outside of Mason's tackle for a loss, there were four other tackles for a loss, including two that came from linebacker Jerry James, who added seven tackles of his own to the mix. The run defense is going to be the key to stopping the Huskies.
WHAT TO WATCH FOR
I said it once, and I'll say it again, Iowa's run defense is huge. If they can not only slow down Ron Dayne, but Doug Ohle's running game as well, the Hawkeyes will be in great shape. You can't fully shut down these two freak athletes, but slowing them down will take some of the pressure off the Iowa defense and make it a little easier for the Iowa offense to keep pace.
PLAYER MATCHUP
HB Ron Dayne Jr. v. MLB Jerry James
In order for Iowa to slow Dayne down, Jerry James has to step up to the occasion. He had a solid game but he has to do more than be solid. Ron Dayne Jr. is a freak of nature out of the backfield, and playing a "solid" game from the middle linebacker spot will not be enough to slow him down to the level the Hawkeyes need.
PREDICTION
All this is to say, I don't know that Iowa's defense can slow down the Washington running game. In the instance they can, Doug Ohle has a guy called Derrick Gray at tight end, good luck with him. Then, Marcos Hernandez is going to have to pick the Huskies' secondary apart, and to be honest, I really don't think he has the weapons to do that, no matter how important Franklin Richards is. Avery Jordan is only one man, and Washington can do to him what they did last week. After that, the secondary just needs to play better which I expect they will. For a big leap in the Big Ten, give me the Huskies to win it in a close one.
Washington 45, Iowa 42