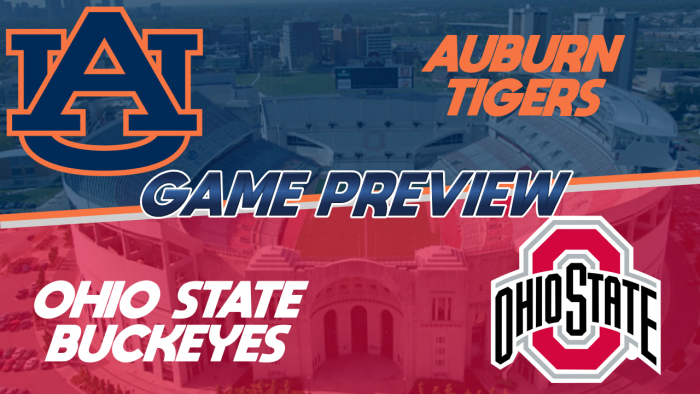 The Horseshoe is one of the toughest places to come into and get a win. Blake Moon and the Auburn Tigers (3-2) are riding a three game win streak into Buckeye territory looking to make it four. Their recent performance against Notre Dame was as solid as it gets. Ohio State (2-3) may want to have a word with this seasons schedule makers as they have played a brutal first half of the season that isn't getting any easier. However, their new Athletic Director has taken the reigns and invigorated this Buckeyes team in just one week. These two teams have met twice before, both meetings decided by under three points. The history is there, making it a matchup you don't want to miss.
AUBURN
Offense
Blake Moon is known for many things among CFSL fans. Talking in third person, narcissism, an overpriced gift shop… All jokes aside, this is one of the most talented players we have ever seen. What sets him apart is his big play ability and top notch mobility. How many other quarterbacks have had two 1000 yard rushing years? (No one – Ty White was close) You could argue that this is the best supporting cast he has had in his career. 5 Star tandem Alex A Cook and Wayne Carter are torching defense no matter how many corners are in their way. Even HB Billy Carter has forged a big role in this offense with his 142 rushing yards a game. Auburn is unstoppable when they are firing on all cylinders. They just have to remember to stay on the gas unless they want a repeat of week one.
Defense
A veteran of the league, Senior MLB Tony Bryant is still crushing spirits of those who dare try to go through him. With savvy cover skills and 100+ tackle ability, Bryant is the whole package in the middle of the field. He sets the tone for this defense and brings it every single game. Fellow upperclassman Eric LeClear is the teams leading tackler with 53 tackles through 5 games. His versatility at the strong safety position has been key in baiting offenses into poor reads. The team is average in all faucets of defense, with a minor weakness when it comes to QB pressures. We have seen low pressure defenses work in the past, but 5 sacks is not a great number going into week six. Overall, this team can hold its own against any look and will battle through the whistle every play.
OHIO STATE
Offense
The running gag about OSU quarterbacks and their one year stints puts an unfair stigma on this organization. Ohio can churn out talented quarterbacks, and current signal caller DeAndre Evans could be the best. His QB rating of 162 puts him near the top of the league leaders list with good reason. Evans makes great reads for a Freshman and has an exceptional deep ball. Throw in fellow Freshman HB Frost Carlson and you have a potent offensive machine. One of the big breakout stars this year is WR Zaire Bradley. It feels like a quiet season with only 22 receptions, but he averages 25 yards per reception. He scores nearly a third of the time he gets the ball! This is a dangerous team that will beat you with the deep game and can run with precision.
Defense
The concept of bend don't break is pretty common in this league. I'd say 500 yards a game may be a little more than bending. The Buckeyes can get consistent turnovers between Nicholas Reynolds and Max Powers. On drives without a turnover, OSU rarely forces punts. It may be a lot to ask, but this is Noah Mason's time to shine. The talented outside linebacker has piled up 29 tackles and an interception in the last 5 games. They need even more from him in order to limit Moon's option skills. Moody Mitchell will also be under fire all game between playing up to stop the pitch man and zoning back against two of the top receivers in the game. Auburn is a challenging assignment for any team. The talent is there, but will the game plan be ready to stop the Tigers?
WHAT TO WATCH FOR
Ohio State on Third Down
This is a good opportunity to stray away from the usual personnel matchups we put here to talk about an odd trend with this Buckeye offense. Their 47% third down percentage is tied for second worst in the league and is a far cry from Auburn's insane 59%. With a playbook that has so many formations and a good amount of pre-snap motion, you would think their conversion rate would be a little higher than 47%. It will be interesting to see if Ohio State stays aggressive on 2nd down knowing that their conversion rate has been sub par all year.
KEY MATCHUP
Auburn WR Wayne Carter vs Ohio State CB Max Powers
Pitting two talented athletes like this is always a sight to behold. Wayne Carter is a chef out there, serving spectacular catches with a side of savvy moves in the open field. He's the whole package at WR. With Carter getting nearly 8 receptions a game, it will be up to Max Powers to put Carter on an island down the sideline. Max has 5 pass deflections already this year and would love to convert some into interceptions against this passing attack tonight. Look for these two to battle down the sideline on every down.
PREDICTION
There are a lot of worries about the OSU defense and their ability to contain all of the Auburn weapons in this game. Not many teams have as much talent on offense as Auburn, so this is uncharted territory for this iteration of the Buckeyes. In addition, both teams have a significant blemish on their record. Ohio State opened up week one with an awful performance against Texas where they gave up 62 points. Auburn blew a massive lead against Clemson in their home opener, losing by 7 in a 52 – 45 contest. Both of these teams are better than these performances, but it makes you wonder what team will show up. Auburn is getting a slight edge due to their recent win against Notre Dame as that performance was exceptional.
Auburn 41, Ohio State 34