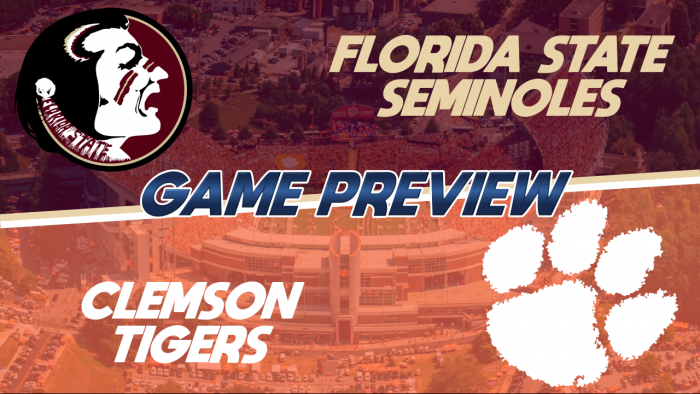 Sometimes you can just feel a blowout coming. This evening's matchup may look like a lopsided one to most fans, but records can be deceiving. Winless Florida State has had their hearts ripped out over and over this season, most noticeably in their 3 point loss to Auburn. Winning this game against one of the best teams the CFSL has to offer would signal a huge turning point for the Seminoles. However, 4-1 Clemson is not a team that makes things easy on you. With prolific QB DJ Moss at the helm and two solid wins against Michigan and Ohio State, Clemson has every right to be near the top of the rankings. This game has it all for the armchair offensive coordinators out there. Flashy QB runs, deep bombs, general offensive mayhem – Strap in for a final score that could be that of a basketball game.
FLORIDA STATE
Offense
Pass pass and pass some more. FSU has taken over the league's resident pass happy air raid offense. All they need now is to convert on the great performances by QB James Kovach. Kovach, somewhat overlooked in the offseason, has lit the league on fire to the tune of a 175 QB rating. Even more impressive is his 10.3 yards per attempt, unheard of for a player with a 68% completion percentage. You can't give all the credit to Kovach though. This group of receivers is possibly the best in the league. Jared Tetonis, the leading receiver of Season 2, shows no signs of slowing down. 759 yards on 36 receptions is even better than the mark he put up last season for LSU. This can be attributed to a better supporting cast headlined by fellow WR Trevor Golinar. If only they could turn all their yards into wins.
Defense
This is where things seem to be falling short for Florida State. The pieces are there for a solid defense, but the puzzle is still incomplete. Nathan Tetonis is blistering past his totals from last season with 56 tackles. He hasn't put his hands on the ball yet, but he is showing the ability to make a big play on a consistent basis. Last year FSU had one of the best edge rushers in the CFSL. The torch seems to have been passed to both Mark McCabe and Gable Stevenson. The real breakout this year for the Seminoles has been Darnell Jefferson. The outside linebacker has 25 tackles and two picks, showing the versatility that gives him his five star billing. This team has added a few transfer seniors since they last played. Could this finally be the week where the defense figures things out?
CLEMSON
Offense
Clemson represents a stark contrast to the Florida State offense, opting for a more balanced approach. Ask any defensive coordinator and they'll tell you that the read option is one of the most feared plays in football for a reason. DJ Moss strikes fear into opposing defenses with his running back like ability in the open field. Whats even better than his natural physical ability is the maturity and leadership he has shown with the young players on his team. Cadillac Chadwich and Anthony Robertson III are both freshman who have quickly assimilated grueling world of college football thanks to DJ. These guys all play off each other and you can see the energy in the offense that they put out. They are #1 in offensive yards and look to widen the margin against a shaky FSU defense.
Defense
Teams can not figure out how to run on this Tigers defense. I need another set of hands to count how many times I have seen opposing running backs stopped behind the line by this front 7. Mike Miller has quickly rose to fame as a terror for O-lineman to handle. 8 sacks with 12 tackles for loss would be a great season stat line for most guys, but he has done it in 5 games. Five! Having top lineman Kobe King right behind him makes things even tougher on the off chance you happen to get by the front lines. Lets not forget about Barry Allen's big play ability in deep zones. He is not someone you want to lob a pass in front of no matter how good of a QB you are. Remember to put in your mouthpiece against this defense – you'll need it.
WHAT TO WATCH FOR
Florida State WR Corp vs Clemson Secondary
These are two elite groups of players who are fierce competitors on the gridiron. Clemson has forced 9 turnovers so far, primarily off of interceptions. It's a lockdown group that loves to get tested through he air. James Kovach has 210 attempts so far on the season, so they will get plenty of chances in this one. It's going to be on Tetonis, Golinar, Jackson, and Johnson to come down with 50/50 balls and keep hold of even the toughest passes. This is a game where these receivers have to step up and stay calm. Drops happen against a secondary this tough. Will this young core be able to stay focused to catch them when they count?
KEY MATCHUP
Florida State OLB Darnell Jefferson vs Clemson RB Cheetah Brown
Cheetah Brown is a mid season transfer who has only a game under his belt so far. That single game was one of the most impressive all around RB performances of the year. The real test comes in opposing OLB Darnell Jefferson, a senior with a sure tackle and great moves near the line. Clemson puts their RB all over the field, so Darnell better be ready to cover sideline to sideline to keep things in check. This is all while he has to keep an eye out for DJ Moss taking the ball himself. It'll be quite the battle, but both sides can gain the upper hand on the way to victory.
PREDICTION
This game feels like an easy Clemson win on paper. Thing is, the paper doesn't show all the improvements that FSU have made in the last week. It's a different team than the one that lost 24 – 38 against OSU. The offense is there without question. You also have a team desperate for their first win. That being said, Clemson has the best offense and defense through the first five games. Their only loss was to an equally scary Tennessee team in a defensive battle. The Tigers can beat you in so many ways on both sides of the ball that it would be insane to go against them. Still – If the scoring gets out of hand early and FSU starts rolling, the upset is a possibility.
FSU 38, Clemson 52