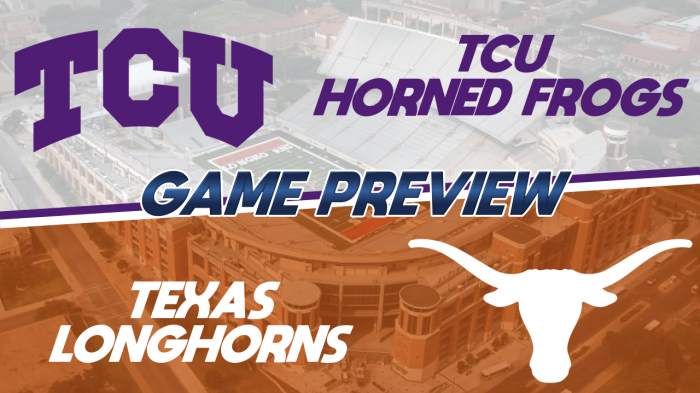 As we near the end of week six, the excitement isn't dropping off any time soon. A clash between two Texas based teams, fighting to get an edge in the SEC chase. One of these two teams will fall to .500 tonight and unfortunately be put in a very tough spot in the SEC. Here's what you can expect.
TCU
The Horned Frogs were running the race, but unfortunately stumbled last week in Iowa. Quarterback Dalton Andrews looked good, putting up 388 yards passing with two touchdowns and an interception. The downside, though, was the performance from halfback Koda Adok. He put up two rushing touchdowns, which is fine, but he was held to just 20 rushing yards on 16 carries! He was kept quiet all game, which certainly hurt the TCU offense. Still, fans have to be pleased with the performance by receiver Andre Gyan. Seven catches, 186 yards and caught both of Andrews' touchdown passes. But a big night by Adok in addition to Gyan and Andrews would be a big help.
It's the defense that needs to be looked at. They gave up 45 points, and over 250 yards rushing to the Hawkeyes. Still, defensive end Jabril Jackson recorded four tackles, a tackle for a loss and a sack. Corner Jorge Jenkins Jr. also added a tackle for a loss and a sack to the stat sheet. Linebacker Aaron Davis recorded nine tackles and a tackle for a loss, which is the exact same stat-line as safety Kobe Jordan. Several standout performances are great, but unfortunately, they need more from the rest of the defense and to get back to playing a complete defensive game. Couple that with the offense and the Horned Frogs can win.
TEXAS
To score and dominate the way this offense did is not unfamiliar. What makes it impressive is the team. To dominate the Oregon defense in such a fashion is crazy. Quarterback Ray Tatum was effective, 271 passing yards and a passing touchdown shows efficiency. His seven carries for 64 yards and two touchdowns proves effectiveness. The way this offense is, Tatum is the perfect compliment to halfback Geaux Bamba. Bamba racked up 130 yards rushing on the ground with three touchdowns of his own make Bamba one of the best backs in the league. There's only one complaint that could be had and it's pretty trivial. Bamba's streak of a kickoff return for a touchdown a game was ended. It's disappointing.
What's not disappointing is the defense. They held the Ducks to just 17 points, giving up the last touchdown well into the fourth quarter. Linebacker Justin Boudreaux punished his former team with seven tackles and a forced fumble, while fellow linebacker Jaxson Morrow added nine of his own with two tackles for a loss to boot. Not to mention safety Jimbo Smithers coming up with six tackles, two of which went for a loss. The defense looked fast, aggressive, and downright abusive. If they can mimic that performance then their odds of winning skyrocket.
WHAT TO WATCH FOR
Justin Boudreaux and Jaxson Morrow played a big role last week. As did defensive end Michael Sudeikis and defensive tackle Davonte Carrier, the two of whom combined for five tackles, two tackles for a loss, and a sack. These four players are what stand between their secondary and Dalton Andrews. They have to be able to generate pressure and make Andrews uncomfortable, otherwise receiver Andre Gyan will torch this defense. Add Koda Adok getting in gear on top of that, and that makes for long drives and a difficult offense to stop.
PLAYER MATCHUP
MLB Aaron Davis v. HB Geaux Bamba
On the other hand, linebacker Aaron Davis has to beat Bamba. The problem is, how do you do that? Bamba is averaging over 150 rushing yards a game. Davis has to beat Bamba to the point of attack and be the aggressor. If Bamba is able to get his shoulder in you, more often than not, you're getting run over. Davis has to make sure he's not on the receiving end of that.
PREDICTION
For all the great things that Texas is offering, their football is one of the best treats. This matchup lives up to the Texas football stereotype. The Longhorns look explosive and dynamic on paper, but TCU is adept at game planning and scheming. Here's the problem, to gameplan for Texas is difficult. How do you stop Geaux Bamba when there's a guy like Ray Tatum who was a gunslinger last season and hasn't had to show that capability since the move to Texas. Dalton Andrews will make plays, but I don't know if TCU's offense can make enough. Good luck being a .500 team TCU, Longhorns take the win in another wild one.
TCU 38, Texas 45