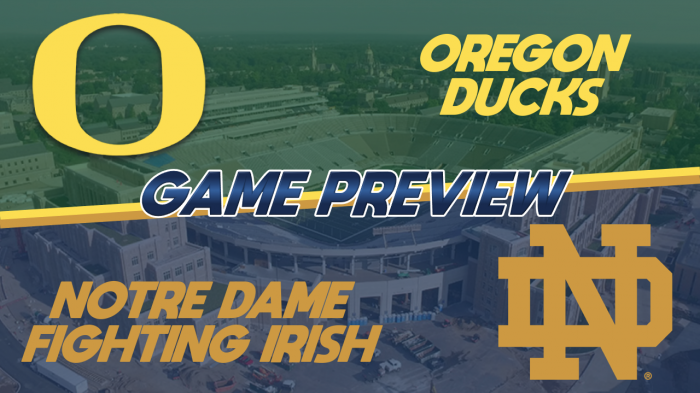 Continuing our Saturday Big Ten slate is a matchup between two of the better teams the CFSL has to offer. Oregon (4-1) is coming fresh off a rough loss to Texas where they got manhandled from start to finish. The former number one team is looking to bounce back against conference foe Notre Dame (3-2). The Fighting Irish have key wins against rival Michigan and a tough Iowa team. Howeverm their losses to Auburn and TCU have haunted them in the early season. Can Notre Dame get back to their winning ways? Or will Oregon take home the victory on their quest to take back the #1 spot.
OREGON
Offense
This is one of those teams that you have to ignore the statics for. Throw out those papers that say this team is the second lowest scoring team in the country. The eye test is a clear and emphatic pass every time you see this team take the field. Devonta Cribbs really struggled due to some conservative pass calling in their game against Texas. Being more aggressive against Notre Dame will do wonders for this team. Getting both Cribbs and Speedy Love going on the ground will further their chances of winning even more. Bryce Kellogg was the one bright spot on offense last week, hauling in 8 passes for 55 yards. I would love to see a few deep shots thrown his way to catch the defense playing up in this go round.
Defense
Oregon lives and dies by their defense. Keeping their opponents below 40 points is huge to improving their winning percentage. If you're looking for defensive stars, this team has a plethora of options. Want a great cover guy in man coverage? Have a Thor Odinson! What about a versatile safety who can cover anyone and still lead the league in tackles? Boom – Jack Frost. Oh hey look, another great corner in Israel Cassius. The whole secondary is an All-American team of it's own. This doesn't even cover top DT Ben Marquez. Look out for more three-and-out drives than you're used to from Notre Dame's offense.
NOTRE DAME
Offense
It's very surprising to see Ty White's QB rating near the bottom of the league this season. Yet it turns out that this is actually a career high for White. This may be due to the volume of passes White attempts, but QBR doesn't seem to favor him. Alas, Ty is one of the most versatile pieces the game has to offer with nearly two seasons of 2000 passing and 1000 rushing yards. The offense has been clicking this year to the tune of 38.4 PPG and shows no signs of slowing down. Brody Bodine is bringing down catches like crazy with 33 on the season already and just a single drop. His counterpart Upton O'Goode has also hauled in 34 catches in this balanced attack. Notre Dame has a challenging week against this defense, but if any team can pull this off, it's the Irish.
Defense
Tyson Ali's reign of terror continues on into his Junior year. The former DPOY has already racked up six sacks and 13 tackles for loss through the first half of the season and shows no signs of slowing down. He is currently on pace to post his career best season… which is really scary when you think about it. Backing up Ali is MLB Aaron White. This savvy linebacker has got his hands on two interceptions to compliment his seven tackles for loss. To the contrary of Ali, Shane Razorback hasn't had the gaudy stat line that we are used to. However, you can ask any QB if they like to face Razorback and you'll get an emphatic "no". This team generates pressure like few teams ever have. It will be interesting to see them get into a defensive battle in this one.
WHAT TO WATCH FOR
Oregon's Conservative Playcalling vs Notre Dame's Defense
As previously noted when talking about their offense, Oregon has been a bit conservative in their playcalling so far. Devonta Cribbs is completing nearly 78% of his passes, but only has a 6.8 yard average per attempt. In fact, nearly a quarter of his passes have been to HB Speedy Love. With Notre Dame having such a good front line, it will interesting to see if they mix things up and take more shots deep in this game.
KEY MATCHUP
Oregon HB Speedy Love vs Notre Dame DT Tyson Ali
If Oregon wants to win this one, Speedy needs to get more involved in the run game. Tyson is looking to bring down Love's 4.8 yards per carry by any means necessary. Expect Oregon to run more on the outside with option plays and straight handoffs in this game. Their ability to block Ali and Razorback will be key in getting anything going on offense. Don't expect Oregon to win if Ali pushes into the backfield with consistancy.
PREDICTION
I expect this to be one of the lowest scoring heavyweight battles we have seen in quite some time. On one side, Oregon has a crazy secondary that swats everything in sight. On the other side, Notre Dame has a front line that can rip through even the toughest of offensive lines. It all comes down to offenses controlling the ball and avoiding turnovers. If Notre Dame starts passing with consistency though the Oregon secondary, the upset could be had. However, I believe Oregon has an all around better team who will pull through in a tight one. Put this game on overtime alert though – it's gonna be close.
Oregon 27, Notre Dame 25