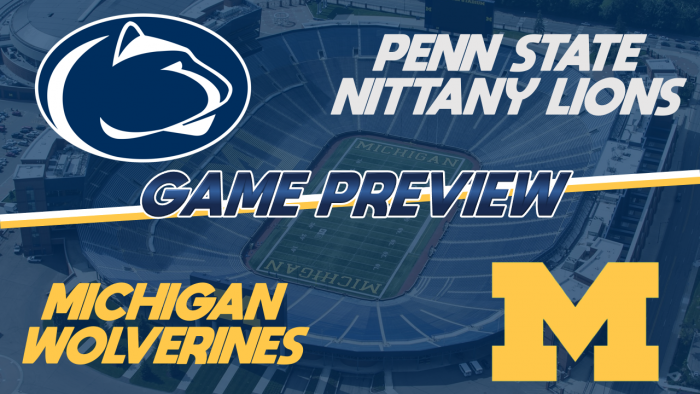 The Big Ten has been brutal through the early stages of Season Three. Teams like Oregon, Iowa and Washington have clamored near the top of the rankings quickly. On the other end of the spectrum, both Penn State and Michigan are surprised to be stuck in the basement this season. Neither team has managed to pull off a victory against a Big Ten foe. Penn State (2-3), has yet to beat a team who has won a game. Michigan (1-4) has only beat an Auburn team in a one possession affair. These two teams desperately need a win to salvage their Big Ten hopes. Lets delve into this matchup and see who can right their ship and sail on towards victory.
PENN STATE
Offense
Jasper Johnson has been the star for this offense through 5 games. His 6.6 yard average is one of the best marks in the league, leading you to believe that things are going quite well for this offense. Unfortunately for the Penn State faithful, things have not been going well. Whimpering their way to 28.6 PPG, this team lacks the confidence to go into a shootout and win. Every single offensive stat puts them in the bottom half of the league except for their third down percentage. It's nice to be able to convert on third downs, but it would be even nicer if they could avoid those situations in the first place. Michigan gives up a lot of yards on the ground, so it may be a good game to let Johnson do his thing and keep the clock moving. Aidric Berry, while struggling so far, can help further this game plan with his short-burst rushing ability. If the PSU ground game fails, don't count on many points for this squad.
Defense
To make matters worse, PSU has struggled mightily on defense this year. 46.4 PPG is the second worst rate given up to an opposing team. The only team that has a worse scoring defense is FSU, a team that they just scraped by. It isn't comforting that this team has just a single takeaway all season either. The talent is there tough. Both Darius Bowman and TJ White are great players who can dig in and get stops. If Tyler Smith can step up in the secondary, I could see that turnover mark changing very quickly. Michigan's read-option is a tricky beast to beat. I'd like to see this defense play a safety closer to the line at all times as an extra linebacker to see if they can get some additional pressure on the backfield. Do that and maybe this Penn State defense can lead the team to victory.
MICHIGAN
Offense
You know who gets a lot of yards but not much recognition? Bobby Jackson. Not many receivers can put up 100 yards a game, but this man has blossomed as a Junior into a stud of a WR. His average has gone from 13.4 YPC to a whopping 17.7 YPC as things have gotten a bit more vertical. Sophomore Javon Mack is going through a bit second year slump, almost matching his career total for interceptions with 9. Still, he completes 73% of his passes and dominates opposing teams with his legs. His Freshman brother Ezell Mack is also putting on a bit of a show so far. While his carry totals don't equal that of the top tier backs, his 6 yards per attempt give this team a solid ground option to move forward with. Therfore, look for Michigan to flex their muscles against a struggling PSU defense.
Defense
Not many linebackers carry the resume that Nate Jones brings to the table. Just take one look at the opposing offense cowering in fear of the man they call the Judge. His tackles total is already at a staggering 67 with 14 being behind the line. You can't ask much more from the Senior, unlike the rest of the defense. The FSU transfer Brum James is slumping just a bit with only one pass deflection and no interceptions on the season. Getting a good stop early would do wonders for James and this Michigan defense. With the run game being so big for PSU, Jesse Horrigan could be in for a great game as well. This young Freshman has 5 TFLs already and would love to add to that total. Michigan doesn't have the most staunch defense, but the pieces are there to shut down anyone.
WHAT TO WATCH FOR
PSU HB Jasper Johnson vs Michigan's D-Line
One of the difficult teambuilding decisions AD's have to make during the off season is where to put their scholarship players. Michigan followed the trend of turning their focus away from the D-Line despite running a 4-3 scheme. This isn't unheard of, but UofM doesn't have a single D-Lineman on the roster this year. Jasper Johnson must be chomping at the bit to get a chance to tear into some walk-ons. He has broke a tackle or two in his short career. Look for him to break a few more in this one.
KEY MATCHUP
PSU MLB T.J. White vs Michigan QB Javon Mack
TJ White is not someone that offenses enjoy barreling into. His size and strength poses a unique threat toward opposing offenses that not many other linebackers boast. With the read option being such a big part of Michigan's game, White will need to be smart enough to play the read correctly and get to the ball carrier. This will be problematic for White, as Javon Mack really knows how to tip-toe and bulldoze a defense. He's one hard man to stop behind the line. If Mack can rattle off a few good gains, this train may be too much to stop.
PREDICTION
Penn State may have the better record, but their wins are against the very bottom of the barrel. I am giving Michigan the nod in this one. This may not even be that competitive of a game to be honest. Michigan has had close losses in nearly every game they have played this year. Its not uncommon for them to be a touchdown away from evening up the score and running out of time. On the other hand, PSU has been blown out multiple times and only has wins of 3 points vs bad teams. With the crowd that the Big House draws, I don't see Penn State getting much of anything going.
Penn State 24, Michigan 41