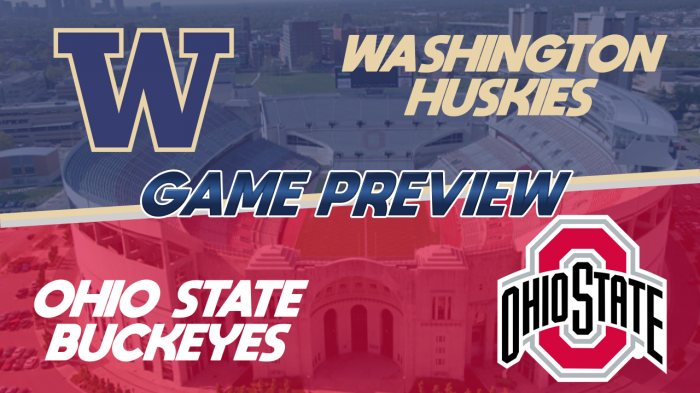 It's week seven, and we're kicking off with a rematch of the Orange Bowl, kind of. While Doug Ohle's in a different jersey, and Ohio State has new faces on offense, it's the same two teams going at it. The Orange Bowl decided the National Champion last season, and it was a thriller, needing a couple overtime periods to decide a winner. Consequently, that game also determined the National Champion. Here's how the rematch shapes up.
WASHINGTON
They bounced back from Tennessee with a nice win last week over Iowa, 41-34. Quarterback Doug Ohle put up 356 passing yards with three touchdowns and just one interception. To compliment his performance was halfback Ron Dayne Jr. who picked up 135 yards on the ground with two touchdowns. Oh, and Ohle knows how to run too, as he had 111 yards on the ground as well. The Washington wide receiver corps has been a big help in opening up the running game for the Huskies. While this unit won't necessarily see a single receiver put up big numbers, but as a unit, they've played exceptionally well and great complimentary football. It's likely to continue as we go.
As for the defense, here's another unit that's been playing exceptionally well. Corner Tarin Holyoke had an interception to go with his seven tackles. Three other players recorded at least seven tackles. Linebackers Dejounte Wilson and John Hopkins each had seven tackles and a tackle for a loss. Safety Kalu James recorded eight tackles and three for a loss. As the season progresses and tonight will be another good test for them.
OHIO STATE
Offensively, things looked pretty solid. Quarterback DeAndre Evans had 226 passing yards and a rushing touchdown. Halfback Frost Carlson tallied 111 rushing yards on 21 carries and wide receiver Zaire Bradley hauled in seven passes for 119 yards. Here's the problem, though, outside of Evans' rushing touchdown, the Buckeye offense couldn't score. Instead, they were relegated to three points more often than not. Field goals don't often win games, and tonight, Ohio State needs to get into the endzone, otherwise they're in big trouble.
Hard to argue with defensively. Two interceptions, including a pick-six by corner Max Powers is pretty good. Not to mention safety Moody Mitchell racking up 12 tackles. However, the front seven combined for just seven tackles. That's not a good sign, especially considering what they have to face tonight. While the secondary has started coming into their own, the front seven now has to step up and make plays. They didn't come up with a sack or any plays in the backfield, that's not a good sign for a Buckeye defense trying to climb their way back up the Big Ten.
WHAT TO WATCH FOR
If I'm Washington, I abuse the Buckeye front seven and dare them to stop Ron Dayne Jr. and this rushing attack. That's difficult to do, especially for a front seven that only mustered seven tackles a week ago. If Ohio State can't get a grip on stopping this running game then things could turn ugly fast, and that's the last thing Ohio State needs.
PLAYER MATCHUP
QB Doug Ohle v. QB DeAndre Evans
Two really good QBs are taking the field tonight. One is a National Champion, the other, a freshman who hopes to raise the National Championship trophy someday. These days, Ohle is appearing in the clutch moments, and winning them. Evans has shown the potential to be able to do the same, but hasn't been put in enough clutch moments for him to follow through on that. Tonight, I expect each quarterback will have their opportunity at coming up big in the clutch and it should be exciting to see.
PREDICTION
At the end of the day, only one of these teams can come away with the win, but not before a very exciting game. Watching Doug Ohle and DeAndre Evans duel will be a treat and if Frost Carlson gets going, then his duel with Ron Dayne Jr. should also be exciting. Unfortunately for Ohio State, the excitement of CFSL fans might prove to be their detriment. Ohio State doesn't really have the pieces to stop Dayne, even if they had some success earlier this season against Tennessee halfback Donny Kazee. Dayne is a monster who can't be stopped, just slowed down. The Ohio State front seven, though, is barely more than a speed bump for Dayne. Washington continues their dominance over Ohio State from their time spent in Hawaii.
Washington 45, Ohio State 38