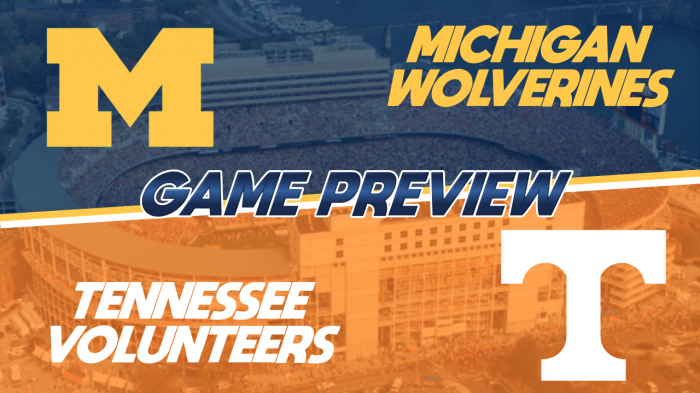 WEEK SEVEN: MICHIGAN vs TENNESSEE PREVIEW
By: HornsNation
The second game tonight provides a thriller, Michigan (2-4) travels to Knoxville to take on Tennessee (5-1). Both teams are coming off impressive wins. Michigan dominated Penn State, en route to a 48-34 victory. Tennessee thrashed the Texas A&M Aggies, 42-28. This game has the making of an upset as Michigan looks to rebound after a lackluster season. Tennessee looks to add to their resume and keep pace with Clemson at the top of the standings in the CFSL.
MICHIGAN
The Wolverines are coming off a win against Penn State. The Mack attack combined for six touchdowns as Javon Mack passed for 303 yards and Ezell Mack ran for 146 yards. It took a couple games for Michigan to finally look like a complete team. The defense held the Lions to just 352 total yards and completely shut down the Penn State rushing attack. Nate Jones provided 1o tackles with two for a loss and looks like the DPOY runaway. The Judge currently has 78 tackles through six games and will likely shatter his mark last year of 107. The defense will be key again as Tennessee will face another star running back in Donny Kazee.
TENNESSEE
The Volunteers have looked tough this season to beat. Dewey Ainge leads the league in quarterback rating with 167.4. Donny Kazee is ranked sixth in the CFSL in yards per game at 124.5 rushing yards. Kazee broke out last week against the Aggies with a three touchdown performance. He also added three touchdowns on the ground. On defense, McFish flew around the field, or flopped, en route to 13 tackles and tow for a loss. He will be key in this game as Nate Jones loves to punish opposing running backs. Tennessee will have an opportunity to run the ball successfully though as Michigan currently ranks second to last in rush defense.
WHAT TO WATCH FOR
MICHIGAN MLB Nate Jones vs TENNESSEE HB Donny Kazee
Who is ready for this matchup? I know I am. Nate Jones has made opposing running backs fear going into the gaps. So far this season, Jones has made mincemeat of Geaux Bamba, Jasper Johnson and Cheetah Brown. He will be the key to this defense inside the tackles in order to stop Donny Kazee. Kazee bounced back nicely last week and currently holds 747 yards rushing on the season with 5.2 yards per rush. There have been games where Kazee has disappeared or struggled, so it will be key for this Tennessee running back to get going early. If Kazee can avoid the middle of the field, he could have a big game. Go up the middle and he will meet the judgement of Nate Jones.
PREDICTION
This game has upset written all over it. Michigan is looking to return to form after last season success and Tennessee is looking to have a statement win. The Volunteers have won their five games by an average of 6.8 points. Last week was an outlier as they won by 14 against the Aggies.  Close games seem to suit Tennessee well as the ball has bounced the Volunteers way plenty of times this season. Ohio State, a Michigan rival, provided a template on how to beat Tennessee. Slow Kazee down and you have a chance. Michigan will need their outside linebacker of Jesse Horigan to cover the sidelines in order to slow down Kazee. With Nate Jones in the middle, it will be imperative to keep Kazee from bouncing to the outside. The Wolverine will also need to impose their will on offense. Can the Mack attack keep rolling? Or will the Nate Jones clone of Ronald McFish enforce his will against this Michigan running attack?
I think Michigan rolls tonight in a surprising two score win. Javon Mack is able to find enough holes in the secondary for a couple touchdowns and this Michigan defense answers the call in stopping the Tennessee rushing attack. Michigan wins 42-28.