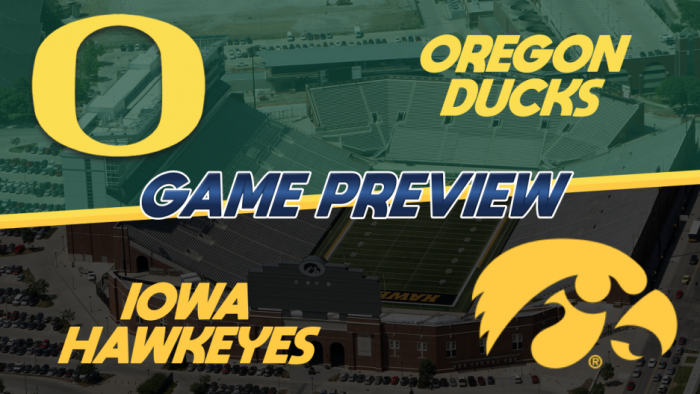 WEEK SEVEN: OREGON vs IOWA PREVIEW
By: HornsNation
Oregon (5-1) travels to Iowa City to take on the Iowa Hawkeyes (3-3). This is a must win for both teams as Oregon is 3-0 in the Big10, while Iowa sits at 0-2 and it in danger of falling out of the race for their division.
OREGON
The Ducks bounced back in a huge way last week, beating Notre Dame 51-45. Oregon had a monster first half, putting up 35 points on the stingy Irish defense. This game was without any drama Notre Dame held the Oregon offense to just six points in the 4th quarter. DeVonte Cribbs was efficient, going 21 of 26 for 270 yards and two touchdowns passing and one touchdown rushing. Speedy Love bounced back with a 115 yard effort and two touchdowns. Both Jay Smith and King Twixx added a receiving touchdown of their own.
The Oregon secondary continued their strong play as the defense was led by Jack Frost, Thor Odinson and Israel Cassius. Noah Lopez contributed with eight tackles of his own and one for a loss. Oregon ranks third in rush defense in the CFSL, which bodes well since Iowa is a power rushing team. Defensive Tackle, Ben Marquez, will need to step up big time to stop Avery Jordan of Iowa.
IOWA
The Hawkeyes come into this game off a close loss to Washington last week. Halfback Avery Jordan has a massive game with 208 yards rushing and two touchdowns. Marcos Hernandez struggled passing the ball, accounting for only 134 yards and now faces a tough Duck secondary. If Iowa wants to stay in this game, they will need Hernandez to step up. With Oregon likely focusing on Jordan, it will be up to Hernandez to help push the ball down the field.
Iowa's defense struggled to keep the Washington defense off the field, stated by the 19 minutes of possession for the Huskies and only 12 minutes for Iowa. Washington was also able to put up over 600 yards on this Hawkeye defense, something out of the norm for Iowa. Iowa ranks fourth in total offense allowed with 438.8 yards per game. Jerry James and Alvin Mack will be leaned on heavily to stop this dual Oregon attack.
WHAT TO WATCH FOR
Oregon QB DeVonta Cribbs vs Iowa's Secondary
The Ducks quarterback is completing 78 percent of his passes so far this year with only 1333 yards passing. Cribbs has been efficient but has stayed away from the risker passes down the field by completing short and intermediate passes. This allows Cribbs to get the ball out quickly to his underneath receivers. This is where Iowa's secondary will need to step up. If the Hawkeyes can play more man to man against this offense, it could force Cribbs extra seconds in the pocket, which should allow a pass rusher like Alvin Mack ample time for sacks.
PREDICTION
Oregon has been impressive so far this season. Standing at 5-1, their only loss came against Texas and it was a big one. Impressive wins came against Notre Dame, Ohio State and TCU. If Oregon can continue to be efficient on offense, while their defense continues to make offense's pay, Oregon can walk out of this game with a win.
Iowa, however, needs a win badly this week. Sitting at 3-3 and 0-2 in division play, the Hawkeyes cannot afford a loss tonight. Avery Jordan will need to carry this Hawkeye defense on his back and Marcos Hernandez will need to try and pick apart this stellar Duck secondary. Unfortueately for the Hawkeyes, Oregon will likely walk away in this game with a win. Oregon will key in on the run and trust their secondary to force Hernandez to pass against them. Jack Frost will led the team in tackles as the Ducks smother Iowa, 44-27 in the wintery snow.