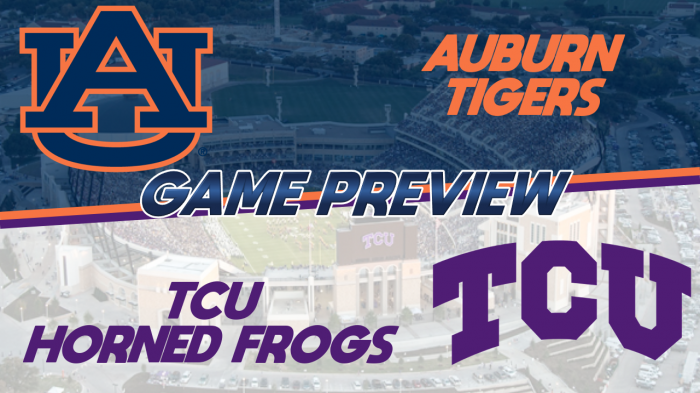 While there are better ways to start out conference play, one and one isn't the worst thing in the world. But when you start thinking about bowl matchups, each of these conference games become more crucial than the last. Auburn (3-3) has been through this conference grind before. Will they be able to make key midseason adjustments to get into the top of the SEC? Unlike Auburn, this is TCU's first rodeo. Their schedule has been rough on them, but they have come out with minor losses on the way to their 3-3 record. It's a young group of ballplayers, but they can also make a leap near the top with a good win tonight. Can the Forth Worth crowd propel them to a victory?
Auburn
Offense
Auburn's offense feels strangely different through six games compared to last season. Perhaps it is the change in philosophy favoring the air game. Regardless, Blake Moon is still Blake Moon. His completion percentage and average yards per attempt are the same as they have been the last two years despite the uptick in passing attempts. It's his legs that are different. The impressive 6.5 yard average Moon carried through season two has plummeted to 3.3 on 80 carries. It's a concerning trend, but this offense is loaded with different options to cover up this change. Billy Carter is posing a threat all over the field with 737 rushing yards and 245 receiving yards thus far. But the real piece de resistance is this incredible WR tandem of Alex A. Cook and Wayne Carter. Watch this group all night long. Seeing offense like this makes me glad I'm not a DB.
Defense
The loss to Ohio State should not batter the spirits of this defensive unit one bit. They played a great game, allowing under 400 yards and forcing three out of four red zone attempts to be field goals. Auburn held OSU to 4 of 13 on third down, a number that would easily lead the league. Tony Bryant was in on every play on his way to a 13 tackle night. Eric LeClear also pitched in with a solid 9 tackles and a tackle for loss. The problem this defense seems to have is that they don't get pressure on the QB. Rick O'Shea will need to step up and put a stop to this trend immediately. A little pressure and a strong pass defense can get this team a long way against TCU.
Texas Christian
Offense
Losing to in state rival Texas hurts bad. In a close game, TCU just failed to pull the upset despite bottling up the run all game. The big problem for them was their own run game. Koda Adok had 74 yards on 19 carries, with a long of 11 yards. Not exactly the stats you want from your star running back. Luckily, Dalton Andrews was able to throw well enough to keep them in the game. His 325 yards and a touchdown exposed a solid Texas secondary, something Andrews hopes to do again this week. In addition, Andrews has a slew of receiving options to pick from. Andre Gyan, Horace Lynch, Jimmy Woodward, and Adam Archer. All these guys can come down with the ball in the clutch. Expect to hear these names early and often tonight.
Defense
In an era of the CFSL that has shifted away from defensive linemen, Jabril Jackson still finds a way to make an impact game in and game out. Totaling 29 tackles, nine tackles for loss, and five sacks, the man can crush opposing offenses singlehandedly. With Moon loving the outside run, Jabril should put up gaudy numbers. Backing him up is stud MLB Aaron Davis. With the linebacking group of the CFSL being extra impressive this year, Aaron Davis has separated himself from the pack with nearly ten tackles a game. If TCU can line him up as a blitzer a little bit more in this matchup, he could explode for crazy stats as well. The one thing TCU needs to get better at is stopping teams on third down. If they can make strides tonight, this is going to be a great day for the purple and white.
What to Watch For
Auburn WR group vs TCU Man Coverage
This matchup poses a significant talent gap between the Auburn WRs and TCUs corners. That isn't to say the TCU DB group has played poorly. It's more of an assessment that the Auburn WR group is that good. Alexa A Cook is loving the new team and offense, finally getting a shot to show of his talents. Wayne Carter has exploded into the league as a freshman to make up the second part of this duo. Can the combination of Jorge Jenkins Jr and Gladwin Wolfe keep this group covered well enough to stay in the game? If not, Kobe Jordan is going to have to help on every single play. Let's see if that leaves other guys open.
Key Matchup
Auburn CB Stratton Mowry vs TCU QB Dalton Andrews
In short, Dalton Andrews can throw the ball as well as anyone we have ever seen. The real question here is if Stratton Mowry is up to the test tonight. Mowry has cemented himself as the #1 CB on this team with his 46 tackle, 2 sack campaign. He should be on Andrews both in the passing game and in the backfield. An interception to throw of Andrews mojo would be a great sign for this Auburn team.
Prediction
In terms of talent, Auburn clearly has a better offense in comparison to TCU. The passing game is going to be tough to stop. TCU has the advantage on defense, giving them a great shot at slowing Auburn down. The game feels even, but I am riding with TCU. They have played well against better competition on their way to a 3-3 record. Put this together with their all-around team build, and I can see them pulling away late in a very close game.
Auburn 31, TCU 34